This is a tour I can't be too surprised to see as there's been BTBAM fans among TDH fan base and TDH fans among the BTBAM fan base for a long time. Leprous? I guess is kind of an added bonus.
March 3rd, at First Avenue
. I sent in my Lifetime Member email asap after I saw this announcement. I know those were at 1 time limited to HEADLINE shows, but the Coheed show last year I was lucky enough to be able to use it, so no harm in trying.
There is of course a VIP ticket for $75 which includes:
-General Admission Ticket
-Exclusive BTBAM/TDH Split 7 inch Vinyl
-Digital Download of Split 7 inch
-Tour Poster Signed by BTBAM and TDH
-Early Entry for Merch
-BTBAM - Automata I CD
-TDH - Act V: Hymns with the Devil in Confessional CD
which would be all well and good. The 7" split especially I'm curious about.
The 1 thing though I would think would be listed is RESERVED SEATING, which I see often upstairs at First Avenue shows, but not for this?
And of course while I enjoyed the Coheed/TDH show last May, I can't forget of course the almost PREDICTABLE chatter from Coheed fans behind me upstairs while TDH were playing. Hardly the 1st time, and I'm sure hardly the last. Makes me tempted to make a foldable sign in FLOURESCENT INK that says something more specific, but similar to this.
expect an edit, per I'm looking for but can't find the exact image.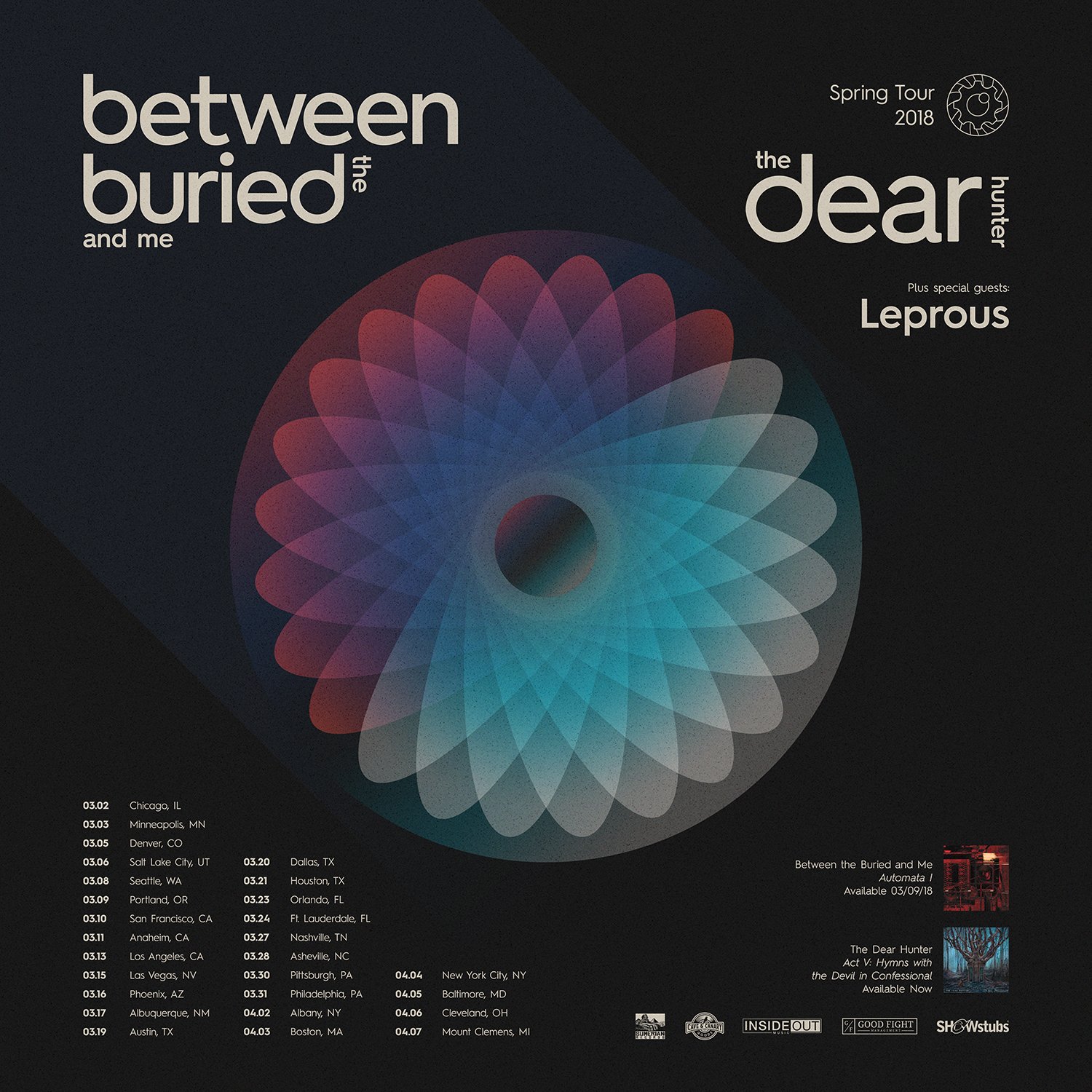 Mar 02 House of Blues
Chicago, IL

Mar 03 First Ave
Minneapolis, MN
Mar 05 Ogden Theatre
Denver, CO
Mar 06 The Complex
Salt Lake City, UT
Mar 08 Showbox
Seattle, WA
Mar 09 Wonder Ballroom
Portland, OR
Mar 10 The Regency Ballroom
San Francisco, CA
Mar 11 House Of Blues
Anaheim, CA
Mar 13 Belasco Theater
Los Angeles, CA
Mar 15 House of Blues
Las Vegas, NV
Mar 16 Marquee
Phoenix, AZ
Mar 17 Sunshine Theater
Albuquerque, NM
Mar 19 Come and Take It Live
Austin, TX
Mar 20 Canton Hall
Dallas, TX
Mar 21 Warehouse Ballroom
Houston, TX
Mar 23 The Beacham Theater
Orlando, FL
Mar 24 Revolution
Fort Lauderdale, FL
Mar 27 Cannery Ballroom
Nashville, TN
Mar 28 Orange Peel
Asheville, NC
Mar 30 Mr. Smalls
Millvale, PA
Mar 31 Electric Factory
Philadelphia, PA
Apr 02 Upstate Concert Hall
Albany, NY
Apr 03 Royale
Boston, MA
Apr 04 Playstation Theater
New York, NY
Apr 05 Fillmore
Silver Spring, MD
Apr 06 Agora Theatre
Cleveland, OH
Apr 07
Emerald Theatre
Mt. Clemens, MI