7/30/13 4:30PM

so, The Dear Hunter came *on board* (no pun intended), lol. I was thinking if them and Bend Sinister were on this, at least they'd have 2 non-traditional prog bands. I suppose King's X and even Jolly are as well.

Progressive Nation at Sea begins at

$700

per person

plus taxes and fees.

But the key thing for this is the PRICE TAG.. So, you're looking at with Airfare/travel a MINIMUM

of $1200, lol. But I would guess before it's all said and done, it'll probably end up costing closer to $2000, lol.

However, even if I won the fucking Power Ball, I think there'd be a better chance my girlfriend would start playing guitar in a technical death metal band, than being okay with me going to this for 5 or 6 days, WITHOUT HER.

And even if I won the Powerball, the cost would not be the reason she wouldn't even think of going. Because

a) she can't stand more or less all these bands

b) she hardly would ever be able to find it enjoyable to be stuck on a boat with a bunch of white males who she likely would have next to nothing in common with other than a general interest/obsession for music

c) she'd never be able to convince her mother it would be a good idea

d) Maybe the MOST important, She would in-effect miss at least 1 of her Classes in Grad School

and even if she didn't go, she would see my going as selfish, which I suppose I can't argue with her, because I would easily find the interest to use even HALF OF THE COST to take 1 or 2 trips somewhere SHE and I would enjoy like San Francisco, Boston, or even like Hawaii or Europe. And from a more REALISTIC standpoint, I think it makes sense for me and her to stay with my elderly Grandma in AZ ON OUR OWN (for 20+ years, I've always been there with my folks, but then again, they usually have paid for my trip) in March for maybe 4 days, that could WORK AROUND HER SCHEDULE and be literally less than HALF of this FOR THE BOTH OF US.

That ALL being said, this comes across as a bunch of bands I have enjoyed historically all in 1 place. To have The Dear Hunter, Jon Anderson, Pain of Salvation, Transatlantic and King's X together is frankly ODD in a COOL WAY. However, I've seen ALL OF THEM, in some cases, MANY TIMES. But the point being, the idea of getting to see them in general isn't all that big of a deal.

To see them TOGETHER and I'll be honest, within a group of prog nerds hanging for this long of period of time, would have its appeal.

But, $1500+ APPEAL??? eh, not really. If Fates or more so, JOHN ARCH were there along with The River Empires, Pepe Deluxe, The Reign of Kindo, Apes and Androids, Kiss Kiss and a whole slew of others who I've never seen but love dearly, than the $1500+ might seem more justifiable. But it sure as hell won't be happening, at least this year. But for others, I guess we'll see. I really do think Mike is a little bit over his head with thinking tons of people have that level of cash to shellout, especially with Cruise to the Edge as well, although I suppose some people might have gone to Cruise the Edge last year and see Jon Anderson on the bill and want to give this a try instead.

But the common Dream Theater/Transatlantic/Portnoy fan, just guessing, doesn't have quite as much disposable income from an AGE guestimation than say the avg Yes/Genesis?Renaissance fans who are looking towards Cruise to the Edge.

But then again, some of the costs of going to festivals like ProgPowerUSA and Nearfest isn't incredibly different give or take $300-$500, perhaps that demographic will try this.

But myself, I guess I'm curious how this goes and maybe wonder if there is any success, who might be brought on for a 2nd PN at Sea in 2015 or 2016.

I do find it interesting how close I was to predicting the lineup. PSMS, Riverside, Tony Harnell + Bumblefoot and Next to None were the only names I didn't bring up that are there (for now, more may get announced, although I still wonder if

Steven Wilson

was added, how much better this thing would sell, but the odds are probably low to none).

I do think The Dear Hunter may have agreed to do this partially from an offer they may have had for Progressive Nation 2009 that they turned down. I wonder if Casey felt like turning something like this down a 2nd time, he might regret. I suppose I should check TDH forum and see what people are saying. Maybe I'll get some reaction when I see and talk to them and hopefully Casey directly in September at The Varsity Theater. I actually would love to see a

THE DEAR HUNTER-LED

Festival where you'd have TDH and bands like

The Reign of Kindo

,

The River Empires

and H

otel of the Laughing Tree

potentially. But unless I paid for the whole thing, I don't think it would ever happen. More likely Coheed would be able to put on something like that.

edit:

Well my WORDING probably could have been better or more accurate, but in passing along this link on a few places including Twitter, Casey noticed and sent me a messages on twitter:

@AllMediaReviews if you'd like, you could just ask me why we're playing it. @CaseyCrescenzo Sure thing. So, what is/are the reason(s) the band are playing at Progressive Nation at Sea?
1. I've always tried to expose the band to as many different demographics, and in as many settings as possible.. 2. I was personally approached about the opportunity by Mike Portnoy, based on his appreciation of the band alone... 3. We get to be around some really amazing musicians and bands. 4. My band gets to take a cruise and play music in a month we are used to sitting at home in snow or rain.

All are totally valid points, that I suppose I could have asked him. But I often am too shy or feel it not the best thing to ask. Although Casey is probably 1 of the only people on twitter who actually would answer that sort of stuff, or any stuff. Because I have sent messages to other people like Kimbra and Mayer Hawthorne and never received a reply. Casey I suppose I don't consider the idea of just shooting him a message once in awhile. Maybe it's the fanboy/starstruck experience for me, or maybe it is like I said, something I just worry if I'd be bothering him. But then when I go off onto complete speculative ideas with really no factual information about, and then PASS THEM ALONG (not to forget just posting), I guess I'm vulnerable.

I was telling my gf, this kind of stuff probably would be better understood through in-person or at least a podcast or youtube video. Which is 1 reason I'm sort of thinking trying that, because I'll write a lot of things that sort of are in my head and just come out of me into here. And I often if not always want to have an opinion, usually a strong opinion, but I don't think of how some, namely the people/musicians who may see it may regard it. Not so much if something is good or bad, but if something is TRUE or FALSE.

I can see why someone might find concern enough to respond to that. I just need to think about that kind of thing before throwing out speculation, especially in HOW IT IS WORDED.

Then again, it hasn't helped my situation to be hampered by an inflamed/flare-up in my lower back since Saturday morning. It's not been fun, so getting stressed out about stuff + that + other stuff like work, isn't exactly helping my state of mind. But I'm trying to be optimistic regardless.
PROGRESSIVE NATION RETURNS IN 2014!!
"PROGRESSIVE NATION AT SEA 2014" MAKES ITS MAIDEN VOYAGE FEB 18TH THRU 22ND
FEATURING TRANSATLANTIC, PORTNOY SHEEHAN MACALPINE SHERINIAN, JON ANDERSON, KING'S X, SPOCK'S BEARD, THE FLOWER KINGS, PAIN OF SALVATION, RIVERSIDE, TONY HARNELL & BUMBLEFOOT, BIGELF, BEARDFISH, THE DEAR HUNTER, JOLLY AND NEXT TO NONE
Progressive Nation is hitting the high seas in 2014! Join us in this inaugural sailing from February 18th – 22nd 2014 on the luxurious Norwegian Pearl heading from Miami to Great Stirrup Cay and Freeport, Bahamas. This music festival at sea gives you an experience that a land festival just can't match. In addition to 4 days in the beautiful Caribbean and all the amenities of a cruise ship; you will enjoy music from morning 'til night with over 40 shows on multiple stages, along with activities, Q&A's, panels and workshops from your favorite artists.
PROGRESSIVE NATION founder Mike Portnoy elaborates:
"In 2008 & 2009, I created a touring package called "Progressive Nation" and with Dream Theater headlining, we did three full tours (two in North America and one in Europe) that showcased a variety of bands that embraced the spirit and musicality of progressive music.
Well after a 5 year hiatus, I have decided to resurrect Progressive Nation and this time we are taking it to the seas!
But rather than a 4 band bill like previous Progressive Nation tours, we have expanded the bill to OVER A DOZEN of today's greatest progressive bands, musicians and artists! (and there may be one or two more still to be confirmed)
Myself and my former DT bandmate Derek Sherinian have teamed up with Sixthman (who have done incredibly successful cruises with Kid Rock, Lynyrd Skynyrd and the annual Kiss Cruise to name a few) as well as our friends at Inside Out Music and look forward to a very successful inaugural launch of PROGRESSIVE NATION AT SEA Feb 18th thru 22nd 2014
We are so excited to take part in this historic maiden voyage and look forward to sharing this one of a kind event with fans from all around the world!"
Visit www.progressivenationatsea.com to register for the pre-sale today!
This music festival at sea gives music fans an experience that a land festival just can't match. In addition to 4 days in the beautiful Caribbean, guest will have the opportunity to see their favorite musical heroes perform numerous sets around the many stages set around Norwegian Pearl. And when guests are not attending a performance, a variety of activities hosted by the artists will fill the day.
Progressive Nation at Sea begins at $700 per person plus taxes and fees. Prices include entertainment, meals, and access to Norwegian Pearl's outstanding amenities, including outdoor pool, hot tubs, rock climbing wall, and fitness center. Fans can read more and sign up for the Progressive Nation pre-sale at www.progressivenationatsea.com
With 15 decks of fun, Norwegian Pearl offers guests access to 13 bars and lounges, 19 dining experiences, one outdoor pool, four hot tubs, and spa treatments to help forget about the world left behind. Onboard concerts aren't the only things that rock on Norwegian Pearl - passengers looking for more activities can visit the outdoor climbing wall, bowl a few frames at the onboard lanes, or tempt lady luck at The Pearl Club Casino. Progressive Nation cruisers will also have the opportunity to explore the sandy beaches of Great Stirrup Cay, Bahamas, their very own private island getaway. A host of beachside activities and games, the gigantic "Hippo" water slide, and access to food and beverage service will make the stay on Great Stirrup Cay an unforgettable experience.
Forthcoming announcements are scheduled to follow detailing artist-hosted activities, theme night information, contest additions, and activities! For full details and to sign up for the pre-sale, fans should visit www.progressivenationatsea.com
http://www.progressivenationatsea.com
Facebook:

https://www.facebook.com/progressivenationatsea
twitter:

http://twitter.com/prognationatsea
7/29/13 5:00PM
okay, it's tomorrow. Just for the sake-of my wishlist would probably be something like:
Prediction:
Transatlantic
Jolly
Flying Colors
Pain of Salvation (Daniel Gildenlow performing with TA as well)
then again, if it's a Cruise, it might include 8-10 bands like "Cruise to the Edge" so throw in:
The Flower Kings
Marillion
Big Elf
Spock's Beard
The Winery Dogs
Beardfish
Steven Wilson (still a longshot, but Mike did hang out with Steven recently and I can only imagine how helpful his name would draw people to this thing)
Fates Warning
Scale the Summit
A Longshot preference with bands Mike has mentioned liking:
Transatlantic (doing new stuff and mostly if not all music from the 1st 2 albums)
The Dear Hunter
Bend Sinister
Karnivool
Total fantasy (with still regards to being active bands)
Transatlantic (same as above, and also for the fact there has to be at least 1 Portnoy band on the bill)
Pepe Deluxe
Hotel of the Laughing Tree
The River Empires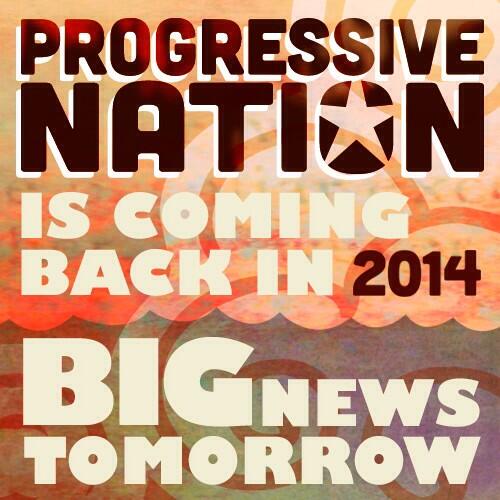 5:49PM
edit:
a lot of the speculation on the forums are saying, for affordability and maybe the wording
"out of the WATER
" is it'll be a
CRUISE
with Transatlantic and some others.
It probably makes sense, and thus if it is a Cruise, I won't even think about wanting to go, barring myself winning the Powerball.
7/26/13 12:00PM
https://twitter.com/MikePortnoy/status/360800143370502144
BIG NEWS coming next week...prepare to be blown out of the WATER!! #PN14 pic.twitter.com/iH55jBMpHx
At least 2 of these I am predicting will be on the bill:
Transatlantic
Flying Colors
Neal Morse
The Winery Dogs
I'll add in my wish list later, although it doesn't go so far anyway given a tour with this kind of roster, honestly, the odds are it won't come to MN and be like a 5-10 date tour. But next week I'm sure that will be revealed.