May 5th, 2001
at the "The Lab" or "4th Street Station" as it may have been known at the time, was the last time Fates Warning played a concert in Minnesota.
I was 24 years old, dj-ing at KFAI semi-regularly, and Savatage was on their in-effect, final tour.
My friend Creighton came with, but didn't have a ticket and he wasn't 21 at the time.
I went to go use the restroom at the Lee Ann Chin across the street, and who is in there? of all people, Jim Matheos.
Jim was really cool to help Creighon get in by having him help with the stagehand work.
It was memorable and really special for me to finally see Fates after being a huge fan for more than 5 years. Also Savatage as well.
And then I got to see them at ProgPowerUSA in 2009, which this upcoming concert on
Saturday March 16th
at the Medina Entertainment Center in the West Metro, will be almost 10 years later.
And nearly 18 years since they came here.
Seeing Queensryche is an added bonus, which may motivate me to at least revisit their last couple of albums that many fans enjoy with Todd LaTorre.
man, I am pretty stoked about this, even if they only play 45 minutes.
Like Marillion and Rush, I honestly am almost too big of a fan to only have seen them live twice (which in fairness is 2 more times than many huge fans I'm sure).
Also it doesn't hurt that I love their last album of course 😄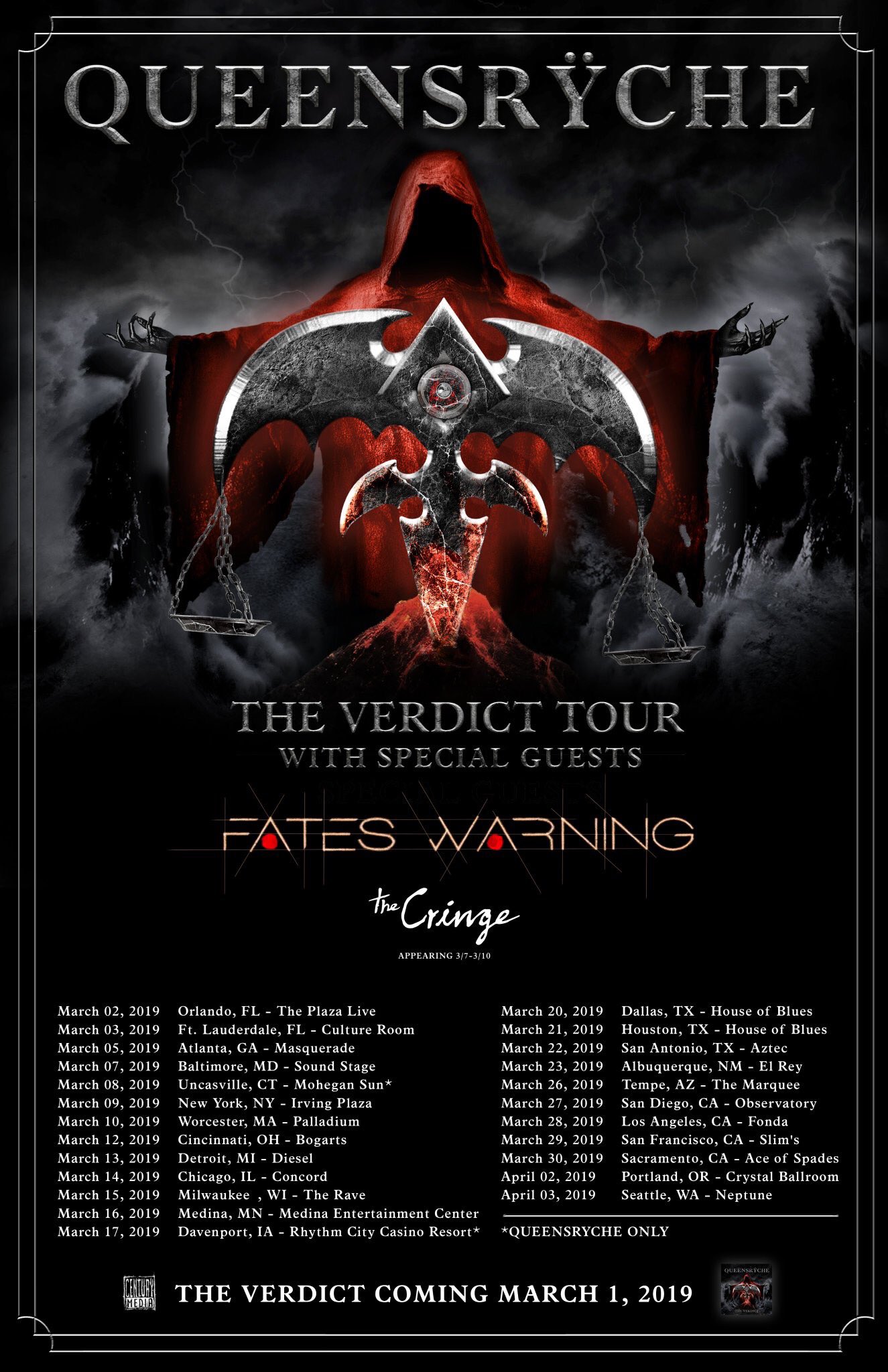 March 02 - Orlando, Fla. @ The Plaza Live
March 03 - Ft. Lauderdale, Fla. @ Culture Room
March 05 - Atlanta, Ga. @ Masquerade
March 07 - Baltimore, Md. @ Sound Stage*
March 08 - Uncasville, Conn. @ Mohegan Sun^
March 09 - New York, N.Y. @ Irving Plaza*
March 10 - Worcester, Mass. @ Palladium*
March 12 - Cincinnati, Ohio @ Bogarts
March 13 - Detroit, Mich. @ Diesel
March 14 - Chicago, Ill. @ Concord
March 15 - Milwaukee, Wis. @ The Rave
March 16 - Medina, Minn. @ Medina Entertainment Center
March 17 - Davenport, Iowa @ Rhythm City Casino Resort^
March 20 - Dallas, Texas @ House of Blues
March 21 - Houston, Texas @ House of Blues
March 22 - San Antonio, Texas @ Aztec
March 23 - Albuquerque, N.M. @ El Rey
March 26 - Tempe, Ariz. @ The Marquee
March 27 - San Diego, Calif. @ Observatory
March 28 - Los Angeles, Calif. @ Fonda
March 29 - San Francisco, Calif. @ Slim's
March 30 - Sacramento, Calif. @ Ace of Spades
April 2 - Portland, Ore. @ Crystal Ballroom
April 3 - Seattle, Wash. @ Neptune
*w/ support from The Cringe
^Queensrÿche only