Another 12-month cycle of albums and here's the List of releases I checked out and got into since November 2017.
I think overall 2017-2018 was in some ways a better batch of releases than 2016-2017 during-the-year.
The Family Crest and Kindo releasing new albums within 1-week of each other back in April was a really big deal for me and while nothing came out that seemed to be better than both of them, the 2 of them held up for me quite well.
But, given the records I've discovered from the year before this (Dirt Poor Robins) the feeling about this being a greater year than last year may not be true now.
I think like many years, this past year seemed to have a lot of favorite artists with potentially coming out with new albums that I was excited for. And some of them did (Bend Sinister, Kimbra, Kindo, Family Crest, Galactic Cowboys, Vennart), but many of them still did not. Which makes 2018-2019 of course a very exciting year to anticipate.
But like many years, some pleasant surprises are always a big part of what makes this fun. Grimus for one coming out with a really good new album, especially given I haven't thought about them for a few years.
Also getting more music from Fjokra (and in Physical form being on Vinyl) finally and another album from Small Leaks Sink Ships, but not expecting it so soon.
The Gloomcatcher and even the 1st Typhoon album in 5 years of course was a big deal for me.
And finally an album from King Gizzard that works as-a-whole, which may stick out in their catalog given the varied styles and prolific-ness (they released 5 albums in the past 12 months? and maybe closer to 10 in the last 5 years?)
But I suppose this past year was a year with a good mix of favorites and surprises that I look for in every year.
We'll see what happens in the next 12 months to find out how it compares, but I in no way find what I've been able to get into over the last year disappointing.
Only heard clips from
Umphrey's McGee - It's You
Metal Allegiance - Volume II: Power Drunk Majesty
Rolo Tomassi - Time Will Die and Love Will Bury It
Paul McCartney - Egypt Station
Dog Fashion Disco - Experiments in Embryos
Live Albums
Fates Warning - Live Over Europe
Michael Nesmith and the First National Band Redux - Live at the Troubadour
iamthemorning - Ocean Sounds
Renaissance - A Symphonic Journey
Meh
Canon Blue - Lasso Yo
Bill Hubauer - We Came from Space
Greta Van Fleet - Greta Van Fleet
Nicholas Krgovich - In an Open Field
Nicholas Krgovich - OUCH
Nile Rodgers and Chic - It's About Time
Lawrence - Living Room
Prince - Piano and a Microphone
Umphrey's McGee - It's Not Us
67-1
67. Dessa - Chime
66. Harakiri - Alchemy Choir
65. Umbrellaman - Volcano Beach [EP]
64. God is an Astronaut - Epitaph
63. Chromeo - Head Over Heels
62. White Denim - Performance
61. Arcane Roots - Landslide [EP]
60. Anna von Hausswolff - Dead Magic
59. Jason Bieler - Birds of Prey [EP]
58. Field Music - Open Here
57. The Arusha Accord - Juracan [EP]
56. Janelle Monáe - Dirty Computer
55. Spock's Beard - Noise Floor
54. The Mercury Tree - Cryptic Tree [EP]
53. Lenny Kravitz - Raise Vibration
52. Inferi - Revenant
51. Soft Machine - Hidden Details
50. Dream the Electric Sleep - The Giants' Newground
49. Hannah Wicklund and The Steppin Stones - Hannah Wicklund and The Steppin Stones
48. Phideaux - Infernal
47. Vennart - Copeland [EP]
46. StellaRoma - Revel and Ritual
45. Kai Danzberg - Pop-Up Radio
44. Myles Kennedy - Year of the Tiger
43. Minus the Bear - Fair Enough [EP]
42. Hands of Despair - Well of the Disquieted
41. The Monkees - Christmas Party
40. Tax the Heat - Change Your Position
39. Josh Rouse - Love in the Modern Age
38. U2 - Songs of Experience
37. Punch Brothers - All Ashore
36. The Sea Within - The Sea Within
35. Augury - Illusive Golden Age
34. The Dang Ol' Tri'ole - Dang!
33. Josh King and Them - Into the Blue
32. Nosound - Allow Yourself
31. Fish - A Parley with Angels [EP]
A great preview for the final record coming in 2019.
I have to say maybe the thing that stands out most is hearing a live version of "The Voyeur" it hit me how much it reminded me of some of the Shaming/Kaviar Kevin Gilbert stuff.
30. The Faceless - In Becoming a Ghost
"The Spiraling Void" stands out as 1 of the best tracks they've done. The rest is good but I am on the fence about this band with all the drama and members leaving, etc, kind of bugs me to want to listen to this of late.
Maybe more down the road.
29. Journal - Chrysalis Ordalias
This is massive and long and layered. Not too different than
Unlorja
, their last album from 2010.
It's still moody though.
But it's as technical and epic a record that came out this year, but sadly went under the radar at this point. The Tech/Death and Metalcore scene should check this out certainly.
28. Capital Cities - Solarize
"Venus and River" is my favorite, but take all the singles and the Swimming Pool Summer EP and you have a good collection of catchy tunes, while not new when it was released, can't be ignored how consistent they are.
But I do agree with many in not liking this quite as much as their debut
A Tidal Wave of Mystery
.
27. Yossi Sassi and the Oriental Rock Orchestra - Illusion of Choice
Very fun and progressive. Middle Eastern instrumentation with a lot of strings and heavy rock riffs at times. And largely instrumental which in some ways adds to its charm.
26. Diablo Swing Orchestra - Pacifisticuffs
25. Crippled Black Phoenix - The Great Escape
A return to form in some ways. Maybe their best record since
I, Vigilante
.
Not too long, and this isn't their 5th album in 3 years. I wonder if they may have spent more time on this, it showed in it's quality?
although glancing at their discography, they released a few albums in 2017 and 2016, so I'm not sure.
Regardless, this record I enjoy, and more than many of their other recent ones. It almost reminds me of what Klimt 1918 should still be doing or me enjoying music like Katatonia more than I normally would.
24. Between the Buried and Me - Automata I/II
Better than expected, although the style is really not much different than their last few records. I think with some good moments and the length not being too much helped these.
"Yellow Eyes" off
Automata I
is 1 to go back to certainly.
23. Esperanza Spalding - Exposure
An original experiment being written and recorded live for 3 days, streamed on Facebook.
I enjoy a lot this, although I think a lot of it is more traditional jazz sounding than
Emily D+-Evolution
or even
12 Spells
which came out later.
But the ambition here may have more legs in the long run.
22. The Dear Hunter - All Is as All Should Be [EP]
It's The Dear Hunter and while it's 6 tracks or whatever, I still enjoy them quite a lot.
But at the same time, they are not from The Acts or any concept other than how they were recorded at 6 lucky fans homes/hometowns.
"The Right Wrong," "Blame Paradise," and the title tracks are favorites.
21. Typhoon - Offerings
Very dark and still containing some of the chamber rock/folk stuff I enjoy.
"I Remember" and "Rorschach" are 2 of the best parts.
20. Kimbra - Songs from Primal Heart: Reimagined [EP]
These are surreal and sublime at times. Even better than the original studio version in some ways.
It's only 4 tracks though which is maybe the only issue.
19. Esperanza Spalding - 12 Little Spells
Loving A TON of this. The odd/quirky jazzy-pop section that to me is being as progressive as any jazz artist working today.
"Touch in Mine," "Dancing the Animal," "You Have to Dance," "Readying to Rise," "Thang," "With Others".... jazz, prog, soul, r and b..even a bit of spoken word iirc.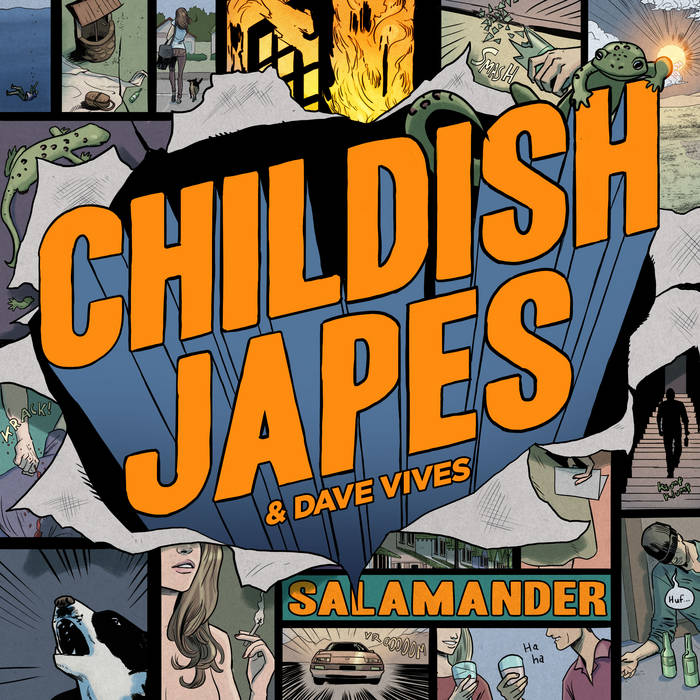 18. Childish Japes and Dave Vives - Salamander
One of the best surprises of the year. This is probably my favorite release JP Bouvet has done since The Super Pilots.
And Dave Vives is an outstanding singer which truth be, I think makes this album 2 or 3 times as good. He totally has a great Jeff Buckley-thing type voice at times which I totally love.
17. Bend Sinister - Foolish Games
"Shannon" is a hugely catchy, riffy tune. The rest of this album is still very consistent with many layered tracks with riffs and keyboard parts that still really work.
16. In Vain - Currents
15. Galactic Cowboys - Long Way Back to the Moon
The Cowboys are back! And this is no slouch of a record with energy and heavy riffs in their progressive-grunge style.
Dane Sonnier, their original guitarist sounds awesome, as does Ben Huggins and Monty Colvin on many of these banging tracks like Zombies and Internal Masquerade which are catchy as hell at times.
14. Black Belt Eagle Scout - Mother of My Children
Wonderful 2nd LP from Katherine Paul of Genders. Some of this reminds me more of her work in Forest Park. Very dreamy and atmospheric.
13. A Dying Planet - Facing the Incurable
Great, emotional, atmospheric prog metal from the Tipton brothers with guests including a track from Erik Rosvold.
Like the samples too.
Sad/melancholy also given Troy having to only be a vocalist and not a bassist anymore, but you can totally hear it in his voice and the music.
12. King Gizzard and the Lizard Wizard - Polygondwanaland
The best King Gizzard album for me, and their proggiest.
"Crumbling Castle" is quite the piece.
11. Orphaned Land - Unsung Prophets and Dead Messiahs
Hugely symphonic and their most technical.
It's long, but all of their albums are.
But it goes up from
All Is One
and even
ORwarriOR
I guess in some ways in that I think it flows slightly better.
10. Coheed and Cambria - Vaxis - Act I: The Unheavenly Creatures
Epic, although that's kind of par for their course. I can't deny, this album reminds me a bit of
Good Apollo 1
more than I would expect.
No production/mixing issues and there are some quite good melodies here. The 1st 3-5 tracks and the last 3-4 songs sans for the last song "Lucky Stars," I get sucked-in, in some ways like
Good Apollo 1.
Stronger melodies and deeper/ more addictive moments help this one compared to so many of their previous albums.
Like it a lot, and maybe their best album since
Good Apollo 1
(
The Afterman
albums were decent, but I at this point would lean towards this record over those).
Probably their 3rd or 4th best record for me.
9. Kimbra - Primal Heart
Heavily Electronic at times, but a lot of the songs still have good moments. "Everybody Knows" is a favorite especially, and I do enjoy many of the singles.
I suppose I can't deny that some of the different elements and feelings from older fans about it not being as pop or soul-driven are valid, but I enjoy every track enough to not be bothered by the differences.
I just hope/wonder if this is her new muse/direction, or is this album kind of a 1-off experiment and she may want to still emphasize her jazz and pop side again more in the future (my wife who enjoys
Vows
and a song like "Miracle," feels this way).
8. Vennart - To Cure a Blizzard Upon a Plastic Sea
Pretty dense and varied album that I do enjoy more or less every track. I suppose to be fair, I haven't been as attached to it as I wish, otherwise it may be even higher.
"Donkey Kong" and "Spider Bones" are both excellent and among the best songs he's written.
"Diamond Ballgag" and "Immortal Soldiers" are 2 other standouts.
7. Small Leaks Sink Ships - Polaroid People [EP]
4 tracks from Small Leaks, and all 4 of them are awesome. I may even feel some of these are better than the Golden Calf stuff from last year.
This band is on a winning streak I hope never ends.
Quirky, layered post-rock prog who as I've said, remind me of Menomena and Wolf Parade at their most progressive.
This one has a cool electronic side to some of it.
Great, emotional vocals as usual.
6. Fjokra - Evening Lights [3-track Vinyl, [1B]
A 3-track single, but it finds its way here and this high because it includes that many tracks.
Poppy, experimental, jazzy, loungey, and still kind of crazy.
The title track may seem tame to those who want the most "out there" Fjokra stuff, but I still love how melodic it is.
This guy and his band are savants and even if this is his approach of singles/videos, I am still a happy Fjokra fan with that way of making/releasing music.
5. Long Distance Calling - Boundless
All-instrumental, but it hardly hurts this album. In some ways it feels like a sequel to the classic
Avoid the Light
.
4. The Gloomcatcher - Blade in the Belfry [EP]
Breath of fresh air to get another new batch of tunes from The Gloomcatcher! Love the piano and acoustic melodies.
3. Grimus - Unmanageable Species
Another great layered/textured pop/rock album from Grimus. I will probably never get past but also always find no problem with how much I love their music reminding me of Ours/U2.
2. Kindo - Happy However After
A great collection of tunes that are maybe more prog-rock than some of their other albums. These songs I loved per the Patreon and they have held up for nearly 2 years.
1. The Family Crest - The War: Act I
My favorite record from one of my favorite bands this decade. While I love Beneath the Brine, I feel this album is even better. I suppose part of it is the consistency and flow. Every track I enjoy and it never drags. Catchy, energetic, and diverse. Many tracks also get better with time.
Next/Now the Current year.....
2018-2019 (11/1/18-10/31/19)
A More detailed entry coming soon
Confirmed titles
22 - You Are Creating: Limb2
Dream Theater - Distance Over Time
Dan Mangan - More or Less
Fish - Weltschmertz
Muse - Simulation Theory
Ours - Part 2: New Age Heroine
Ours - Part 3: Spectacular Sight
Roine Stolt's The Flower King - Manifesto Of An Alchemist
Artists
Arch / Matheos
Bent Knee
Dirt Poor Robins
Disillusion
dredg
East of the Wall
Flying Colors
Foals
iamthemorning
King's X
Local Natives
Neverending White Lights
Ours (a 3rd album TBA)
Pepe Deluxe