Facebook
twitter
So, after catching on initially last week to this band Dirt Poor Robins, with Act 3, I wanted to follow-up and post an entry that is more extensive,
I highlighted and described most of my favorite tracks from All the Acts and the 2 previous albums The Cage and The Last Days of Leviathan, although I'll confess, I hadn't listened to all of those 1st 2 albums until today and am still taking much of the material in.
But I can already say my feeling last week about Dirt Poor Robins being a new *favorite* band is accurate. Probably the best new-band-to-me since maybe Small Leaks Sink Ships back in 2015. They are just so good at songwriting and composing varied parts of songs, melodies, dynamics, dreamy, mesmerizing sections. Kate DeGraide is an excellent singer and many of the vocal lines and layers of vocals, chants, and such just stand out and add to me wanting to go back to them.
I mean if I had to rate or have on rym, all the albums, my ranking would probably go:
The Raven Locks Act 3
The Raven Locks Act 2
The Last Days of Leviathan
The Raven Locks Act 1
The Cage
But every record has multiple songs that are among their best.
The Cage
. "The Hollywood Song" the more times I hear it, has become one of my favorites. It's incredibly catchy and also the lyrics hit home or in a way remind me of Kevin Gilbert and much of
The Shaming of the True
's message. Also a little System of a Down I suppose as they have more than 1 song about Hollywood.
I suppose it is also worth adding some of the artists they remind me of or are influenced by. From Jellyfish, to Amanda Palmer/The Dresden Dolls, to even Evanescence or some other Female-Fronted Heavy Rock/Metal bands, namely some of the comparisons with Kate's vocals.
Pepe Deluxe, Cloud Cult, Emanuel and the Fear, Neverending White Lights, Anathema
And obviously The Dear Hunter and The Family Crest and Kindo (TRoK). TDH obviously, but I find that they don't sound so identical, that it bugs me. It's just many stylistic similarities, namely the 1st 3 Acts and the orchestral/chamber parts. And the whole Conceptual element, fictional story set 100 years or more in the past. And the plans for a Graphic Novel.
But regardless, the music is just so damn good and addictive already, I am totally happy to have found this band, and can't wait to not only continue to take-in these 5 albums, but of course anticipate what they do next.
Which per timing, the next record might not come for a few years, but who knows. Act 3 seems to be their most polished and refined work both from a production and quantity standpoint; but also what seems like a knack for writing great songs and continuing the concept of
The Raven Locks
. So that may mean the next work may be sooner.
Also to see them live? I would love to see them get on a tour with The Dear Hunter or anyone really, although I also wonder how some of these highly layered songs would be pulled off live. I should spend some time on YouTube for any clips of them. I did find a video on their Facebook with them playing "Irony" and some other tunes, in what looks like a studio or something.
Also I ordered Act 1 on cd, the only album that I could find a physical copy of.
The Cage
is listed on CD with an expanded track list
on Amazon as a Preorder
, but I'm not sure what that is after asking Neil on Facebook. There is some stuff about the Graphic Novel and VINYL for
The Raven Locks
wanting to be released. How? I wonder if they could do a Pledgemusic or Indiegogo with it. At this point I would snatch it up.
I also will likely make a Podcast/Video soon. Especially when the Act 1 CD comes in the mail. But I should definitely go onto YouTube soon and babble on about DPR.
Also the entrres a bout Chamber/Baroque rock/folk and RIYL/FFO for The Dear Hunter I will certainly have to include this band.
And one other note, some of the members have another band called Interstates who are an all-instrumental Post Rock group who I did check out some of their album from 2012
3-4
and enjoyed quite a bit of it, and mean to check it and maybe their other music as well soon.
The Cage
rel March 12, 2007
The
Eleanor Rigby
cover is nice and a bit different. Using echoes and electronics at times, and sped up tempo.
The Hollywood Song
: The piano is lovely.
"You have do what they say, cause they can take you to the top. Can you validate me? In the end, all the world is the not the stage you asked for? "It's much more lonesome when you drop"..I hope there's something more than Hollywood"
Masquerade
like the funky element to this tune and the use of cello along with a ragtime section in the bridge.
An earlier arrangement of
Great Vacation
I kind of like as much as the Act 3 version.
Wallflower
: the verses are strong along with a driving drum part.
Aquiline Rise Up
: Riffy, dark, but cool rhythm. The lyric
"Rise up with Wings like Eagles Rise Up with strength to follow. Rise Up it's calling us to go."
Loud is the World
: This is a nice Power Ballad that builds throughout the song.
Love Again
: Rather uptempo, playful tune.
"This is the story of how we learned to love..la la la la la"
it kind of reminds me of Cloud Cult
The Last Days of Leviathan:
rel February 26, 2010
Alibi
: Reminds me of Amanda Palmer, among many of their tunes. The cabaret+power pop. Great harmonies towards the end.
Jim Jones: This track is catchy and energetic with the repeated line
"There's another Jim Jones in America"
Human After All
: This tune is a ballad that sounds like something that would fit on any of the Raven Locks albums. It's thematic, theatrical, majestic and with a cool narrative/story.
"A Vapor Trail. Are We a Vapor Trail?"
Leviathan
: Great energy in this tune, the solo is just plain awesome. Progressive blues rock really. One of the best tracks on the album, and in general.
Sonnet to Science
: Blues Rock that is slow and methodical at times, but adds layers of heavy riffs and trippy moments that are epic.
With Slander for a Blade
: This song goes through many dynamics that the twists and turns and dreamy moments are totally rewarding. Love the line towards the end
"Can You Condemn another Man's sin without adding to it?"
that has this backwards guitar.
Nightingale
: This is a beautiful, and strong yet sad epic closing track.
Tah Dah
: This is supposed to be a Bonus track, but it very well may be the best song on this album. The badass riff that comes in around 1:35 mark is ballsy as hell. It is kind of a *grand finale* of sorts as the lyric mentions.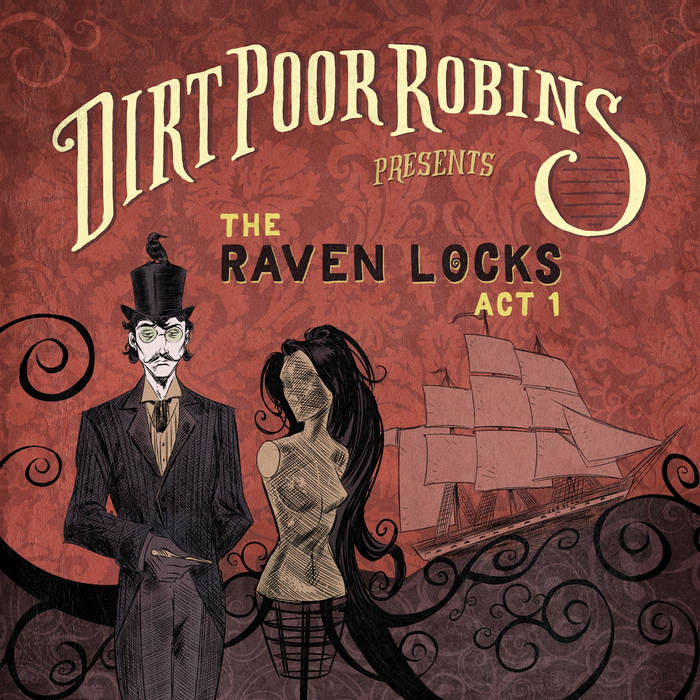 The Raven Locks Act 1
November 19, 2013
Solemn Dream
..this whole song is amazing, but the last minute+ is so goosebump worthy with the piano and build.
The Bird in the Birdcage
: The Chorus is 1 of the best choruses the band have made, and Kate's performance stands out really well among other things about it.
The Raven Locks Act 2
rel September 30, 2014
We Oughta Know Better
: Big guitars and for some reason, some of the softer vocals remind me of Peter Silberman from The Antlers per
Hospice.
Speak to Me
: Dreamy as Hell. Especially about midway through with the vocal layering.
Men Without Chests
: the bridge on this song soars with Cello, a lot of backwards drums/percussion and this wonderful chanting of the 1st half's chorus.
Evergreen
: Wonderful build on this song, with a great use of cello and melancholic, multi-layered vocals.
Solemn Awakening
: Love the reprise of Solemn Dream ending. It has such a great driving CRESCENDOHHHHHHHHHH
The Raven Locks Act 3
rel August 22, 2017
Great Vacation
has a great energy too.
"All of the World..all of the worrrrld..soon will be gone"
Welcome to Lady Hell
: This may be the band's catchiest song. So poppy and uplifting.
"So as sad as it seems, somehow she's holding on to her dreams"
Great vaudville/ragtime bridge with horns and guitars driving the rhythm.
Furthest Star:
This is kind of a narrative/journey tune. Trip into space. Although the band who it reminds me at times, for some reason is Pepe Deluxe.
"Inside our Hiding Place. Clear Across the Milky Way, Beyond the Galaxy, on the Furthest Star you can see"
Wasteland
: Great Chorus.
Justice
: This tune has a great call-and-response vocal parts between Kate and Neil. And the outro is huge.
Irony
: "It's on your merits"..sohhh sad and melancholy the way Kate sings that repeated chorus.
Behold the Grave
: the 2nd half is amazing. So dreamy with many layers gradually added and then this frantic energy in a sped-up outro