Mutemath is a band who I have now seen live 6 times. And unlike even some of my favorite and best live bands, they still have yet to perform an even so-so show. Every concert I've seen from them has had this great energy. The group drumming especially, as I've said about them and the other A-list live bands in recent years, really could show all the so-called "jam bands" actually how to "Jam" without the jams going on way past their welcome.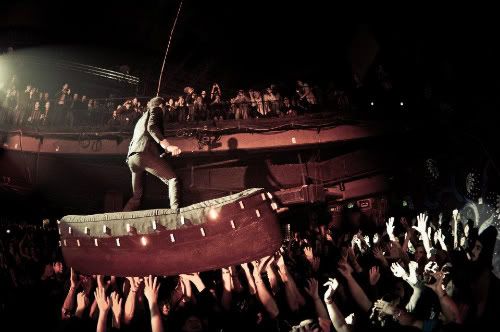 So this 6th concert of theirs on Saturday night, included those jams, and actually a LOT MORE.
A lot more I say, because for a band who have done so much with their live shows, this show still included more things that were unexpected, which I wasn't sure they could/would do.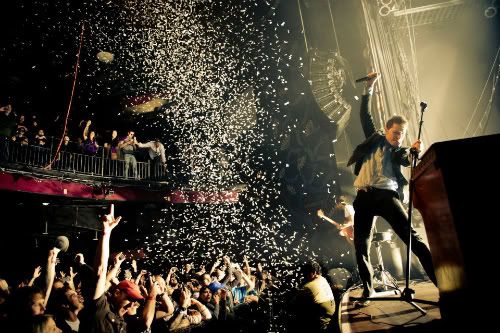 those were things such as beginning the show, marching from the back of the crowd up to the stage.
-Paul Meany crowd surfing on a LIGHTED UP mattress that was pushed/moved by the full-size crowd, while he he was doing his vocals, along with confetti being sprayed into the air ala
The Polyphonic Spree
or
Sigur Ros
-Darren King playing at least 1 snare/kickdrum into, on top of the crowd. While sporting a bow tie, which was sort of
Mayer Hawthorne
-esque and fitting, given a Couple at the show were just married and not changed since their ceremony
Playing the entire new record
Odd Soul
live. Here's a setlist I found online, which I'm assuming is the same.
Odd Soul
Prytania
Blood Pressure
Spotlight
Tell Your Heart Heads Up
Sun Ray
Allies
Clipping
Backfire
Plan B
Cavalries
Obsolete
Walking Paranoia
One More
Stall Out
In No Time
Noticed
Chaos
Equals
All Or Nothing
Control
Break the Same
Quarantine
Reset
Collapse
Typical
So it was probably a bit longer than any of the 5 previous Mutemath shows I've seen, being around 2 hours in 15 minutes (assuming the band began at 7:45PM like they said they would on twitter/facebook, in order to avoid the curfew problems of the 2 previous shows).
Despite a few sound issues early on (on 1 track, I'm thinking Spotlight perhaps?) the crowd even assisted in singing/humming the vocals and guitar melody at 1 point. And what seems almost predictable at 1st Ave among other venues, the frequent intermittent
BRIGHT WHITE LIGHTS
, which I failed to have shades to assist my avoiding. The issue I have with those lights, was slightly annoying, but didn't detract from the show much. Although I guess my beef with them at 1st Ave and other places (Station 4, Varsity namely) is probably better due for another entry/soapbox altogether.
Overall though, this was definitely better than their last (1st?) show at First Ave in 2009 (which wasn't a bad show itself) and one of the best shows I've seen from them and in 2012 thus far. They're just never boring, frequently engaging, and always seem to keep your attention. And the
Odd Soul
stuff works great live. The funky/groovy stuff especially. I think I've come up a little bit on that record in that it may be their best. It's certainly close, and seeing it in its entirety live, enhances it to me, as that can often happen. Darren King alone is pretty mind blowing to watch. He's so remarkably tight on his fills. He has a tiny kit, but he gets such a FAT sound out of his snare, and has those lightning quick fills. He's almost like
Keith Moon
in that sense. He's maybe even more notice-able on
Odd Soul
, than their other records.
As far as
Canon Blue
, even as short a set as they had (about 35 minutes?), they were also impressive playing a handful of tunes off their great new album
Rumspringa
which I picked up on Vinyl. I liked, how like
Mutemath
, they get their whole band it seemed, involved in the percussion. One of the members of their band is
Jeremy Larson
, and in speaking with
Daniel James
(who now I understand, is more or less
Canon Blue
), Jeremy is involved with Darren King of
Mutemath
and
Stacy Dupree-King
from
Eisley
in the new project
Sucré
.
But Jeremy Larson, I guess is classically trained, and has a great background with composition/arranging strings and other chamber/baroque featured instrumentation. Which honestly, if
Sucré
is even half as good as I think it may be, I am going to want to check out his previous music. It wouldn't surprise me if he had something to do with some of the extra instrumentation with
Rumspringa
.
I.e., could he be in the class of a
Casey Crescenzo
,
Jessy Ribordy
or even
Brooke Waggoner
? if he is, I'm rather curious.