2/21/12 7:50PM
Greetings Fans, we're very happy for you to be hearing from us today, we've got a very important announcement to bring you! :)

PRE-ORDER - VICIOUS LITTLE SMILE - OUT 03.13.2012

It is our very distinct pleasure to announce that our forthcoming new album Vicious Little Smile, is now available for pre-order on Amazon.com!

Vicious Little Smile is our first full length studio release since 2007's Covetous, and our debut album released under our new record label THC Music/Rocket Science. We are very proud of this album, which features some very special guests including Phil Collen (Def Leppard/Manraze), and feel like it contains some of our best material to date. We hope that you get as much pleasure listening to it as we had making it!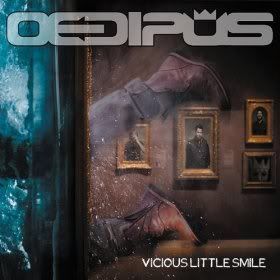 1 Lizzy 3:02
2 Kiss on the Fist 3:16
3 Tres Las 3:31
4 Burn It Down 3:25
5 Liar 5:54
6 Cheat 3:50
7 Final Machine 4:22
8 Gimme a Chance 3:52
9 Every Piece of You 3:38
10 Tied Together 4:02
11 Perfect Strangers 3:34
12 Moonlight 16:27
Stream "Kiss on the Fist"
Amazon Pre-Orders:
MP3
CD
1/4/12 12:58AM
http://oedipusband.com/
The two press releases from their site (and mailing list) are below about this upcoming record.. It comes out digitally on january 24th in Poland, then March 13th in the States and other places. I'm not clear about if the March release will be digital or on CD or even Vinyl.
For those who've never checked this band out, they released a new EP in 2011 titled
Holding Out for More
which is pretty good, although more pure power-pop, unlike their more experimental/prog-rock influenced debut record from 2005
Humbility
.
Happy New Year! We hope you all had a great holiday and are getting off to a great start in 2012. As we kick off what is going to be a great year, we are very pleased to announce that on March 13th, 2012 we will be releasing our first full length release since 2005's Humbility entitled Vicious Little Smile!
Stay tuned for more exciting news and updates coming soon including tour dates, new music videos, and exclusive sneak peeks of Vicious Little Smile, but in the meantime WATCH THE PROMO VIDEO for a preview of our next single "Kiss on the Fist":
We are very excited to bring you all a very special announcement to kick off 2012. Following the release of two new singles this January we will be dropping our brand new digital LP Vicious Little Smile on January 24th, 2012!

Starting January 10th, 2012 we will release our brand new single "Kiss on the Fist", followed by another new single "Liar" on January 17th, 2012, before the digital release of Vicious LIttle Smile, our brand new, full length 9 song LP!

We hope you enjoy, and look forward to hearing from you in the new year! Stay tuned for more exciting news and updates coming soon, but in the meantime watch the promo video for a preview of our next single "Kiss on the Fist":