7/7/11 1:09AM-7/11/11 12:18AM
Official Cover and
here's the link to their online store
where it's now available to order and it'll ship on Thursday July 14th.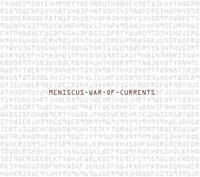 you can go hear "Fight Club" here on Triple J's "Unearthed" section (go to the upper right to stream)
nice tune, a bit more mellow, but it's hardly boring.
6/13/11 5:40PM
Album preview: I dig the samples and some of the peaks. This record could be amazing.
link
war of currents - preview by meniscus

new album preview
we've upload a preview of our new record "war of currents" to give you all a little taste of what's to come

you can listen to the track here on Soundcloud. we will also be posting demos and new things from time to time on soundcloud, so make sure to bookmark the page and keep checking up on us.

Also if you're in Sydney, make sure you come down to the launch gig @ tone in Surry Hills on the 15th of July to be the first to grab a copy. It's gonna be huge.
5:27?11 11:22AM
Link
July 15th this record drops from this Australian Post-Rock of-a-sort group, who I probably best associate with 2 things (beyond being Australian).
1) They reminded me very much of
Oceansize
, but definitely in a GOOD way.
2) Their last EP
Absence of I
included sound effects from insects, bees specifically I recall on at least 1 track.