1/25/12 10:41AM
Apparently the guitarist is
Richie Kotzen
from Melodicrock.com's twitter:
"One more exclusive for you. Replacing John Sykes in the Portnoy project will be Richie Kotzen."
1/24/12 2:49PM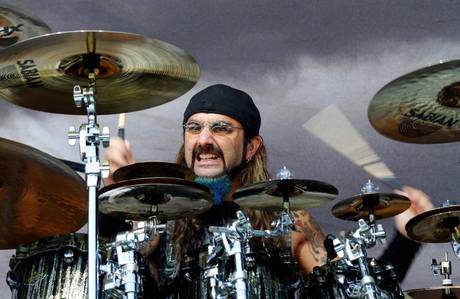 This is the long mentioned project Mike and Eddie Trunk among many others talked about going back to early in 2011. Yesterday it was posted by melodicrock.com's twitter that
John Sykes
was out of the longtime referred to "Portnoy/Sykes" project, which I guess was going to be rather influenced by Classic Hard Rock ala
Led Zeppelin, Deep Purple, Rainbow
, etc.
But as that post Eddie made a little while ago explains, it didn't work out. And then Mike just earlier today posted
on twitter
"@JeremyBednarski: @EddieTrunk Can you say who the bassist was?" Billy Sheehan...we're moving on & now working w another guitarist/singer...
Eddie Trunk's linked post
24-Jan-12 Sykes/Portnoy band ends, the story
1/24/12: Recent reports have made the rounds on my social media and online about the status of the John Sykes/Mike Portnoy band that was first announced when the guys appeared together on That Metal Show last season. There has been much speculation on the status of the band and this project since we first revealed it, and as a friend and fan of both musicians I was very much at the center of it helping where I could and serving as a sounding board with all involved. Sadly I can confirm that as of now this project is no longer moving forward.

When I first talked about Portnoy and Sykes working together I joked with them that I had never met two guys with such different work ethics. Mike wants to do everything yesterday and John really takes his time and is much more conservative. That truly is the only reason why what could have been a killer band has dissolved.

Obviously bands are like any relationship, some click, some do not. This was simply a case of two different people not only getting to know each other musically but also personally, and the schedule and timing for making this work just fell apart. Mike and the bands bass player were ready to go, and John simply was not on the same timetable. There is truly no bigger story or any drama to report. It just didn't work and everyone is moving on.

Mike has several amazing projects in the works including the killer Adrenaline Mob album coming in March, and John may very well do a solo album or something else. He has some great material written and was singing and playing in top form when this dissolved. They both remain friends and I wish them both nothing but the best going forward and who knows what the future holds?
Eddie Trunk
I'm a little bummed by this, but the fact he's still working with
Billy Sheehan
, I'm still curious. The new guitarist? a lot of names being thrown out on Portnoy's forum.
Tony McCalpine
might make sense since Portnoy just played some shows with him; although stylistically, I'm not sure I picture Tony playing the same kind of music the Portnoy/Sykes project Mike described it as.
But I'm sure more information will come soon about this.