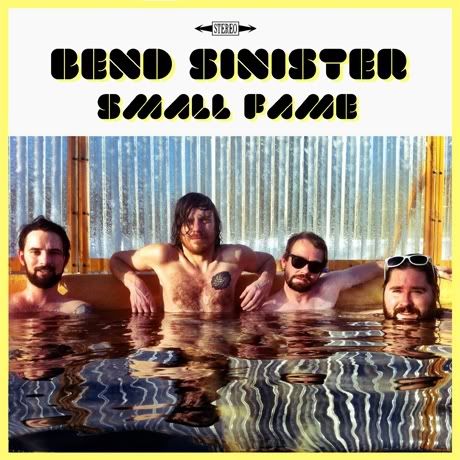 1. She Don't Give It Up
2. Don't You Know
3. Man of Faith and Virtue
4. One Shot
5. Got You on My Mind
6. My Lady
7. We Know Better
8. Give It a Rest
9. Hot Blooded Man
10. Black Magic Woman
11. She Lost Her Rock and Roll
12. Quest for Love
As a longtime fan of Bend Sinister, I am definitely not disappointed with this record. The songwriting is more concise and shorter overall, but at the same time, most of the songs on
Small Fame
have something to enjoy. And it flows pretty well, much like their last record
Stories of Brothers, Tales of Lovers
. Is it as progressive rock influenced as their other records? maybe not. I'm not sure it matters though, as Bend Sinister are now more than before, only part prog, but also a big part power-pop and classic rock among other styles. And I guess overall, for the better, as if they stayed totally progrock, I'm not sure how long they'd be around or even have as good a chance of finally catching on to a wider audience.
The biggest highlights are the opening "
Rush
meets
Hall & Oats
"-inspired number "She Don't Give it Up," "My Lady" with it's call and response vocals (
"Has anybody seen my lady?..[yelling] Has anyone seen my girl!"
) along with a great Hammond organ part. "Hot Blooded Man" is one of the others I always look forward to, as it has this badass groove to which both the keyboards, guitar lines and vocals all help create. It changes times, has a great call-and-response type verses, and like many other great Bend Sinister tunes, it seems to shift gears rather well. I actually think it's one of those songs that I could go for it going on for twice as long as it is. I imagine when the band plays it live, they have, as it sounds like something that would go over rather well live. The high energy is impossible to ignore.
Of course the 1st track I fell in love with the most "Quest for Love" still remains the best tune, although like "Hot Blooded Man" if it were longer, it might be even greater. That being said, it is a great example of doing prog in a short/radio-length-friendly way. Sound-wise, there isn't another tune on this record, or maybe any song they've done, that it compares to. But I can't deny, it does remind me a lot of
Iron Maiden
among a few others. The tight guitar and keyboard lines, with Dan Moxon's almost chanty-like vocals just seem to channel that "epic" feel, idea, etc.
The drum work on this record is consistent, and by that I mean, you always notice
Jason Dana
. Every track pretty much, although he also has played on everything Bend Sinister's has released since
Stories of Brothers
. I just think his work on here stands out, and despite the fact the heart of their sound is very pop-oriented, he's both technical and tight enough to not sound like a session drummer.
I suppose one thing that is worth adding is while every other track I enjoy.
"Give it a Rest" and "Got You On My Mind" both of I knew/had heard and liked from the
On My Mind
EP released in March.
"Man of Faith and Virtue," is playful and includes a lead keyboard part which is sort of trademark of the Bend Sinister sound.
"Don't You Know" has a fun, upbeat, driving chorus
"Don't You Know Why I'm Still in Love With You"
"One Shot" has this almost
Billy Joel
-like chorus to it("Big Shot"?).
"Black Magic Woman" (no, it's nothing like the
Santana
tune) is sort of a darker slow, bluesy ballad, that would almost fit well on a
Led Zeppelin
album ("Since I've Been Loving You"?).
"She Lost Her Rock and Roll" includes this big, grandiose Vocal and guitar interplay. As much as "Quest for Love" almost defines the word "epic," this tune almost could be described in that way as well, and works rather well in transition to the closing track.
The one likely skippable tune for me is "We Know Better" which I'm struggling with to like. The chorus just is bland and it gets repeated over and over. I can't help but wonder if "Things Will Get Better" off 2010's
Spring Romance
EP, would have gone *better* here. But I suppose given that song is older, the band might not have felt it belongs with this newer collection of songs.
All in All, this record is a top 5-10 Album Index contender, although I'd be lying if I didn't rank this record slightly below both
Stories of Brothers, Tales of Lovers
and
Through the Broken City.
But both of those records I love immensely, and like the new
House of Fools
and
Ramona Falls
(and
Emanuel & the Fear
it appears), this is by no means a disappointing record.
Now whether it finally enables them to breakthrough in America, it is up in the air. But maybe the biggest thing is for that, Dan Moxon mentioned this is their 1st album that will be receiving distribution in the US. And they plan to finally tour in the States this coming Fall (likely East Coast since they already are confirmed for the CMJ festival again, in NYC), and then hopefully at least 1 somewhat widespread tour in early to mid 2013. Because honestly, I think it is kind of Do or Die for them. This may be their "One Shot" as their song says. But at least they are finally going to get a shot. If their tour doesn't hit Minnesota, I can't see myself not traveling to Chicago or another city to finally get to see them after 6-7 years of wanting to.
Here's their latest video for "Don't You Know" and another recent video for an unreleased/b-side with the preorder "The Road Divided"
PGI#4 - Bend Sinister, The Road Divided from playground.is on Vimeo.