wikipedia
tviv.org
Sunday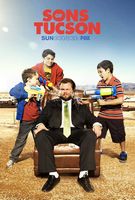 Sons of Tucson
tv.com
Tyler Labine
, who was hilarious at times on "Reaper" is the biggest reason to watch this. I swear, the guy needs to work with Jack Black in the worst way. But it's not going to air until March or April unfortunately.
other than this show, pretty much everything on Sundays on Network TV sucks.
Come March:
Breaking Bad
returns on AMC. It's 3rd Season.
tv.com
imdb
and presumably in April again,
In Plain Sight
could return. Although that's assuming it's going to have the same schedule it did this past season, and not a 8-episode Summer/8-episode Winter schedule like Monk, Psych, and Burn Notice.
Also the
Ian McKellen/Jim Caviezel
remake of the popular 60's BBC series "The Prisoner" comes to AMC sometime in November. Considering it's a mini-series, it'll probably end up airing like every night over 1-week.
imdb
tv.com