bumped 9/20/09 1:46PM
a vbr leaked.
bumped 9/1/09 11:41PM
Some more info and a new song to hear.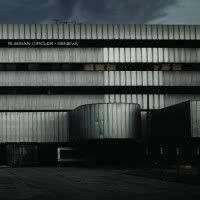 Track list:
1. Fathom
2. Geneva
3. Melee
4. Hexed All
5. Malko
6. When the Mountain Comes to Muhammad
7. Philos
Go Hear "Malko"
the intro of this new song sounds pretty different than their other stuff. I kind of wonder what this record will be like texturally. Call me a bit more interested now. But I also hope it doesn't have some of those songs that go into cool parts, that ultimately don't leave me quite satisfied, but more teased.
original 7/18/09 2:35AM
So this is the new full-length? album from
Russian Circles
. Kind of soon after last year's sophomore record. It drops on
October 20th
Here's a clip (news and clip borrowed from another blog)
Editorial: 2008's "Station" was frankly, a letdown after the debut "Enter" was such a breath of fresh air. "Station" wasn't by all means, awful or anything, but it didn't flow or leave the same enjoyable impression I got from "Enter." The title track, perhaps my favorite part of it, was somewhat of a tease. There's this 1 section that builds gradually, but never really blows up like it could. They seemed to channel more directly, some of their post-
rock
influences throughout I recall.
I suppose they are in a bit of a similar spot where
Pain of Salvation
or
Porcupine Tree
are, just with less history. 1 less-than-par album is worth not worrying about, but if "Geneva" is more of the traditional Post-Rock stuff; meh, I am going to just lower my interest and expectations for these guys. Time will tell, but I've seen many groups go both ways. "Enter" will always be somewhat of a classic debut, regardless. Although given the choice,
Long Distance Calling
I'd put ahead of these guys now. But maybe after hearing this new album, I won't.