Not sure what to think about this, as Sufjan's last record was hard to listen to and bored me at the same time. And The National of course I don't care for.
However, when Sufjan does things outside of folk, I can often get on board, The description and 1st clip sound like Space-Rock and quite electronic. I guess it depends on if it flows or if it meanders. I'm curious at least at this point.
Oh and I guess Nico Muhly has composed string arrangements for Grizzly Bear, who are another band I'm not a fan of. But, if his background is in Classical Music? I guess that may help my interest.
release date is June 9th
In 2013, after completing two states of his reputed 50-state album project, Sufjan Stevens moved on to bigger and better things. Specifically, he teamed up with The National's Bryce Dessner, Nico Muhly, and drummer James McAlister for an original composition inspired by the solar system. Entitled Planetarium, the project received its live debut during a multi-night run at the Brooklyn Academy Of Music. Years later, they're finally releasing a recording of the project. The 17-track LP is set for release on June 9th via 4AD, and have recently unveiled the first preview in the form of "Saturn."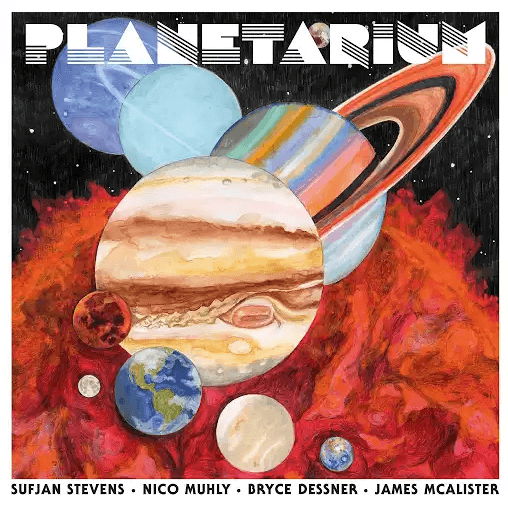 01 Neptune
02 Jupiter
03 Halley's Comet
04 Venus
05 Uranus
06 Mars
07 Black Energy
08 Sun
09 Tides
10 Moon
11 Pluto
12 Kuiper Belt
13 Black Hole
14 Saturn
15 In the Beginning
16 Earth
17 Mercury
Saturn
from
CandyStations
on
Vimeo
.