5/8/12 11:39AM- 9:02PM
I know it's like 7 hours old, but worth sharing still: I do wonder what the he refers to "rescheduling" this show on their next tour. Perhaps Minneapolis will get a special makeup kind of show, sort of like Bloc Party did a few years ago. Although if it's at Myth, I'm unsure how much I'd want to go still.
Facebook Post from Mikael
Hi guys! I'm writing from beyond the grave. Seriously, I was not in a car crash and I haven't broken my arm. All that happened is I hit my head in mastodons tour bus as I was getting a new pair of (red) underwear out from my suitcase. Wish the story was more rock and roll, believe me. Anyways I split my head open down to the skullbone and had to be taken to the emergency. They gave me a bunch of shots in the wound, cleaned me up and stapled my head shut with 8 metal staples. Head is sore and if I smile it feels like the wound is gonna burst open again, but I'll be on stage by tomorrow again. I feel extremely disappointed that we couldn't play at the myth in Minneapolis, but paramedics told me I couldn't. We will reschedule the show for our next trip to the USA. So all rumors of me being in a car crash are false. I did crash my head into a car though, well...a bus really. Sorry for disappointing our fans in Minneapolis but I hope you understand. See you next time. Best. Mikael
Facebook Post
He was not in an accident with an AUTOMOBILE/CAR, but just an accident. NOT a BROKEN ARM, but a collision to his head (which I worried). This now more specific/detailed account doesn't sound so worrisome, but still, hopefully the effects of this won't be much long term.
Many have already learned that yesterday's performances at The Myth In St Paul had to be cancelled due to Mikael having an accident. Right before stage time Mike bumped his head on the tour bus which resulted in a pretty deep cut that required urgent medical attention. Mike was taken to hospital which he left a little later with eight stitches and a nasty headache. He's doing OK now and we expect him to be up and running (though slightly slower) again for tomorrow's show and onwards. Mike & the band were very disappointed not being able to play yesterday but thank everyone for their understanding and for the tons of get-well-wishes Mike has received since. The band also thanks their friends in Mastodon for playing an extended set that hopefully kept all who attended happy.
5/7/12 11:24PM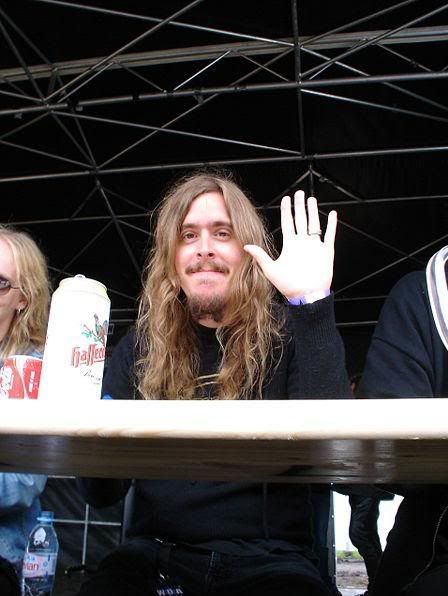 I just noticed some posts on some of the forums within the last hour or so.
Opeth
frontman singer/guitarist etc Mikael
Åkerfeldt
I guess was in an auto accident earlier today/tonight, Monday May 7th, 2012.
Here's 1 story
which confirms Opeth canceled their show at Myth in Maplewood, MN tonight due to this.
OPETH Cancel Tonight's Show Due To Mikael Akerfeldt Being Hospitalized

Tonight's Opeth set at Myth in Minnesota has been canceled. The band's tour manager has just informed the crowd that Mikael Akerfeldt was in a reported car accident of sorts and has been hospitalized with a broken arm. Akerfeldt is said to be doing fine and expected to return to the tour shortly. Both Ghost and Mastodon will play extended sets to fill in. Further details will be posted as they become available.
As that story mentions, he was hospitalized with a BROKEN ARM, which is serious, but not hugely critical long term you'd think. However, if more happened (like something involving his HEAD?), that would be
more serious
.
But, as of right now, a lot of the details haven't really been released. I suppose by tomorrow sometime they could be.
In the mean time, as a fan of his and
Opeth
among his other music, I am sincerely hoping the severity of this accident to his health (physical and anything else) is not incredibly high.
Also a little ironic how this happens (or took place?) in my hometown, the venue, MYTH, actually is literally less than a 15 minute drive for me, is kind of eerie. I wasn't going to go due to a number of factors, probably biggest being price and the fact it sold out. But I can only imagine a lot of the speculation that may have been made there tonight. Sucks for those who went hoping to see
Opeth
. Maybe
Mastodon
or
Ghost
did extended sets.