5/12/12 1:06PM this link on bandcamp

supposedly will have the album finally available for those outside of the Australia and New Zealand. And I would imagine a FULL ALBUM STREAM. But as of 1:06PM CST, it doesn't appear to be. Just preorders and the 2 tracks streaming.

5/9/12 11:45AM

Here's a few comments from forums and fb/twitter. I'll try and add more in time.

if you enjoy Opeth you almost owe it to yourself to listen to Ne Obliviscaris and their new album "Portal of I" which drops officially worldwide on Saturday May 12th. Overall a great record. I'm kind of going back and forth about how I feel about it tho, just 1 time hearing it. On 1 hand, there's a ton of moments to always look forward to. On the other hand, they almost do channel Opeth more than I expected. And overall, you take in an album this long, a lot of it for various reasons resembles a certain sound. In other words, there's not a vast variety of sound to it. But I'm not sure that may matter.
But if you were to describe it, your description on Epic Rock Talk a few months back of "Opeth with Violin" seems more direct to me now.
I guess with time, more distinction will come.
http://rateyourmusic.com/charts/top/album/2012
I am hoping by some chance it'll receive a high enough rating early on, it'll knock off that hipster record by Beach House from rateyourmusic.com soon. But then what may almost expectedly happen, the hipsters will go and downrate it to 1/2-star just to try and get Beach House back up to the #1 spot, lol.
5/3/12 5:56AM 4/14/12 3:56PM Pre-Orders linked there or Choose your Pre-Order package from the links here 4/2/12 4:02AM

Fucking Finahleee! May 7th in Australia, soon after the rest of the world.

Announcement on Facebook Ne Obliviscaris 'PORTAL OF I' set for release MAY 7 & Australian album tour announced! FINALLY!!

PORTAL OF I:
"This is a work that simply must be experienced to be believed"- (Rod Whitfield/Heavy Mag)

"Almost 9 years after the bands formative rehearsals first took place; after numerous line-up changes that has seen the band go through almost continual change, always for the better; after more than 5 years have passed since the band released a 3 song demo that garnered us worldwide critical acclaim and a fanbase made up of all of YOU who are reading this and been waiting for this for so long; after a successful 15 month battle with the Australian Immigration Department saw our lead guitarist, Benjamin Baret, finally granted a long term visa in Australia due to the incredible support of thousands of fans worldwide; after more frustrations and delays than the band thought we could ever possibly deal with; we present to you... 'Portal Of I'.



Set for release on May 7 in Australia through Welkin Records and shortly after worldwide through a soon to be announced label (stay tuned),

'Portal Of I' is every bit of musical energy we could muster. Our love, our pain, our frustration, our joy..... It's 7 songs & 72 minutes and we will be performing the album in its entirety at all our Australian Tour shows in May/June.

Thank you to all those who have been patiently waiting for this news for all these years. We can't wait to hear what the world thinks.- NeO"

P.S. We had a Brisbane show booked on June 2 at the Primitive Room, but the venue was shut down for live music due to noise issues only a couple days ago so we are currently hard at work trying to finalise a new venue/date, so Brisbane people don't worry we haven't forgotten about you!

P.P.S. For those in cities that we have missed out on this tour such as Hobart, Perth & more, don't despair, we will be doing a more extensive tour slightly later in the year so will be coming to you soon!

NE OBLIVISCARIS'PORTAL OF I AUSTRALIAN TOUR DATES'

Friday, May 18@ The Corner Hotel, Melbourne 18+
Saturday, May 19@ The Castle, Dandenong, Melbourne *ALL AGES*
Saturday, June 9@ The Enigma Bar, Adelaide
Saturday, June 16@ The Bald Faced Stag (The Wall), Sydney
Brisbane show TBA!

TOUR FACEBOOK EVENT PAGE: http://www.facebook.com/events/257485314343746/ 10/14/11 8:44PM

Stream the new song "And Plague Flowers the Kaleidoscope"

9/27/11 8:43AM NE OBLIVISCARIS UNVEIL TITLE/ARTWORK/TRACK LIST FOR FORTHCOMING ALBUM!
With our album finally set to be mastered this week after a lengthy recording process, and then a lengthy mixing process with Jens Bogren (we're not good at doing things quickly it seems...have you noticed?), we're finally getting close to being able to let you all hear the final result of our years of hard work. So with that in mind, we thought we'd start to give you a bit more information about our debut album!

First of all, we have given it the title 'PORTAL OF I'. More than anything else, this album was for us a long epic journey, personally and musically, and throughout its creation we've experienced some of the best times in our lives and some of the worst. The portal this album creates for each of us in NeO is significant and pronounced, and whilst every person will experience this album differently, we hope that it also provides each of you with your own portal journeying into the musical world we've created.

Secondly, artwork for 'Portal Of I' has been completed by our vocalist Xenoyr. Here is the front cover for you all to check out! This album is full of complexities, and encompasses many shades of dark and light and we feel this artwork really reflects 'Portal Of I' well.

Lastly, here is the tracklist for 'Portal of I'. The album features 7 songs, and is just over 71 minutes in length. All of the songs are quite different and distinct and we can't wait for you to hear them all!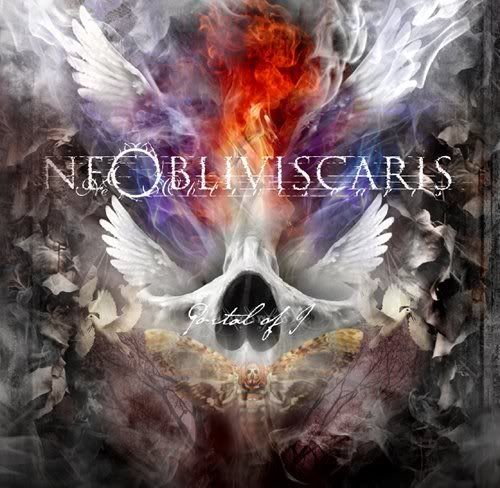 1. Tapestry of the Starless Abstract (12:01)
2. Xenoflux (10:01)
3. Of the Leper Butterflies (5:52)
4. Forget Not (12:04)
5. And Plague Flowers the Kaleidoscope (11:35)
6. As Icicles Fall (9:24)
7. Of Petrichor Weaves Black Noise (10:43)

When's the official release date? Stay tuned for more announcements in the coming weeks!

NeO
Fucking Finally!
How it's coming out? format? release date? yeah, that stuff still needs to be announced, but wow, I am pretty floored for this now. Although, on the surface it looks a fair amount like the
Averse
debut album from last year. But I always have thought these guys were a bit better than them, even with the abundance of extensive songs. I'm totally giving them the benefit of the doubt here.
Bring this sucker on. Could be the Metal album of the year, easily actually. Can't wait to find out in a short while.