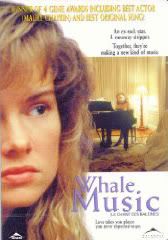 imdb
Maury Chaykin
and
Cynthia Preston
star in this little seen dramatic gem from 1994, that I guess is highly similar, if not almost directly influenced by
Brian Wilson
of the Beach Boys.
I first heard about this
here
and ever since then I've been rather curious to see it.
Chaykin plays a gold and platinum selling songwriter, like Wilson, whose brother (
Paul Gross
) died many years before the movie takes place in a slightly mysterious incident with his car driving off of a cliff on or near Chaykin's estate, which is located on or near an Ocean (the Pacific?).
Throughout the movie, Chaykin's character Desmond (or "Des") Howl is visited (well, maybe best described as traumatized) by memories and the spirit of his dead brother Daniel. Daniel had been a songwriter or at least musician in the same pop band with Des.
Early on in the movie, a young woman named Claire breaks in to his large, isolated estate and somehow manages to bring him slowly out of his shell. Des likes to dive, swim, and even bathe in a way, in what is referred to as a "pool" at his place. But really what it appears to be is a bit of an extensively designed dock (with a wall on at least 2 sides) off the body of water that his home is located off of.
But it's filthy; as it probably hasn't been cleaned for months if not years. But Des doesn't care (or notice?). Claire offers to clean it for him, and she ultimately cleans a lot of the rest of his home. A home that is worth a lot, including the extensive amount of recording equipment and instruments.
Des is composing and recording "whale music" with all his equipment. The music ultimately ends up being a way to connect to his brother's spirit I suppose.
Claire and Des do connect on many levels, even though they have much different backgrounds. They do have some qualities in common though, asd they both are misunderstood, and struggling to find out where their lives should go next. Both have some level of mental instability. But maybe misery loving company, or even misery finding misery leads to happiness and less unstable mental health.
Having read a bit more about this movie and Maury Chaykin specifically, it feels even more sad and maybe powerful in a way given he died last year, July 27th, almost one year to the day I purchased this DVD. He won a Genie? (or Gemini?) award for his role in this movie, which is I guess Canada's version of the Academy Awards. But also looking at his biography, he was a prolific actor, starting out in 1975, and working more or less up until the time he died. Perhaps more people will find this and his other work in the future and appreciate him.
I also can't help but think of some others in this story, of course one being the tragic tale of
Kevin Gilbert
. There is something to be said about brilliant artists having traumatic experiences to inspire their muse to greatness. Kevin had plenty of it, as did others. And the music in this movie is one of the best and most memorable parts of it. From the hook for Des's group song "Torque Torque, the beast needs more Torque" to the piece titled "Claire." And of course the actual *Whale Music* is both catchy, yet symphonic (or "progressive"?). I definitely would like to find a soundtrack from this sometime soon, and even just to find out all the people involved in the writing and recording (their backgrounds, etc).
Well recommended, especially for fans of Brian Wilson, The Beach Boys, Maury Chaykin, and anyone who knows about misunderstood artists stories.