2015-2016:
Okay, well this is the
1st part
of a
2 or 3 part series
of entries about the current and upcoming albums for the year. Of course as I adopted a couple of years ago, the year began November 1st, and so November and December albums are included.
As for this entry, it is the stuff that has come or are scheduled to be released at this point, along with a few that seem highly likely given the information.
The next entry or two though, is where a lot of the blue chips will show up, but of course many may come much later, or of course not even at all. But to say a lot of the names in the next 1 or 2 are on my mind a lot, is accurate (Fjokra and Pepe Deluxe to name just a couple of them).
But as far as the below list/calendar, it does include some strong and optimistic stuff. Having just heard the Brooke Waggoner album finally in the last couple of days, I can already say that is one I enjoy and should go back to a lot (maybe even an early leader?).
The metal titles seem potentially formidable, with Vektor and Hands of Despair definitely something to be excited about, among some others.
Dream Theater: I just read a couple of actually pretty positive reviews of their new record, which adds something more I suppose.
Cloud Cult's new album and film keeps sounding better and more intriguing.
And then there are the November/December titles, which Falling Up and Mutemath certainly factor into this season's crop. And the SikTh EP/Mini-album as well.
------------November-------------
13: Chris Isaak
- First Comes the Night
My fiancee is a pretty big fan, and I did see him a few years ago with her. And I at least can claim to enjoy both his and some covers of "Wicked Game" (Kaddisfly namely). The reviews for it actually have been decent; although the amount I'll be hearing it largely depends on the fiancee's interest and possibly if he comes back into town and we go to see him.
13: Mutemath
– Vitals
Despite a lot of polarizing feelings about this album from longtime fans, I am enjoying this album a lot. It has great energy, like many Mutemath albums. The use of synths I am finding really work well on this album, despite them usurping the guitar presence.
From the wall-of-sound instrumentals "Bulletproof" and the title track, to tracks like "Stratosphere," "Light Up," and "Joyrides," this album is consistently engaging. I even think some of the slower/more ballad-y tracks still work rather well and don't disrupt any flow to this album.
Where it lands come next November/December is unclear, but I can see myself continuing to listen to it over the next year certainly, especially around the time of the concert at First Avenue on April 3rd.
13: Falling Up
- Falling Up
The final Falling Up album. Some of the initial details were given in the interview I did with Jessy Ribordy last Summer.
My overall feeling about Falling Up has been, I am a fan of their albums, namely the ones since Fangs from 2009. Although I find Fangs to be my favorite, I do enjoy a lot of the music on Sparkling Death Cometh and the Hours/Midnight on Earthship records, but especially the latter 2 I probably didn't invest enough time to fully get into them. Part of that was due to lack of time, and possibly part of that was how they got released, 1-track at a time, I sort of lost momentum in trying to listen to them.
Blech, cutting-to-the-chase, this album is really bloody good. I'm not exactly sure why I am enjoying it more than even the previous records, but I think it could be given how much time and thought I think may have been put into it. As Jessy explained in that interview:
ALLMR:
How does it differ from even the most recent Falling Up records like
Hours
,
Midnight on Earthship
and
Your Sparkling Death Cometh
, and how is it similar?
Jessy: Well I've taken a lot more time to write this album than the others. YSDC I wrote in about three weeks ha! This one I took three months to really get the songs the way I wanted them. Not to say that the songs lacked anything on those older records. In fact normally I write better under pressure and in a shorter amount of time. Sometimes when I have too much time I second guess myself way too much. But it was different with this album. Time was a good thing. I needed to be in the space that my life was in at the time to really absorb inspiration. But it's similar in ways of recording. Since we've become independent we've lived by the standard of not holding back with our albums. We let the songs be the songs that they are meant to be instead of trying to form them into anything for any other purpose than just being music.
As for tracks, etc the 1st single/video "Into the Woodshop" probably stands as my favorite as it has this great story of sorts it seems to tell. The guitar lines are melancholic and yet beautiful. And the emotion comes across really well in Jessy's vocal delivery.
Other highlights include the opening track "Boone Flyer" and the 2nd epic track "Flora" which each time I listen to it, I notice new things to like. "Hydro" and "The Insect" are a couple other favorites that musically work well, and lyrically, add to the intrigue of the concept/story that it being told with this album, which seems to be about stories about/in a house as Jessy mentioned in the interview.
I guess part of why I may also be enjoying this album so much as it is their final album, and it seems they wanted to go out on a great final note/swan song. The beauty and magic and cinematic element is as great as it's been with any Falling Up album, and much like some of Jessy's other work which I happen to love (The River Empires, The Gloomcatcher). It is kind of bitter-sweet in that sense. And I'm hardly the only one taking notice as on
the rateyourmusic page
, it is getting rather favorable ratings thus far.
But even though it is their last album, I am really happy it came out so good, and it does have me curious what Jessy and people like Nick Lambert and Josh Shroy will do now. Josh for example, really stands out on this album, probably more than any other record, as his drum work is outstanding. Even how well it is emphasized and mixed. The drums are at times my favorite part of many songs.
I probably will continue with this album from now until next October, and unless something changes, I can't see this not finishing pretty high among my favorites from 2015-2016.
--------------December------------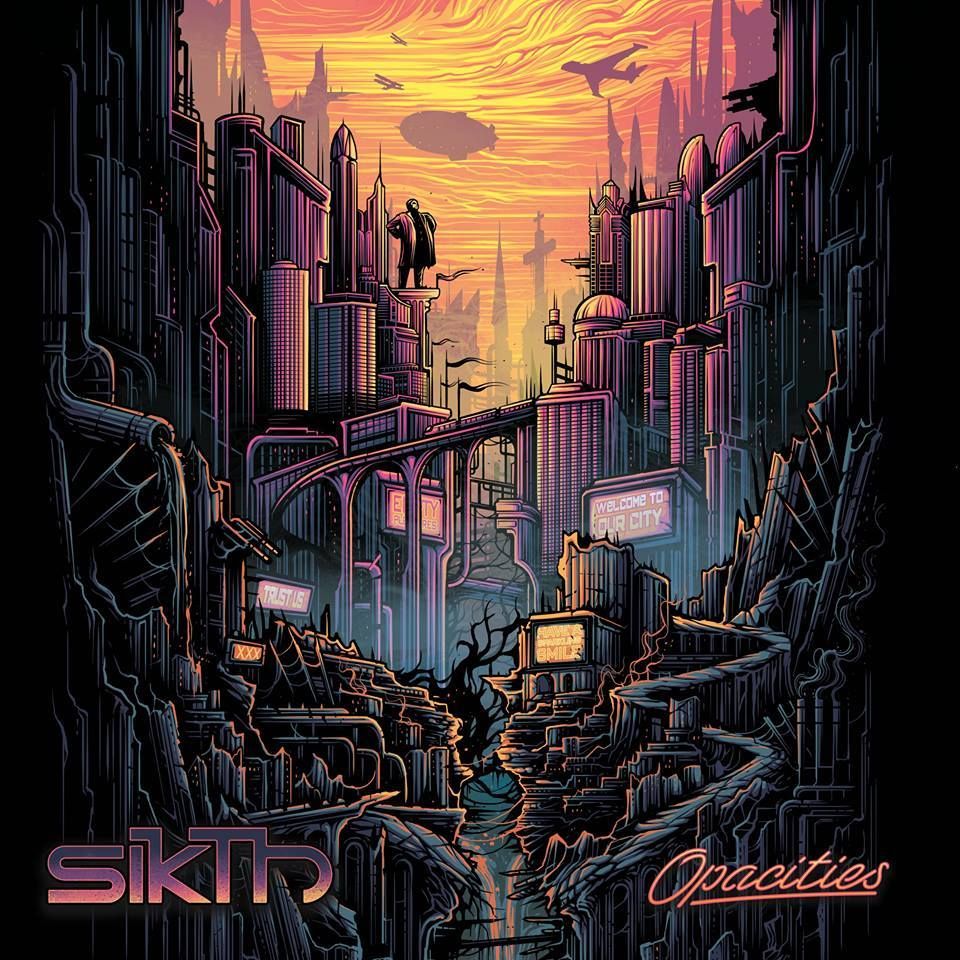 4: SikTh
- Opacities [EP] (December)
The first SikTh release since 2006's Death of a Dead Day. And of course the 1st since they broke up in 2008? and then reformed a couple of years ago to play live.
I do enjoy a lot of this, as I am SikTh fan, and a fan of their chaotic, theatrical and technical style of Prog Metal.
"Walking Shadows" is the stand out track early-on, and it also doesn't seem to have any of the clipping cymbal mix that is on other parts of this Mini-Album.
But the compositions are certainly on par with their older work. the djent moments come, but I guess I'm not bothered by them, as much as other more recent bands. And the spoken sections still add charm but don't seem too excessive.
SikTh are back finally, and there isn't another band doing this kind of music like them (or as good as them, although I suppose I would love for uneXpect to comeback at some point and compare).
11:
JennyLee (Jenny Lee Lindberg)
- Right On!
Debut solo record from Warpaint's bassist/vocalist. I honestly only checked out about 1/2 of this album, and the jury is still very much out about it. I guess the mellow/moody vibe still seems to be apparent in the writing, which does remind me more of the last Warpaint record from 2014, which overall I didn't love .
But given how little I've heard of this still, and it's her own project, rather than what Warpaint are doing collectively, my expectations aren't as high.
-------------January-------------
8: David Bowie
- Blackstar
The 1st single, which was the title track, just remembering, I did enjoy. But not to the point of addiction. I am a David Bowie fan, but not massive; so while I will be checking this out, I don't have huge expectations for it, but if it surprises me, I won't be surprised, lol.
It also only includes 7 tracks, and just glancing on rym, it is being rated rather highly right now. Sleeper?
15: Brooke Waggoner
- Sweven
The 1st 2 singles "Widow Maker" and "Ovenbird" are both really good, and sound like Brooke may be using more orchestral elements on this album, maybe more than on her last record Originator from 2013.
Although regardless, all of Brooke's records have been really good, so I honestly almost expect to love this thing, and hopefully soon since January 15th is right around the corner.
edit:
Stream it in Full here
Thumbs up on "Pennies and Youth"..reminds me a bit of
Go Easy Little Doves
.
The whole thing, not surprisingly, has impressed me a ton.
22: Steven Wilson
- 4 1/2
The next release which per the title, is like a Half-Release or an EP, etc. Although rym shows it as a full-length. It is 37 minutes of music I guess, for what that's worth.
It includes "Don't Hate Me" which from memory, is a Porcupine Tree track from Stupid Dream. I am assuming the version on this album will be different, re-arranged, etc.
It also includes the opening 9+ minute "My Book of Regrets" which I think is the track that was played at many shows on the tour of the US I saw last Spring (in Minneapolis), but it wasn't named at that point.
Looking forward to this, although given it is only 6 tracks, 5 new original/ etc I suppose my hopes aren't as high as they would be for his next full-length. Then again, I find Nil Recurring to be one of the best Porcupine Tree records.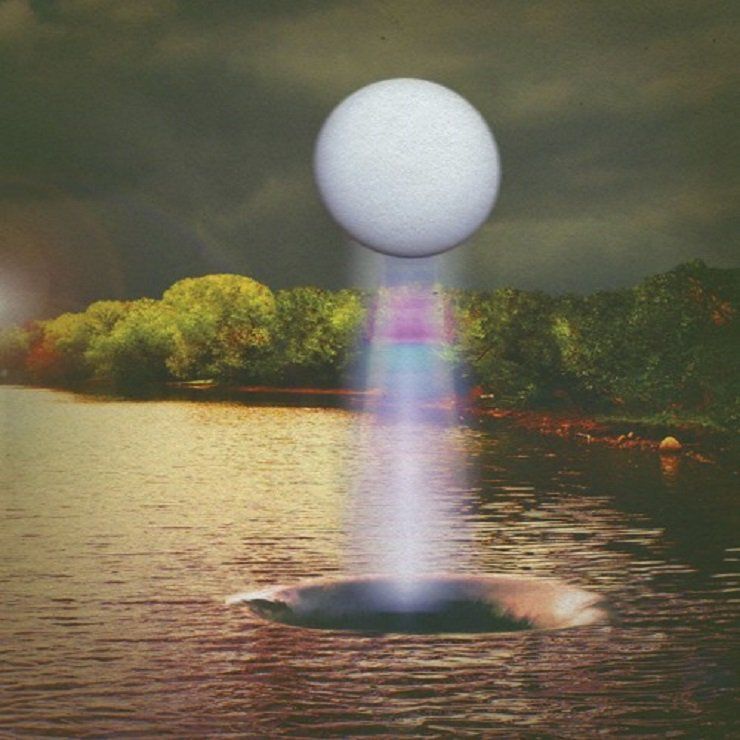 22: The Besnard Lakes
- A Coliseum Complex Museum
Atmospheric psych/rock band from Canada who are still around. They released something a year or 2 ago which kind of put me to sleep, but I can't deny, I loved the 1 show saw them. I'll check this one out certainly, but even if I don't go apeshit over it, I probably will continue to look at their best heard in concert where their trippy-ness comes out best.
29: Dream Theater
- The Astonishing
34 track, and a double Concept album. And the band are to perform the whole thing live next Spring.
And the concept is so overtly-fantasy Game-of-Thrones/Dungeons and Dragons/Lord of the Rings like, at least just based on the track titles, I think I'm hardly alone in just expecting an all-out cheesy nerdfest.
That being said, I am a lifer Dream Theater fan, and will always pay attention to what they make, even with their approach to songwriting/composition in recent years.
This at least has them trying something different, with the big concept and another double-record, their 1st since
Six Degrees of Inner Turbulence
from 2002.
I guess I don't expect to get attached to this record, but if I somehow enjoy more than half of it, I'll be pleasantly surprised. I guess it wouldn't even surprise me if I and many other fans love it or just forget about it. Which from a time standpoint, is kind of a win-win situation.
----------------February--------------
5: Obscura
- Akroasis
One of the better technical death metal bands returns with their 1st album since 2011's Omnivium. I do enjoy them, but can't say I love them like some other bands. They do at times sound a fair amount like early Cynic, which is a plus. But I can't forget, how I love Necrophagist, and this band along with
Hannes Grossman's
solo work has kind of killed the chances of more music coming from Necrophagist. I.e. I kind of see Obscura as the next best thing if Necrophagist never comes back.
5: Field Music
- Commontime
I certainly will check this out, from this british group who some compare to XTC. I seem to recall enjoying their record their 2010 record Measure, more than Plumb, the follow-up in 2012. Although just scanning their rym, they made music for a film titled Music For Drifters in 2015, so that may be worth checking out as well.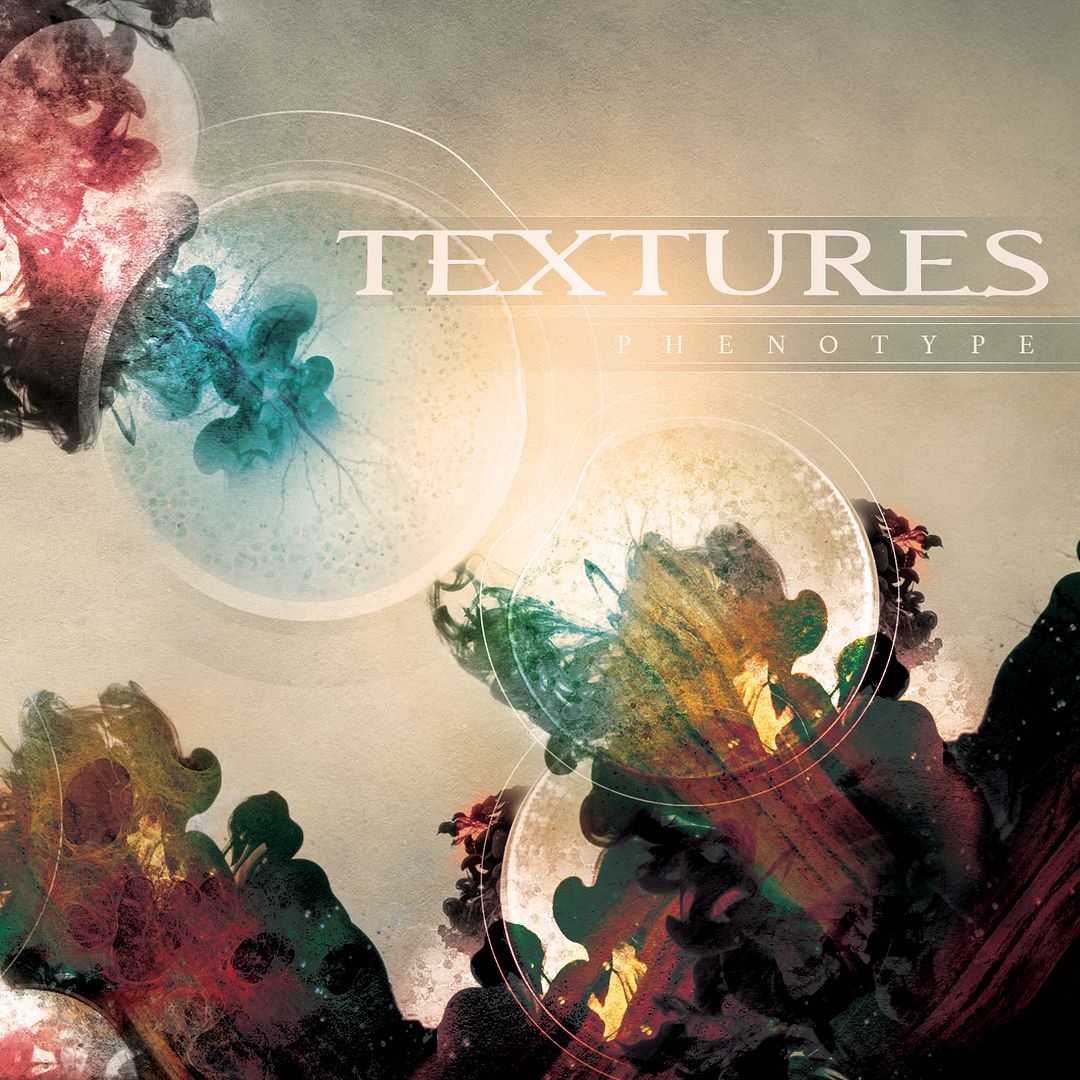 5: Textures
- Phenotype
Another record from Textures, which I know they sort of moved the whole Djent thing along before Periphery sort of mainstreamed it. 2011's Dualism I rated at 2.5 stars, whereas their previous 2 albums I have at 3.5. But their last record was 5 years ago, so the break in time may help. Definitely an album I will check out.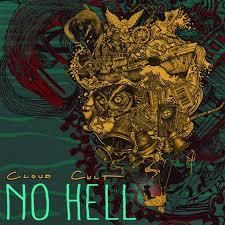 12: Cloud Cult
- The Seeker
The cover art I'm using is just for the 1st single "No Hell" (and I should edit/replace it when the official cover comes).
Another Cloud Cult album, which I am certainly excited about, as they have yet to put out a poor record, and especially Feel Good Ghosts in 2008, I've enjoyed their music more and more. Love, from 2013 though I did enjoy, not as much as the previous two.
But where this album seems to be different or have more/different potential is the approach. It not only is an album, likely a concept album, but it goes along with a film of the same name. But not apparently a film with any actual heard dialogue, but I guess the album/music is synchronized to.
Quite ambitious idea. Also having Cloud Cult Superfan and How I Met Your Mother/Independent Film Actor/Screenwriter Josh Radnor involved, as he does play a part in the movie.
But the 3 or 4? tracks (No Hell, Through the Ages, No Hell just from memory) I've heard thus far are all quite good, and sound like Cloud Cult. I suppose the big thing musically is how varied or different the album will seem compared to their others. I recall 1 or 2 clips being mostly instrumental, and given it's used for the movie, there may be more all-instrumental or longer instrumental-features.
15: Hands of Despair
- Bereft
Hands of Despair I recall getting introduced towards the end of 2011 and their album Hereafter. That album featured a ton of bone crushing riffs, extremely clear production; plus a very well thought-out and executed blend harsh and clean vocals.
Progressive Death Metal of a kind, that really worked on many levels, that it's sad that they are still unknown, even among the progressive and death metal communities I see online.
And the 1st single "Sleeper" is 9 minutes of a lot of the same. if the rest of the record is like this, I can definitely foresee listening to this record a lot this year.
-------------March-------------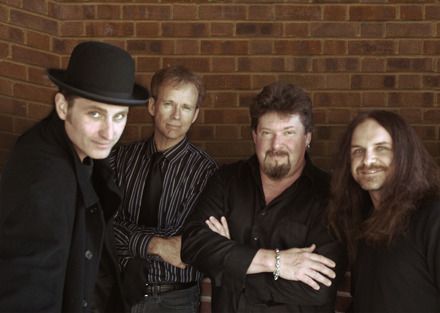 4: Tiles
- Pretending to Run
I used to be a pretty big fan of this Michigan-based prog rock band, who definitely were big fans of Rush. Namely with their 1st 3 albums, the 1994 Self-Titled debut, Fence the Clear and 1999's Presents of Mind.
The other stuff they've done since, I never got too into, despite some impressive guest musicians from memory (Ian Anderson, Alex Lifeson).
The list of guests is maybe more expansive on this one:
Pretending to Run was produced by Terry Brown (Rush, Fates Warning) and features a remarkable collection of guest musicians including Ian Anderson (Jethro Tull), Mike Portnoy (Flying Colors, Winery Dogs, ex-Dream Theater), Adam Holzman (Steven Wilson Band), Mike Stern (Miles Davis), Kim Mitchell (Max Webster), Colin Edwin (Porcupine Tree), Kevin Chown (Tarja Turunen, Chad Smith), Matthew Parmenter (Discipline), Mark Mikel (Pillbugs), Joe Deninzon, Max Portnoy (Next To None) and many others.
And I guess this is a Double Concept album, that the band spent quite awhile making, which adds some to the curiosity about it. Although I remember seeing a comment about how given Dream Theater are also making a double concept album, that's being released not too long before this, it may steal some of Pretending to Run's thunder, at least in the progressive rock communities. I guess we'll see.
4: Ihsahn

- Arktis
I reall enjoyed a lot of 2010's
After
. The blend of Black Metal and featured saxophone really seemed unique. The follow-up 2012's
Eremita
, I honestly only recall liking some moments, but still struggling with. And Ihsahn's most recent record, 2013's
Das Seelenbrechen
, I don';t recall even knowing about, let alone hearing. Rateyourmusic.com doesn't give it a bad rating, but it's not scored as high as the previous 2.
11: Vektor
- Terminal Redux
2011's Outer Isolation is an awesome record. Pretty much a go-to for modern Thrash Metal for myself, per it's technical and progressive tendencies. Plus like the previous Vektor record, Black Future, has this infectious amount of energy.
Why I am extremely excited to get to hear a new record from these guys. And finally get to see them live for the 1st time with Voivod next month in St.Paul, MN.
The 1st single is below, and hopefully is just a taste of what's to come. 2016 very well may be a huge year for these guys.
25: White Denim
- Stuff
I have enjoyed a good amount of the music from White Denim, ever since being introduced to them back in 2011 or 2012 when they were on the same tour with The Dear Hunter and Manchester Orchestra.
They have this fun style of almost progressive jam-band or progressive blues rock, reminiscent of The Allman Brothers or even Umphrey's McGee in some ways.
Their last album Corsicana Lemonade from 2013, I did enjoy, although it was kind of late as I remember not checking it out very late in the year, or even early in 2014.
The previous LP D, from 2011 I remember being pretty addicted to.
As for this album, the cover are is quite odd, but the 1st single at least doesn't seem vastly different for White Denim, but that also could be a good thing.
-----------------April-------------
22: dredg
-
Catch Without Arms (Vinyl)
A favorite band of mine, and certainly one of my favorites. I already preordered it of course. It looks pristine and highly colorful.
Radical Face
- The Family Tree III: Leaves
From some of the updates on Facebook, this album could have come out last Fall, but Radical Face released The Bastards album instead, and Ben Cooper decided to wait until early in 2016 to release this.
I love a lot of Radical Face's music, with the cinematic style of folk-rock. I haven't really felt anything they've released has been bad. The Family Tree series included. And this concept/series may be the final part, from memory when it was introduced a few years ago, which adds even more to the anticipation for this one.
Klimt 1918
– Die Sentimentale Jugend
Klimt 1918-Twitter
No certainty when this album does come out, but they have been posting on Social Media a lot over the last 2 years about writing and recording, including I recall last Summer and Fall.
It's been nearly 8 years since 2008's
Just In Case We Never Meet Again (Soundtrack for the Cassette Generation)
, so the timing of when this does finally drop just seems unclear, year after year. But given their Social media presence and the fact they did recording recently, seems to support it'll finally be coming relatively soon.
I hope so, as I really love a lot this Italian college-prog/post-rock band's music, especially 2005's
Dopoguerra
.
The Woods Brothers
-
The Woods Brothers
This is the long-worked on debut record of these 2 brothers from Southern California. The 1st 2 shared songs are really good, namely "Terra Firma" which features Casey Crescenzo of The Dear Hunter on vocals. Casey did a lot of work with them on this record, including producing. As well, members of some other bands, including The Fall of Troy, also make appearances.
Definitely a record to look forward to. which given a lot of the details shared in the last 9 months, it may be released early in the year.