The next
Apes and Androids
?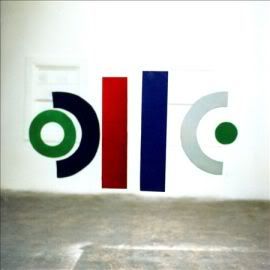 NewVillager - S/T

1. Cocoon House
2. Black Rain * catchy, almost like Abba or something else bright
3. Rich Doors lots of echoes and repeated phrases/interval-patterns.
4. Say The Code REALLY NICE VOCAL HARMONIES "DON'T LOOK AT THE SUN.....IN THE SADDLE?"
5. Shot Big Horixon
6. Upholder PIANO AND FALSETTOS ECHOING WITH SYNTHS.
7. How To Get Back INTERESTING BUILD TOWARD THE END, ODD/CATCHY MELODY THAT ALMOST SOUNDS LIKE A ELECTRIC SITAR (THROUGH A SYNTH)
8. Lighthouse VOCALS ALMOST SOUND LIKE THE SINGER FROM REVERE..CATCHY MANDOLIN? PART.."GO UP, GO FREE, UP TO THE LIGHTHOUSE".."KEEP IT UP, DON'T STOP, DON'T LOSE YOUR PLACE"
9. Bad Past Gone Away
10. Overpass
those are just some of my quick comments about this album. I came across it last week at KFAI in the music library. Long story short, we have to label cds with genres and so I read about this band on rateyourmusic.com and some praise of their live shows along with opening for
Metronomy
got me curious.
And of course I've been looking for the next
Apes and Androids
ever since 2008, but never found one. I do like
The Chap
and some others like
Late of the Pier
and of course
Sigmund Droid
.
This band NewVillager may or may not know A&A's, but I think it's clear they share qualities with them, along with The Chap and say a band like
TV On the Radio
(who A&A's were compared to at times). hell, I suppose add the obligatory
Prince
and
of Montreal
of course.
I guess my impression a few times through hearing this debut record of theirs is, there's some nice ideas and a few rather memorable songs. There's some that may grow on me. And maybe most importantly, they sound like a group with potential, assuming they still make music after this record.
They're doing a sort of
Collegetronica
that is echoey, happy, concrete compositions that seem simple at times. They seem to be at heart, a pop band of a few sorts. I'm not sure they are as ambitious or into making *epic* compositions, like A&A's or even a group like
Everything Everything
.
But it's a bit early to tell in terms of time for them and myself. But I'll definitely be playing this album more and keeping them on my radar. And certainly try and see them live if the chance arises.
NewVillager on Facebook