30. Nicole Atkins
-
Mondo Amore
I was really impressed and surprised by this record when it came out. Not so much that it had good songs on it, but I sort of forgot about Nicole after enjoying much of her 1st proper full-length in 2008's
Neptune City
.
But for whatever reason, I had no clue this was coming out. And this was released in February I recall, and as a result, it was early-on, one of my top records.
It is/was a consistent record start to finish. Bluesy piano and string driven rock. To add, here's a little from what I wrote in my delayed review back in March.
I guess in terms of songs to namedrop: Cry Cry Cry, The Tower, My Baby Don't Lie, Vultures, War is Hell. Memorable melodies and sections. Even just how she used piano in it, with the segues and transitions.
The Tower is great, epic, and probably up there with "Neptune City" among the best songs she's written.
At this point, I can't say this album went much further than it did early in the year. I suppose I may have worn it out a little, and the fact whenever I went into
Barnes and Noble
last spring and summer to visit my girlfriend, they had it playing. I heard it so much in a short period of time, it may have run its course for me. I guess that's why it didn't hold up the whole year and dropped this low. But unlike other records from 2011, I don't find anything or any songs bad on it. I suppose when her next record comes out, or the next time she hits Minnesota on tour, I'll be up for revisiting it again.
29. White Denim
-
D
I noticed this band added to the "New Prog" list on Wikipedia over the Summer. I read a bit about them and even sampled their music, but didn't follow why. At that point I dismissed them. However, when they were included on the tour with
The Dear Hunter
and
Manchester Orchestra
this Fall, I was a little more curious.
At said show in Minneapolis at
The Cabooze
in November, I wasn't expecting to watch them on stage. But in the process of being there, after
The Dear Hunter
finished, their music drew me in. They played 2 or 3 songs that almost sounded like
The Mars Volta
. I was impressed enough, I decided to pickup this new album of theirs on Vinyl after their performance.
After hearing this album enough times,
The Mars Volta
comparison might not be so accurate. But they or this album has a great, late 60's/early 70's psychedelic rock vibe to it. It's really playful, energetic and upbeat. Their singer almost sounds like the singer from
Skeleton$
or
Dirty Projectors
, but is not annoying in any way.
In re-reading some of the comments about it on rateyourmusic, I would agree with stuff like, they have a familiar sound, yet there isn't exactly any band who combines all the styles they do. They're prog, they're jammy, they're blues-rock, they're psych, they're even poppy at times.
My favorite song probably is the instrumental "At the Farm." I have yet to get tired of that one. The drumming and guitar interplay is just infectious. It's almost like
Led Zeppelin
,
Cream
or early
Rush
or something.
I even hear a band like
Wishbone Ash
in their sound. Not sure if them or
The Volta
is the best comparison, but I recall wanting to pull out
Argus
more than once when listening to this record recently. I may do that, along with spending time with their back catalog. now, as this is one of the better new bands I've been introduced to in 2011. And one I would definitely see live again.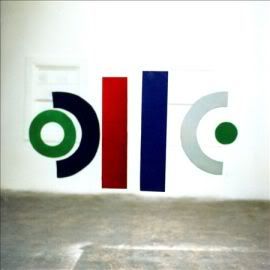 28. NewVillager
-
NewVillager
The next
Apes and Androids
? Well, that may be wishful thinking and never actually happen. However, as I posted in here a few weeks ago, this band may be one-of the best bands to come since, making that style of melodramatic, humorous, falsetto-driven electronic pop/rock.
And like
Apes and Androids
, I understand their live shows outdo this studio work. But, since all I have to go on is this record, I was still impressed enough. I suppose they fall sort of in between
Apes and Androids
and a band like
The Chap
. And this being NewVillager's debut record, it might just be a foreshadowing of what may come in the coming years (assuming they do make more music after this).
But as I posted a few weeks ago, this record has it's share of highlights. The single "Lighthouse" especially is uplifting.
Go out, go free, up to the lighthouse
Go out, go free, up to the lighthouse
See what you never
See, see what you never...see
I could see
Apes and Androids
writing that. Others like "How to Get Back" "Say the Code""Upholder"; and the rest, I honestly enjoy pretty much every tune on here. Some of it almost sounds like
TV on the Radio
, who are a band I've never loved, but never found repulsive. I might say the same about
Abba
, who maybe they are fans of as well by listening to the track "Black Rain."
I think part of me wants the next
Apes and Androids
, and by finding this band, I am partially believing they are in a way, and their future may bring the same ambition
AandA
's had. Although I kind of thought the same about
The Chap
and few others a few years ago, but I'm hoping this band may stand out more. Also hopefully I'll have an opportunity to see them live at some point soon, because that is maybe my biggest regret with
AandA'
s. Perhaps I'll even regard this record greater as that has happened to me with others (a great live show makes the studio work seem better).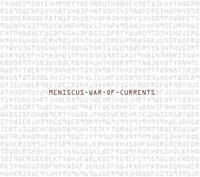 27. Meniscus
-
War of Currents
This Australian "post" band released an EP in 2007 titled
Absence of I
which I have enjoyed off and on for many years. But I always was curious about when they would put out something new and longer. And actually this release isn't a great deal longer being about 35 minutes. That EP though, had these great builds and dynamics, which in truth, isn't all that different than a lot of "post" music. But, for whatever reason, the heavy riffs, the samples including bees, or something else, I found their brand of "post" music better than a lot of the formulaic
Explosions in the Sky
copycats.
Well this record varies a bit from
Absence of I
, but not incredibly. The samples are there again, and some of, but maybe not as much of the heavier sections. The flowing nature of it is like their 1st release. I don't ever get bored or wonder when the song will go somewhere.
The style at times almost reminds me of some trip-hop or another "post" band I like in
God is an Astronaut
. Even the early
Porcupine Tree
I hear moments similar to. Although I honestly was thinking this could be bigger, more epic, etc of a debut record, and for that I can't say I was attached to it. At the same time, I enjoy it a lot for what it is. And the truth is, I'm not even sure the band themselves regard it as a full-length, as I recall reading something from them saying they wanted to include more music, but due to time/budget they didn't record more. So perhaps this is just the next part leading to their 1st extensive work. I guess we'll see, but for now I am enjoying this as much if not more than their other release. And they along with some others like
Tangled Thoughts of Leaving
, support a great scene down under for this kind of arty instrumental rock.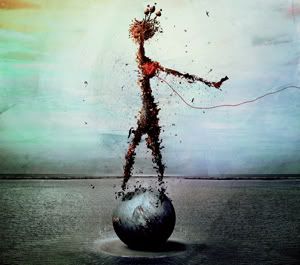 26. UneXpect
-
Fables of the Sleepless Empire
A long awaited and celebrated release by the band and their dedicated fan base. I have enjoyed Unexpect for a few years now, although not to the point of being addicted. But I'd say along with a few other unique extreme metal bands such as
SikTh, maudlin of the Well, Between the Buried and Me
and a few others, they have always stood out as being original and much less derivative. In other words, they have defined their own sound, as opposed to aping off of others (even with some exceptions when that happens, but the songwriting is still good).
That all being said, I was rather excited for this like most of their fans. And honestly, I enjoy it, but not really as much as I hoped. Why is it this high on my list? I suppose part of that is just respect and it still works really in the *mood* music purpose it has for me.
Some have said it's a departure from their other records, namely their last record from 2006
In a Flesh Aquarium
. And I understand that, but I also don't think it hurts how it's more accessible, melodically. The vocals are still outrageously crazy, and there are still extremely technical sections that seem darn silly.
I probably have taken a number of years to digest their other albums, and perhaps this one will require more time in the future as well. More of a grower, but right now, I'd call it a well polished (production-wise for one) record that given the desire to hear something really busy, I will probably give it another go. But it wasn't sniffing my top 10 just purely on how much I listened to it alone.
25. Dream Theater
-
A Dramatic Turn of Events
Well well well. The post-
Portnoy
Dream Theater now has been produced, and the end result actually ended up pretty damn good. A Grammy nomination, more attention they've received probably since
Images and Words.
Yada yada yada.
The truth about this album for me is, it sounds like Dream Theater, not any other band. And the quality songwriting and meticulous sections are there throughout most of the album "Build Me Up, Break Me Down" is probably the only track I'm not all that crazy about. But the rest is what I at one time, really looked for in an album from them.
Now is it a classic? not at this point. I really, probably listened to it 5 or 6 times, and then just was content with what it was. Why that is, is primarily due to my interest to listen to Dream Theater music regularly. I just don't. Maybe once or twice a year at best. Although I did recently purchase
Scenes From a Memory
on Vinyl (and not realizing I wasn't receiving a 20% discount from
The Electric Fetus
until after the clerk rang me up).
But just from when I was listening to it, some of the sections of "Breaking All Illusions" and "Outcry" really worked, even giving me goosebumps. Maybe part of that is due to hearing them make music like this again. They didn't seem to include those long-winded noodle-y sections I roll my eyes at, and Jordan's keyboards were not as plastic-y, nor did they seem to overstay their welcome. Even the single "On the Backs of Angels" I really enjoyed.
Mike Mangini? he seemed to fit well with the band. No disrespect to Mike Portnoy, but I could easily see the parts he had, being parts Portnoy would have made. In other words, I didn't notice Portnoy's absence.
Now the BS about it copying
Images and Words
that went down, I just rolled my eyes at. Musically, tonally, structurally, sonically, this album sounds more like their last couple of records as-a-whole. It just doesn't include nearly as much of the un-desired parts of those (Portnoy vocals being one, but not the only part).
A step in the right direction. We'll see if anything happens at The Grammy's. I would be up for seeing them again live supporting this, but their tour with
Trivium
didn't end up in the Twin Cities anyway. But perhaps another US leg happens next year and it will.
24. Anathema
-
Falling Deeper
Another year, and another Anathema record comes out of nowhere to me. Although unlike 2010's wonderful
We're Here Because We're Here
, this album was actually not new material, just newly arranged versions of songs from their 1st 2 albums and EPs (1992-1995). And I guess it's the 2nd time they've done this, with previously re-arranging older songs on the
Hindsight
compilation from 2008.
The string arrangements, the flow and textures, the guests (
Anneke Van Giersbergen
ex-
The Gathering
among them). The emotional element that comes across much of it. Very melancholy, yet extremely beautiful. I could probably listen to this album 10 more times and receive the same therapeutic, calming reaction.
Anathema, a band I have known about for years, but only the last couple have I spent any time with their music. Their darker, gothic Metal period, perhaps I'll dive into eventually, but for now, I am really adoring their recent transition into somber progressive rock of this sort.
23. Erick Serna and the Killing Floor
-
The Grip
When
The Dear Hunter
decided to move back to California late in 2009 from Rhode Island, Erick Serna decided not to go with them, being that is not where he's from. So, he wasn't on tour with them, nor recording with them. As a result, he decided to start his own project, and with the aid of bandcamp, was able to make this debut record of him and "The Killing Floor," which became available for $5 digitally.
While this album may have been partially inspired with his work with
The Dear Hunter
, this is not music
The Dear Hunter
would seemingly make. This is, really great ballsy blues-rock. A lot of thick riffs, and including a great old-school tradition from the likes of
Robert Johnson
and of course
Jimi Hendrix
.
It's definitely a less-is-more record, and one that I would put on semi-regularly because how good it was, and how it never felt long at all being around 35 minutes. Maybe blues-rock works best around half-an-hour? I dunno, but I just know how it brought in that love for dirty, grindy, blue-collar sense I have often loved about Blues based rock music.
My favorites specifically include "Whiskey Song" "It's Been a Long Time Comin'" "Jet Plane Blues" "Hey Sweet Thing," "The Grip, "some are ballads, some nice twangy acoustic guitar, and some use what sounds like slide-guitar. And his vocals work well in this style. I'd say more or less every song is good, as this album I never skip a tune.
We'll see what Erick does now after this. I know he was involved with
Mercies
and he has played some shows supporting it, at least in his native Massachusetts and the Northeast. He emailed me wanting to come play in Minneapolis again, and I'd love to see that happen. Perhaps if the situation arises, such as opening for another band he knows, it may happen. But in the mean time, I'll be enjoying this record along with other new Blues-Rock releases like the one from
Trent Romens
, and look forward to what he may do next.
22. Neverending White Lights
-
Act III: Love Will Ruin (Part One)
An album that Daniel Victor in a lot of ways, SLAVED OVER, for many years. I recall an interview and/or perhaps the recent online webcast with
Evan Konrad
he did, he mentioned more about the tumultuous amounts of stress over it.
How to summarize? Basically he wrote blog after blog on myspace about struggling over the songs for it for the better part of 2 years. Re-writing, and re-working. He wrote a ton of songs, so much so, this became only Part One, and Part Two will be released next Summer.
Daniel Victor also had a scary situation with damaging one of his vocal chords, he was in danger of never being able to sing again. I recall him mentioning going for a few months, not even being able to speak, let alone sing.
So, this was a miracle to finally, after the better part of 4 years, being released. And the end result was pretty damn good. Although less guests than on the past records, and maybe not as many breathtaking tunes like "Dove Coloured Sky" or "The Grace" there is still a great flow and consistency on here. These songs are well written, very well and cleanly produced.
Evan Konrad
also known as
Bed of Stars
, clearly is a talented singer and songwriter, so much so, he was featured one three songs, "Falling Apart" "The Lonely War" and "The Hereafter," including some of which he co-wrote. His voice definitely channels/is-influenced by
Jimmy Gnecco
and even
Dallas Green
, who had been on the previous 2 NWL records. His has a great falsetto, and I can totally see why Daniel has taken him under his wing.
Bed of Stars
is to be releasing music under Daniel's label,
Ocean Records
, soon as well.
I guess to offer a reference point, musically the songs on here do remind me of
Peter Gabriel, Pink Floyd
and maybe more on this album at times,
U2
. But they aren't exactly aping that style. It's more just using those artists ability to make at times darker, textured/layered pop/rock. The songs I wouldn't call simple or simplistic. But they aren't overdone. It's somewhere in that happy medium, that I have always liked about their music.
Now given this is only the 1st part, the 2nd may eventually impact how much I appreciate this album. I suppose to see the two as a double, or even listen to both all-at-once may happen. Although the previous two records were longer than this, I recall Daniel saying how he didn't want to release something as excessive as a double album. But the 2nd Part coming next Summer will feature among others,
Jimmy Gnecco
on 1 track. That alone has me very optimistic about it. But until hearing that, I am still going to be extremely satisfied with this one, especially given how much work I know it took to make. Also the fact a few weeks ago, Daniel sadly lost his studio due to water damage, makes this album and all the music he made there, almost more sad, and thus I want to appreciate it more.
.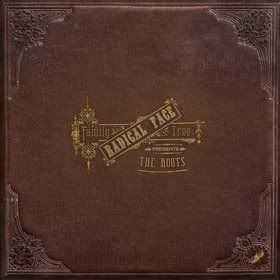 21. Radical Face
-
The Family Tree: The Roots
I don't recall exactly who recommended this band, but I suspect it was a friend of mine on rateyourmusic who has been rather good at suggesting bands to me. And in looking back, it was May of 2010 I 1st checked out the 1st record
Ghost
from this band/project of Jacksonville, FL native
Ben Cooper
, whose also known for playing in a few other bands such as
Electric President
,
Iron Orchestra
and
Mother's Basement
.
I remember liking Ghost last year, enough to rate it at 3.5 stars and suggesting it to others. But not so much, I was keeping tabs on Radical Face after that. So, reading about this album, and it being the 1st of a trilogy (the other two "Family Tree" releases "The Branches" and "The Relatives" are expected in 2012), really got me intrigued.
It ended up being a really sublime composition of chamber folk/rock. I almost think I was surprised how good it was at 1st, almost forgetting what drew me to RF's music in the 1st place.
As I wrote in my initial posting:
So, in describing Radical Face, I suppose to call them sort of melodic, layered acoustic/chamber rock/pop/folk might be somewhat accurate. Of course hearing the music itself is best, but as a necessary evil, the artists I might compare them to being Punch Brothers, The Age of Rockets and even The River Empires, to name a few.
Its an album that has this dreamy almost spiritual side to it. Almost like an escape album of sorts. I do love how the subtle melodies and harmonies play with my attention. I'll put it on, enjoy the various emotions expressed, and think wow, damn that was great.
So, when the 2nd and 3rd parts come next year, I suppose any and all connections to this album may be made. I am expecting some ambition, given what it seems like Ben Cooper's trying to do here. How they compare musically, or other facets, we'll know soon enough. But just with this album I have come to already view Radical Face in a more favorable/memorable way.