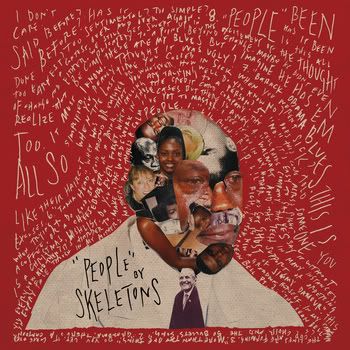 1. L'il Rich
2. Grandma
3. More Than the One Thing
4. Walmart and the Ghost of Jimmy Damour
5. No
6. Tania Head
7. Barack Obama Blues
8. People
What thuhhh?
I am rather surprised pleasantly, to learn of and now getting to hear this brand new record from
Skeleton$
. Of course, I had absolutely no idea they were working on a new record (or even around I suppose).
The short story with them is, that interesting year of 2008 yielded many names from blogs (and 1 online database I recall), and among them, these guys were one of the groups I enjoyed when stuff about their record
Money
from 2008 came across my radar.
What do they sound like? College Rock/Folk/Pop of a sort, with progressive undertones, but in a rather subtle LOW-FI way. I really think of them, when I think of the term "Low Fi" with music I like. Maybe just atonal or emphasizing minor keys at times.
Rather
King Crimson
-like in some ways.
Are they a catchy, ear-worm band? no, not really. But are they less-is-more. At times, definitely. And
Money
was one of those albums that I heard and wasn't blown away by initially, I enjoyed parts of it enough to desire to go back to it. And it also became one of those records I enjoyed more after each time I listened to it.
They have some of these great dreamy sections namely.
So much so I bought a copy at Cheapo eventually and thought about it on Vinyl. But I will say, it did TAKE SOME TIME, as I don't think it even made my top 50 for 2008. But now, I probably would have to rethink about that.
So, this new record of theirs, I suppose has a chance to be in my top 50 just based on knowing them and how that record and their music grows well over some time.
And in this case, coming unexpectedly. It's good to know they're still around and great to get to hear this new record of theirs as well. Especially after some recent records have been pushed back a bit (Fair to Midland for one).
Skeleton$ on bandcamp
order People