4/24/11 11:59PM
the whole thing is
here to stream
.
4/14/11 4:52PM
AllMediaReviews

another new song from @theantlers 'Every Night My teeth Are Falling Out" can be streamed/downloaded here http://is.gd/SF1Hwn.
4/5/11 1:30AM
Hipfork sucks, but you can hear the new track "Parentheses" here
3/18/11 6:10AM
http://www.npr.org/2011/03/17/134532285/sxsw-2011-the-antlers-live-in-concert
the whole new album was played live and is stream-able there. Hearing just a few minutes: more falsetto not surprisingly.
3/8/11 3:23PM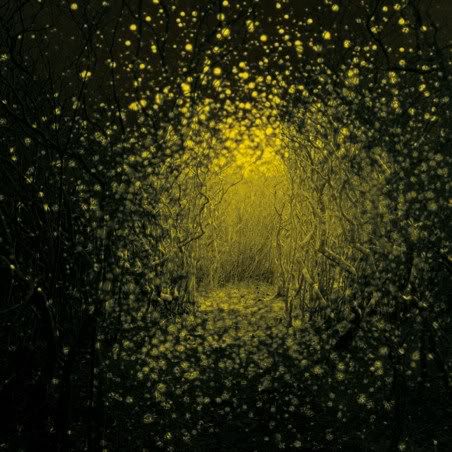 Burst Apart
release date is
May 10th
.
Track List
01 I Don't Want Love
02 French Exit
03 Parentheses
04 No Widows
05 Rolled Together
06 Every Night My Teeth Are Falling Out
07 Tiptoe
08 Hounds
09 Corsicana
10 Putting the Dog to Sleep
title, track list, cover. a press release I'll try and pass along in an edit (other than Hipforks).
Hey everyone-

We're completely thrilled to finally share with you the details of our forthcoming new album, Burst Apart. Finally!

We spent somewhere in the realm of 5 months recording it (although truthfully, we've been planning and sketching the record since we began touring on Hospice back in 2009). We moved into our own recording studio in September 2010, and spent essentially every waking hour working on Burst Apart, producing the record ourselves, with Darby at the helm engineering. We wrapped up recording this past January, and will be releasing this record to you on May 10 via Frenchkiss Records. I can honestly say that I've never been more excited to have people hear something as I am with Burst Apart.

Below is the tracklist, as well as the cover art, designed by the amazing Zan Goodman (who also designed Hospice's infamous hands).
1/21/11 7:06PM

twitter post
FYI- this was posted the second we officially finished our record.
They just posted on twitter they finished their new album.
Projected for May
. Sounds like it'll be more electronic, psychedelic, and less depressing. Guess we'll see if that's a good thing, or a disappointing follow-up, as I've seen many cases of both instances following a great record. Although I sure hope it doesn't require something as traumatic as a relative of mine dying (not necessarily a death though, but something that serious/emotional to me) to have the impact
Hospice
did.
And ss much as I am anti-pitchfork and everything (not to mention
Arcade Fire
who the writer name drops of course, lol), I just noticed a good interview with Peter Silberman from p4k that they linked on twitter yesterday.
link
Born out of isolation, terminal illness, and heartbreak, the Antlers' 2009 breakout album Hospice was a wrenching-- and often triumphant-- affair. Led by singer and songwriter Peter Silberman, who is now 24 years old, the band's Arcade Fire-style emotional crests caught on, and they were soon traveling around the world, opening for the National at places like Radio City Music Hall and playing their own increasingly populated gigs.

But instead of bulking up their sound even more for the follow-up, the group-- also featuring drummer Michael Lerner and multi-instrumentalist Darby Cicci-- is dialing things back with their electro-inspired, as-yet-untitled new record, tentatively due out this May.

I recently met the guys at the converted loft studio in Brooklyn where they've been toiling away on the new record since September. They were quick to poke fun at their rep as a bunch of sad sacks while playing a few new songs and playfully bullshitting about receiving a mysterious box of Sammy Hagar's Cabo Wabo tequila (which gets the Antlers' seal of approval, btw).

Of the new tunes I heard, a highlight was "Parentheses", which featured a hypnotic drum loop and plenty of Silberman's falsetto coos. The track could be accurately described as "sexy"-- a word I've never associated with the Antlers before. Meanwhile, "French Exit" had a damn near tropical outro, and the moody "Hound" peaked with subtle restraint.

Click on for a Q&A with Silberman, who talked about some of the new album's unlikely inspirations and how he managed to be upbeat while playing songs that are anything but:

Pitchfork: Did playing big shows while touring Hospice make you want to make "big" music with this album?

Peter Silberman: We definitely became a louder rock band on tour but we didn't want to do an arena rock record. Over the past couple years, we got into a lot of electronic music and post-rock that ended up coloring the new record. Stuff like Portishead, Boards of Canada, Dirty Three, Low-- I'm not listening to [Neutral Milk Hotel's] In the Aeroplane Over the Sea as much as I was when I was 19. To me, the new album sounds like an electronic, grooving record. There's less big, dramatic fanfare.

Pitchfork: After your success with Hospice, did you feel a need to hang on to fans by making something similar?

PS: For a while, I thought the next logical step from Hospice was to make some very sad, post-Hospice concept record. But thinking in those terms started to feel really manipulative and gimmicky. So I just let go of that idea and, from that point on, I was much happier.

In a lot of ways, this album is an easier record to listen to than Hospice; you can put it on and not feel like it has to be a severe emotional experience. It might be. But it could also be on in the background.

Pitchfork: Did you feel manipulative at all while playing those Hospice songs to so many people on tour?

PS: When I first started playing them, it really felt like I was just getting the message across. But, while the shows didn't become less important as time went on, my emotional intensity diminished. The record became much more real than the things it was based on. It was like I wasn't allowed to put the relationship Hospice was based on in the past. That's when I had to kind of separate myself from the songs we were playing. I'm not going to torture myself by trying to relive the songs over and over again. That'll destroy you.

Pitchfork: When I interviewed you about Hospice in 2009, you talked about how making it was a very solitary and harrowing experience. But now that you've toured a bunch and people like what you're doing, I'm guessing your life may not be so bad. Is that change reflected on the new album?

PS: That was the trickiest thing for me to figure out as far as writing this record. Hospice revolved around such a specific, crazy life event and, moving forward from that, I realized I wasn't in a position to complain anymore. I was really happy with my life. It was good because it meant that I couldn't just rely on misfortune or unhappiness to write.

This is not a sad record. It's sort of energetic and, in its way, psychedelic. It does have an emotional punch, but it's a little less desperate. There are no life or death situations on this record, no terminal illness, no abusive relationships. I felt like this album didn't necessarily have to be so directly based on my life-- it puts too much pressure on your life to be interesting. [laughs]

Pitchfork: I imagine it's tough to stay connected with the songs while not being miserable all the time, how did you figure out a way to balance that out?

PS: We went on tour with Frightened Rabbit a little while ago and I was asking [frontman] Scott [Hutchison] about this, and he said, "It's [the audience's] now. You'll sing it to them, but they're the one singing it. You can let it go and give it to them." That's how I managed to keep going.

Pitchfork: In our previous interview, you mentioned how Hospice was partly inspired by a rough breakup. Are you still in contact with that ex-girlfriend?

PS: No. One of the weirder moments of my life was running into her at our label's holiday party a couple of years ago. It was after our biggest show in New York and our Times review-- we were feeling really great. And while I caught up with her, people are coming up and congratulating me and being happy for us as a band. Meanwhile, this person who is responsible is standing right there having to see this whole full-circle thing happen. [laughs] I haven't seen her since.
also some news related to this band, they are going out on tour soon in Japan, and
Local Natives
is also on the same tour. Instead of
The National
(or
Phantogram
for that matter), I might be more optimistic about seeing them again with LNs on the bill.