Bend Sinister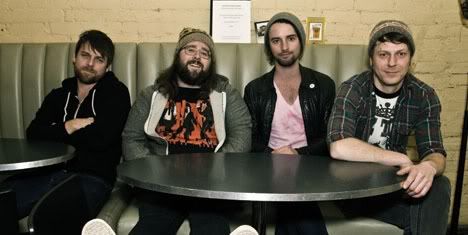 One of Canada's biggest secrets, that perhaps now in 2010 may finally see some due recognition and exposure, after number of years in sad obscurity. I can trace 1st seeing their name I recall the Summer of 2006. On the Porcupine Tree message board, a topic titled "Something interesting out of Canada."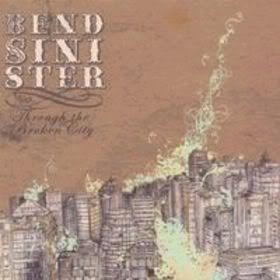 This band had released what is technically their 2nd album in 2005
Through the Broken City
and their website had a neat design that went with the artwork.
Their style of music could be vaguely described as if
Jeff Buckley
were singing with
The Mars Volta
. However, I often hear a strong influence from
Queen
as well as even
The Guess Who
or
Elton John
. Although as I came to take in their music more and more, I realized they had somewhat of their own sound, and that description might not be 100% accurate. They had these great crescendos that I found myself loving, on that album. They also at times could be incredibly catchy or include one or two really fun hooks that would not leave my head for hours. And despite some lower fidelity production values, it became and still is a record that stands the test of time, as whenever I put it on still, I enjoy it as much if not more than when I 1st got into it.
And along with the music,
Broken City
has always had a somewhat of a deep, mystical concept behind it. I kind of think of post-apocalyptic stories (Scifi) when listening to it. Even with the closing cut "Under the Ground" the lyrics "a man came to me and said I'm better than you...better than you" which sort meant to me, kind of a adversarial mindset about how the people or lifeforms from above had made living above the surface un-live-able and they now needed to go under ground to try and survive. And given the man had lived under the ground, with it's different (if not extremely worse) conditions, he was in fact better or more tolerant/a-survivor than the main character in the story. There was a cheesy early 90's tv show starring Kate Hodge called "Shewolf of London" I recall which had an episode a bit like that with mole-people. And recently on Dr.Who there was something kind of similar. And I'm sure there have been plenty of other stories written in Hollywood and in literature (
The Time Machine
? a movie of the original George Reeves Superman?)
I got so into them, and the fact I could not find anyone else who really liked or would really check them out, it frustrated me, similarly to what went on soon after with another great band doing modern prog in North Carolina's
House of Fools
. It also hurt their ability to tour, at least in the States. I wished and still feel if I had the money (i.e. if I won the lottery) I would be interested in help funding a tour across the States for Bend Sinister.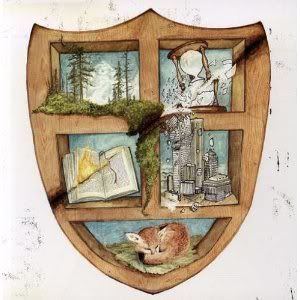 So in 2007 after the band put up some new songs on their myspace page, a new ep was in the works. As it turns out, it was self-titled. It was around this time I was struggling with hearing compressed, clipping cymbals. And the new EP, like
Broken City
, pretty much was without a poor track. However, the cymbals clipping kind of hurt how much I enjoyed it. Three of the tracks, "Time Breaks Down," "Julianna" and "Yours Truly" it stuck out. Although songs like "TV War" and "High Horses" the compression problems didn't seem to be there or as notice-able. So while this new batch of songs I couldn't find myself in love with entirely, I still held a lot of optimism about them and the music they were writing.
But like it has become, obscure bands and how often they are heard from can be limited, even online. 2008 seemed to be a pretty quiet year for the band, as the new ep's release didn't lend to much more touring than I hoped to see. Nor news online about their next record. But then suddenly 1 day in late August I recall it was, they announced they had a brand new concept album coming out within a few weeks. It was to be a record they said was meant to be heard all at once. Very much in the tradition of concept albums they enjoyed. It was titled
Stories of Brothers, Tales of Lovers
.
And it did not disappoint. It was different than
Broken City
. More piano, more of a retro tone and texture to it. But it was still very well written music, and the band ultimately pulled off what they set out to do, as it does work better as one full listening. Much like Side 2 of
Abbey Road
for example.
"I read the news today oh boy"
The classic rock references/tributes were there, which came across very much part of it's charm. They weren't sounding like
Wolfmother
though, as they still sounded like the Bend Sinister I loved, but it was a nice change and an example how they were being progressive. They ended up playing the whole thing live as well, but sadly their tour never came across the border.
So then news came at the end of 2009, they ended up entering and winning 3rd place and $50,000 in a non-profit contest in British Columbia called the "Peak Performance Project." And now they are (at the time I wrote this) in the process of making their next record, in Toronto, which is far from their home in Vancouver. But they are starting to receive more exposure than ever before. Playing at the
Rush
Induction into the Canadian Music Hall of Fame (with both
Geddy Lee
and
Alex Lifeson
of
Rush
in attendance). And just a few weeks back, they did a showcase gig in New York City, which chances are, some record label people were in attendance.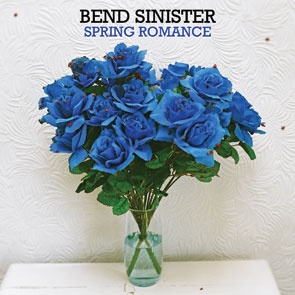 Plus a new EP was released
Spring Romance
which includes 5 brand new tracks, very much in the vein and of the quality of the
Stories of Brothers
work. So, as it seems, the many years of enjoyment and optimism for this great band from Canada may finally be paying off for me as a fan. The near future sounds like it should be rather promising.
The only regret as fan thus far, beyond never seeing them live, is the fact their debut album
The Warped Pane
has been so elusive, I've never heard it, nor encountered anyone who has. I have read that it's an all instrumental album so, my sadness for that fact isn't maybe what it may be. But I still hope to hear it one day, as I at times can't get enough of this band.
Albums
: Through the Broken City, Stories of Brothers, Tales of Lovers
Songs
: Truth or Truth, Tough Love, Demise, High Horses, Hell or Shelter, Give Into the Night, Dr.Lee, Time Breaks Down, Through the Broken City/When Your Skin Makes Your Crawl
audio
Previous Music Essentials
All Media Reviews Music Essential - Apes and Androids/Call Florence Pow
All Media Reviews Music Essential - Superior
All Media Reviews Music Essential - Mavahishnu Orchestra/Related Projects
All Media Reviews Music Essential - The Mars Volta