Apes and Androids/Call Florence Pow
The short-lived "Kokoro" blog is responsible for bringing the name
Apes and Androids
up to me I believe it was in February 2008, not too long before or after the official release date of
Blood Moon
.
I was just thinking earlier, in the 2+ years or so I've found myself attached to their album
Blood Moon
I've really never waiver-ed or doubted it's brilliance. I've probably never been so consumed by a band and their 1 single release like this (save for
Soundscape
's
Discovery
perhaps). Is it due to it's originality? perhaps. Is it due to it's obscurity? probably as well.
When I heard this album at 1st, well at 1st actually I was never able to get through it all, mainly due to bad timing. I'd put it on and get interrupted. I probably put it on five or six times between February/March and early May of 2008 without making it more than half way through. From memory, I believe that was only due to purely timing. I'd have something I needed to do at work, when in the middle of it.
And one other factor may have not helped, due to the fact the version I was playing was tagged inaccurately. The track numbers were labeled incorrectly.
But come May, I had found it had enough on it, that I wanted to make sure to give it more time. And even (not aware of) my playing it out of sequence, I was shocked and totally had my world turned upside down at exactly what this band was doing.
Was it humor? yeah it was. Was it subtle? yes, definitely. Did it have very well thought-out, fine-tuned melodies? yep. Somehow, these elements, along with using synthesizers with rock in a very trippy, hypnotic way, totally got my attention after about 3 times through. Their vocal harmonies went from what the fuck, to holy shit these guys can totally write and sing falsettos! Like
Queen
and
David Bowie
and
Prince
and even
Pink Floyd
.
Then the whole story/concept approach began to increase how much I began to consume this thing. It was some kind of futuristic Scifi space opera, that took what I perceived to be an influence of 80's Scifi cinema. "Apes and Androids" the ole Man vs Machine.
The Terminator, The Matrix, Battlestar Galactica
and some other stories crept into my mind as I tried to decipher any and all things from it.
Along with that, the rest of 2008, into 2009, this album just was one of those go-to records. Energy albums. The energy from track to track. The flow. It really was as much an escape and therapy album as anything else.
I probably played it 100 times over the course of 9 months. I still play it regularly. For one thing, it's still pathetically sad how few people know of the band, or have caught on to them. And in 2009, word came out they had to call it a day, at least for now.
Blood Moon
had been in the making for many years. Really going back to when
David Tobias
and
Brian Jacobs
were doing
Call Florence Pow
around 2002 or 2003.
I eventually started seeking any and all information and resources about Apes and Androids and especially the main 2 masterminds/songwriters David Tobias and Brian Jacobs. I came to learn they had a band under the name
Call Florence Pow
that released a debut lp called
These Are the Plans
in 2000, and then a follow-up ep titled
The Strange Situation
in 2002.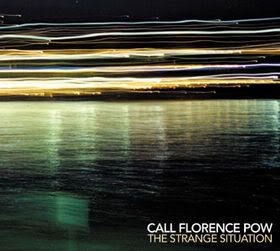 Call Florence Pow
wasn't exactly like
Apes and Androids
, but it was still music I enjoyed. It was less electronic and more humorous I guess. But the music still had a lot of thought put into it. And it was definitely something I followed how those 2 guys evolved into the sound on
Blood Moon
.
Two other big things also came to light at that point about
Apes and Androids
.
For one,
Call Florence Pow
's 1st lp
These Are the Plans...
was released on "Spongebath Records" which was a record label founded by
Matt Mahaffey
. Mahaffey was a musical genius in a lot of ways himself, and actually worked with Apes and Androids and CFP on their music. He mixed and played drums on a little of
Blood Moon
for example. But Matt also had this project/band called
sElf
which as it turns out, seemed to be quite influential on the guys in A&A's, especially the CFP material. But one of the things about
sElf
was they had a rather extensive catalog of albums and songs. However, they were also rather hard to find hard-copies of. I would eventually track down most of the discs that were printed luckily.
Gizmodgery, Breakfast With Girls, Subliminal Plastic Motives and Half-Baked Serenade
.
sElf
also had a bevvy of songs and albums that were made available exclusively online.
I think
sElf
, truly had a big part in the foundation of Apes and Androids and the 1st CFP album. Although I've grown to love
These Are the Plans...
and
The Strange Situation
, probably even more than any
sElf
album at this point. But
sElf
have so much music, that still less than 2 years in, I am continuing to learn how much I enjoy their music as well.
But the other big part of what
Apes and Androids
and
sElf
to an extent, is it introduced me to a so-called genre of music that I 1st would describe as just electronic/electro experimental power-pop. But it's become more commonly known as "Indietronica." I suppose music that has or is thought-of as "Indie Rock" ("College Rock") but also features to varying degrees electronic elements.
Now some groups I had been a fan of before this like
Mute Math, Pure Reason Revolution, Muse
,
Men Women, and Children
, and even
Chroma Key
(or
OSI
) could be regarded as this style. And certainly those bands on paper kind of do have much of this sound. But where Apes and Androids differ is they kind of created an almost over- the-top cool way to use synthesizers within rock. They took more post-punk and 80's elements I suppose, with modern production standards.
Thomas Dolby
and
The Talking Heads
they could be compared to, as well
Cafe Jacques
and even a large glam side, that gave them comparisons to
Sparks
and of course
David Bowie
, along with a contemporary of theirs in
of Montreal
and certainly a big influence upon them in
Beck
.
But what I came to find is there were and continue to be many bands who have a similar approach in this style. Some of the better ones being bands like
The Age of Rockets
,
The Chap
,
Emmanuel & the Fear
and
Late of the Pier
. Sadly, as good as some of the bands who I've found doing this kind of music, none of them have come close to comparing to Apes and Androids. Which in a way sort of makes them stand out even more.
To add to all that, they came to be known as an outrageously unusual live band. At their concerts would feature the members dressing up in face-paint, have cheerleaders, props, tribal drummers, strobe lights, etc the whole 9 yards. Very much in the spirit of
David Bowie
's glammiest and
Pink Floyd
along with a
Danny Elfman
80's horror element. The CFP track "Creepy Girls" was a staple piece especially. Sadly, they wouldn't play incredibly often, especially after the release of
Blood Moon
. So that made their concerts all the more special. One of the members was once quoted about their live approach
"There isn't a ton left to do with Recorded music, so trying to be as original live is where an artist still can standout, and give their fans their money's worth."
Unfortunately I never got to experience that, but some of the live videos at least support how important their shows were to what they were about.
Albums
: Blood Moon, These Are the Plans..., The Strange Situation EP
Songs
: Riverside, Hot Kathy, Golden Prize, Johnny and Sarah, We Don't Understand You, Make Forever Last Forever, Periodic Table, Preparation For Battle, the Great 3 & 4 Part Tones
audio