So, it's December 2nd and these are already announced? Maybe my memory is bad, but given the
2010 Golden Globe
nominations haven't even been announced, isn't this a little early? Or perhaps I can't help but care to even pay attention in recent years?
The IFP's I'd say in the last 4 or 5 years have pretty much jumped-the-shark to a point. Most years/seasons my favorite smaller movies have very little to no presence in them (see "The Science of Sleep" in 2007, or "The Jacket" in 2006).
But at one time, circa the late 90's/early 2000's these were kind of the Cat's ass. And pretty much dwarfed the Oscars and Globes. But now? not really.
Just glancing, I'm happy to see "500 Days of Summer" show up a number of times as it was one of the better movies, indie or other (I actually saw it a multi-plex, lol) this year. Was it the best movie I saw this year? no, not really. But given their recent track-record, the best movies I saw in the last 12 months shouldn't be in there.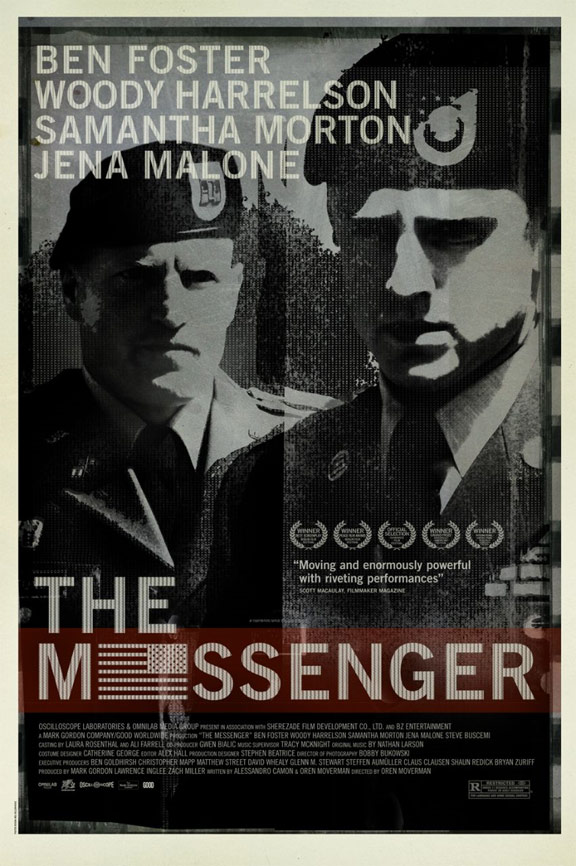 "The Messenger" being nominated along with Woody Harrelson gives me more reason to try and see it while (if) it's still showing in town in Edina.
"Downloading Nancy" having
Maria Bello
getting a nomination was surprising and refreshing I guess. I never saw it, but I
wanted-to/knew-about-it
as far back as the Spring of 2008. It did come out, but nobody mentioned it. I don't believe even at the festivals this year nor last year, and unlikely any theater in town did. Perhaps at the TC Film Festival in April, but I never seem to keep up when that thing happens, schedule, etc.
However, I have meant-to and now with her nomination, I shall seek it out on DVD or ON DEMAND perhaps. Along with some others on that list, including "Me and Orson Welles" which I noticed tonight is in the "Coming Soon" tab on the latest Landmark Email for Minneapolis.
edit: also something is fishy about that announcement date. FRIDAY March 5th???? Since when did these ever take place on a FRIDAY????..doing a google search,
http://www.ifc.com/spiritawards/
perhaps due to it being the 25th Anniversary? Pretty much every single year I've watched them on IFC, they've aired on a Saturday afternoon. The last several before the Sunday Oscars ceremony. Maybe the Oscar people didn't want that as well? Weird...
Who the host will be? I can't find anything, but perhaps
John Waters
they'll bring back/hope-he'd-like-to-comeback and host again, especially since it's the 25th anniversary and all.
imdb link
2010 Spirit Awards
Winners to be announced on Friday, March 5th.
Best Feature
Nominees:
(500) Days of Summer (2009)
Amreeka (2009)
The Last Station (2009)
Precious: Based on the Novel Push by Sapphire (2009)
Sin Nombre (2009)
Best Female Lead
Nominees:
Maria Bello for Downloading Nancy (2008)
Nisreen Faour for Amreeka (2009)
Helen Mirren for The Last Station (2009)
Gwyneth Paltrow for Two Lovers (2008)
Gabourey 'Gabby' Sidibe for Precious: Based on the Novel Push by Sapphire (2009)
Best Male Lead
Nominees:
Jeff Bridges for Crazy Heart (2009)
Colin Firth for A Single Man (2009)
Joseph Gordon-Levitt for (500) Days of Summer (2009)
Souleymane Sy Savane for Goodbye Solo (2008)
Adam Scott for The Vicious Kind (2009)
Best Supporting Female
Nominees:
Mo'Nique for Precious: Based on the Novel Push by Sapphire (2009)
Dina Korzun for Cold Souls (2009)
Samantha Morton for The Messenger (2009/I)
Natalie Press for Fifty Dead Men Walking (2008)
Mia Wasikowska for That Evening Sun (2009)
Best Supporting Male
Nominees:
Jemaine Clement for Gentlemen Broncos (2009)
Woody Harrelson for The Messenger (2009/I)
Christian McKay for Me and Orson Welles (2008)
Ray McKinnon for That Evening Sun (2009)
Christopher Plummer for The Last Station (2009)
Best Director
Nominees:
Ethan Coen, Joel Coen for A Serious Man (2009)
Lee Daniels for Precious: Based on the Novel Push by Sapphire (2009)
Cary Fukunaga for Sin Nombre (2009)
James Gray for Two Lovers (2008)
Michael Hoffman for The Last Station (2009)
Best Screenplay
Nominees:
(500) Days of Summer (2009): Scott Neustadter, Michael H. Weber
Adventureland (2009): Greg Mottola
The Messenger (2009/I): Alessandro Camon, Oren Moverman
The Last Station (2009): Michael Hoffman
The Vicious Kind (2009): Lee Toland Krieger
Best First Screenplay
Nominees:
Amreeka (2009): Cherien Dabis
Cold Souls (2009): Sophie Barthes
Crazy Heart (2009): Scott Cooper
Precious: Based on the Novel Push by Sapphire (2009): Geoffrey Fletcher
A Single Man (2009): Tom Ford, David Scearce
Best Cinematography
Nominees:
The Bad Lieutenant: Port of Call - New Orleans (2009): Peter Zeitlinger
Cold Souls (2009): Andrij Parekh
A Serious Man (2009): Roger Deakins
Sin Nombre (2009): Adriano Goldman
Treeless Mountain (2008): Anne Misawa
Best First Feature
Nominees:
Crazy Heart (2009)
Easier with Practice (2009)
The Messenger (2009/I)
Paranormal Activity (2007)
A Single Man (2009)
Best Foreign Film
Nominees:
An Education (2009)
Maria Larssons eviga ögonblick (2008)
Madeo (2009)
La nana (2009)
Un prophète (2009)
Best Documentary
Nominees:
Anvil! The Story of Anvil (2008)
Food, Inc. (2008)
More Than a Game (2008)
October Country (2009)
Which Way Home (2009)
John Cassavetes Award
Nominees:
Big Fan (2009)
Humpday (2009)
The New Year Parade (2008)
Treeless Mountain (2008)
Zero Bridge (2008)
Truer Than Fiction Award
Nominees:
45365 (2009): Bill Ross IV, Turner Ross
Beetle Queen Conquers Tokyo (2009): Jessica Oreck
El general (2009): Natalia Almada
Someone to Watch Award
Nominees:
Kyle Patrick Alvarez for Easier with Practice (2009)
Asiel Norton for Redland (2009)
Tariq Tapa for Zero Bridge (2008)
Producers Award
Nominees:
Karin Chien for Santa Mesa (2008), The Exploding Girl (2009)
Larry Fessenden for I Sell the Dead (2008), The House of the Devil (2009)
Dia Sokol for Beeswax (2009), Nights and Weekends (2008)
Robert Altman Award
WINNER
A Serious Man (2009)