Holy mother..my favorite Coheed and Cambria album in FULL plus The Dear Hunter, is a can't ,miss barring some unforseen conflict.
First Avenue, which, while my take on them in the distant past and still recently has been documented in here a lot, I guess I'm overall happy to see TDH especially back there for the 1st time literally in 10 years.almost to the day.
edit: April 23, 2007 with Meg and Dia, Say Anything and Saves the Day.
Good Apollo 1, while I was obsessed with 10 or more years ago, I still love and is a staple 5-star masterpiece.
And I know TDH have toured with Coheed in the past, namely with Porcupine Tree in 2010 if I recall, etc..but of course that tour didn't come to Minnesota anyway.
I guess the only issue I kind of have is the fact it's on a Saturday night in downtown Mpls of course, but so be it.
Conflicts? no Twins game since they play in Cleveland that day/night. Nothing scheduled at Target Center unless the Timberwolves make the playoffs and have a long series in the 2nd round (assuming they win their 1st round series, lol). No Lynx either.
The wife of course, "Papa goes off and party while I stay home, etc"..if only she was willing to sit through these 2 bands, but that would be torture to her. At least it's on or even the Saturday/Weekend after her bday.
And I may somehow get on my Lifetime Membership guest list spot, although I'm not expecting it, given TDH aren't headlining, but Max posted in the FB group this show is a bit of an exception.
Honestly though, I love The Lifetime Membership thing, and don't mind the amounts of things it comes with going fwd, but the Guest List thing kind of has been challenging and maybe more work to worry about than it has been worth for me given I have been put on the guest list a few times, but from memory, those times were after many attempts to email the email request. I'm not sure how much time it requires or more of the busy schedule that Max and whoever else has organized it has had.
Or maybe just a bad luck thing. I do know there have been a number of Lifers at shows in MN and so it's not like I've been the only one requesting it with limited spots, etc. But in the last few years I kind of resounded to the fact just to buy a ticket regardless. This show with Coheed and being First Avenue, I suppose is a little pricier ($35 or more for the VIP pkgs), and given I am trying to save money again, the guest list thing would help maybe more so. Plus I know Coheed has a Rabid fanbase and have played First Avenue before, so selling tickets for this thing I suspect won't be a struggle.,
Hopefully nothing will be in that RECORD ROOM too, although their likely will be. And currently nothing scheduled at 7th Street The Entry either, which I'm sure will change soon.
edit:
I sent the email and GOT ON THE GUESTLIST! WOOHOO THANKS MAX!
I'll have to use that money instead on Merch and/or Dinner I suppose.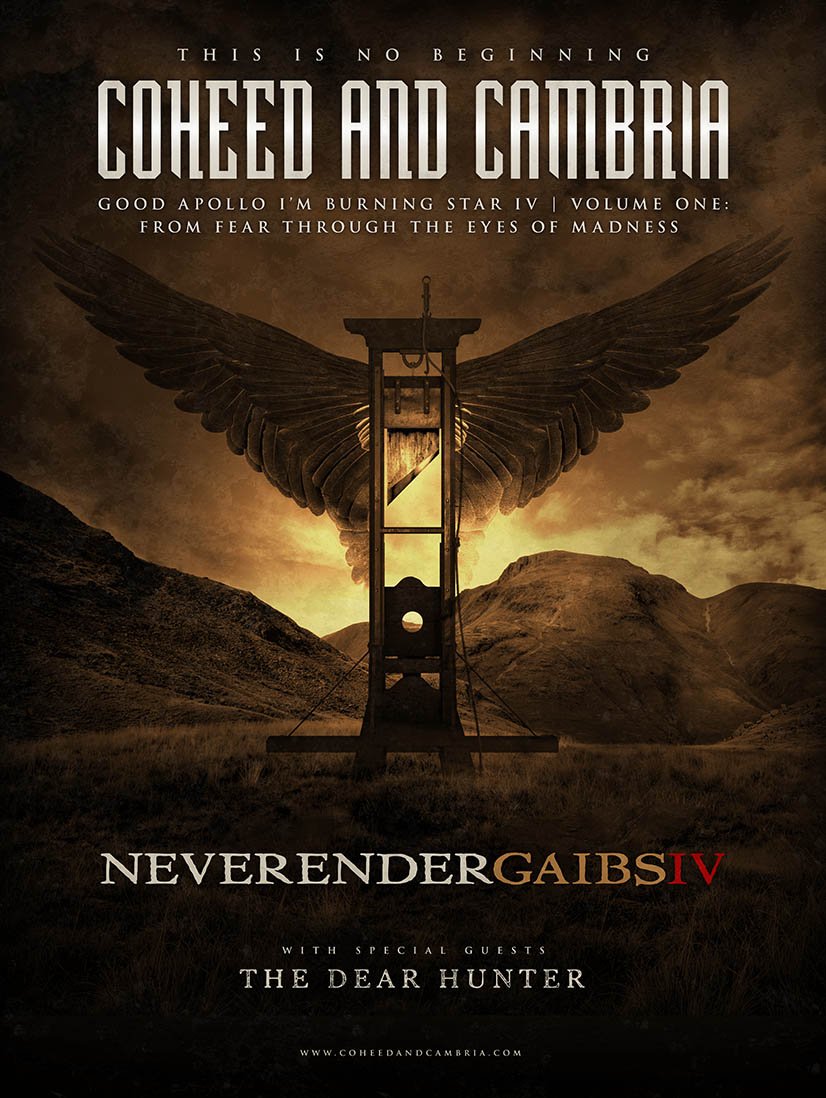 https://twitter.com/therealTDH/status/823960756844576768
We are excited to announce that we will be heading out on the road this spring with @coheedandcambria! Tickets are on sale January 27th at 10 AM (Local time). #Neverender2017 ???????
???????
4/11 The Showbox Seattle, WA
4/13 Roseland Theater Portland, OR
4/14 Fox Theater Oakland, CA
4/15 Hollywood Palladium Los Angeles, CA
4/17 The Observatory Santa Ana, CA
4/18 Observatory North Park San Diego, CA
4/19 The Marquee Tempe, AZ
4/22 The Complex Salt Lake City, UT
4/23 Fillmore Auditorium Denver, CO
4/25 Stubb's Waller Creek Ampitheater Austin, TX
4/26 House of Blues Dallas, TX
4/27 House of Blues Houston, TX
4/30 Jannus Live St Petersburg, FL
5/2 Tabernacle Atlanta, GA
5/3 Marathon Music Works Nashville, TN
5/5 Terminal 5 New York, NY
5/6 The Fillmore Silver Spring Silver Spring, MD
5/9 Blue Hills Bank Pavilion Boston, MA
5/10 The Fillmore Philadelphia, PA
5/11 Royal Oak Music Theatre Royal Oak, MI
5/13 First Avenue Minneapolis, MN
5/15 The Pageant St Louis, MO
5/16 Arvest Bank Theatre At The Midland Kansas City, MO
5/18 Stage AE Pittsburgh, PA
5/19 Aragon Ballroom Chicago, IL