5/30/11 11:26PM
facebook post with :46 demo/sampler
Don't forget about your favorite upcoming album!!
Release date: TBA,TBA, 2011
Shelter Red, a band who came under my radar really late in 2009 with their record
Strike a Mortal Terror
, I just was made aware they are still around and announced that on their facebook page the other day.
I know I have mentioned them since, including on
Usedbin Radio
a few weeks back when the discussion about
Long Distance Calling
and
Scale the Summit
came up. But the truth is, sadly, I haven't listened to them a ton since probably early last year.
Why? time and other music. Because their last album really impressed me. Progressive post-metal of a sort. Much like
LDC
or
Russian Circles
. Or
East of the Wall'
s
Farmer's Almanac
period even.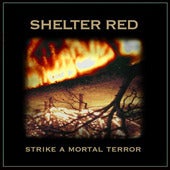 I also just realized after failing to ever find it at
Cheapo
, it was and still is available for $6 (+3 shipping)
on this webstore http://www.soundvssilence.com
. So, of course I just ordered a copy.
The demo sounds promising as well. More to add as details come of course, but maybe this record will make up for the minor disappointment of the new
Long Distance Calling
album in 2011.