5/23/11 4:08PM
"She's Always Singing" lyric video from the
Yellow
EP.
The Dear Hunter - "She's Always Singing" Lyric Video from Consequence of Sound on Vimeo.
crazy new pic someone concocted that was uploaded to the
last.fm page
.
5/20/11-5/22 9:06AM
Samples clips of all 36 tunes
therealTDH Check out our latest track release from the White EP - "Lost But Not All Gone" - Thanks @spinmagazine
-
http://ow.ly/4ZjwE
5/6/11 5:51PM
Okay, this is a few days late, I know (my ability to update this stuff, especially this past Birthday-week-of-my-gf is understandably not what I'd prefer). For those who don't follow them so closely, this could be the 1st they've seen this.
Pretty f-ing good and intriguing look and sound from the making of "Orange."
I almost should start to go on record as to say if this collection I expect to
a) listen to a ton this Summer/Fall
b) be in my top 10 if not top 5
Sucks to realize I can't afford the $281+ to fly to NYC for a special show 1-week from Tuesday. $, priorities, a girlfriend...I guess I shouldn't be so greedy/picky but yeah, it would be nice to experience these kinds of things for once with the Lifetime Membership. Hopefully it'll happen sooner than later.
4/26/11 8:40AM
Video for "This Body" from the
Black
EP.
alt press article
The Dear Hunter premiere the lyric video for the new song, "This Body." The video was animated by the Dear Hunter's Casey Crescenzo and the song will only be available on the limited edition vinyl box set and full digital versions of the upcoming nine-EP The Color Spectrum, due out June 14 via Triple Crown. "This Body" comes from the Black EP.

Crescenzo says, "'This Body' is the fourth track off of the Black EP. At first, I wanted to create a percussion-only EP, but as the arrangements developed, the opportunity for a more grating and disorienting palette of sounds presented itself and I decided to take the tracks in a much more menacing direction. The entire EP uses a lot of electronic instruments and sequencing, but also a great deal of acoustic drums. This song in particular has three drum kits being played simultaneously through the song to keep the polyrhythmic feeling, as well as a good deal of sequenced analog drums. Lyrically, this record is definitely more negative than any of the other Color Spectrum EPs, but past the surface of these songs the meaning is more centered around breaking free of the negativity and embracing a different point of view."
Lifetime Members saw this video a few days ago, but for those who are not, it does show how different these EPs can and should be.
4/14/11 12:44AM-5:31PM
RT @therealTDH You might want to head over to our Facebook Page for something you may be interested in...a free track? http://ow.ly/4zSzH
or go to
http://thedearhunter.com/
"Deny It All" the 3rd track off the
Red
EP is what it is. Nice bridge. I suppose part of, or one of the most intriguing parts about this whole thing is lyrically and titles of the songs. Understanding them and how they found their way onto said Color EP. It's not going to be all that straight-forward (Red about Fire or Apples, etc).
Also interesting about this song "Deny It All" the outro has at least 1 or more guest vocalists. Those details are something to really look forward to as well (even perhaps Anthony Green, lol).
4/9/11 2:10PM
well, I'll confess, I just worked like 6 hours of overtime this past week, and will be receiving a reasonable size tax return soon, so my shelling out more or less the same for this as the Lifetime Membership doesn't seem so outrageous. Although the SHIPPING on this thing must be a job and a half for what they're charging. I really hope much of this goes towards Casey's bank account.
And I suppose not seeing the dredg tour in Chicago, this feels like a reasonable purchase instead.
Not buying
The Shaming of the True
Vinyl for $100 almost feels hypocritical now, but I already own that record. But I suppose I'm not ruling it out still as there's still time to put an order in.
Also to note
the release date or "be available" date says 6/14/11
there for both the Vinyl Boxed Set and Compilation CD. So maybe those and the digital version got pushed back 1 week?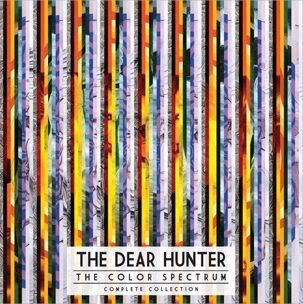 Complete Vinyl Collection Preorder link
$80 + tax & Shipping = $106
This is a pre order that will be available 6/14/2011

Limited Edition box set, contains 16 page booklet, digital download card of the complete collection and Nine 10" colored vinyls. Vinyl colors will match their respective EPs in the collection: Black, Red, Orange, Yellow, Green, Blue, Indigo, Violet and White.

Black
1. Never Forgive, Never Forget
2. Filth And Squalor
3. Take More Than You Need
4. This Body
Red
1. I Couldnt Do It Alone
2. A Curse Of Cynicism
3. Deny It All
4. We've Got A Score To Settle
Orange
1. Echo
2. Stuck On A Wire, Out On The Fence
3. A Sea Voz
4. But There's Wolves?

Yellow
1. She's Always Singing
2. The Dead Dont Starve
3. A Sua Voz
4. Misplaced Devotion

Green
1. Things That Hide Away
2. The Canopy
3. Crow And Cackle
4. The Inheritance
Blue
1. Tripping In Triplets
2. Trapdoor
3. What You Said
4. The Collapse Of The Great Tide Cliffs

Indigo
1. What Time Taught Us
2. Mandala
3. Progress
4. Therma

Violet
1. Mr. Malum
2. Lillian
3. Too Late
4. Look Away
White
1. Home
2. Fall And Flee
3. No God
4. Lost But Not All Gone
11-track The Color Spectrum Compilation CD
This is a pre order that will be available 6/14/2011

The Color Spectrum CD is a collection of tracks taken from the Complete Collection

Track Listing :
1. Filth and Squalor
2. Deny It All
3. But There's Wolves?
4. She's Always Singing
5. Things That Hide Away
6. The Canopy
7. Trapdoor
8. What Time Taught Us
9. Lillian
10. Home
11. Fall And Flee
yeah, more words and things hopefully will be coming in due time, in a brand new post I'd presume.
2/24/11 5:48PM
Alternative Press Article
The Dear Hunter—band of former Receiving End Of Sirens frontman Casey Crescenzo—have exclusively revealed details to Altpress about their upcoming release, The Color Spectrum. It will be a collection of nine EPs inspired by the colors of the spectrum—specifically Red, Orange, Yellow, Green, Blue, Indigo, Violet, White and Black. Crescenzo recorded the EPs with various producers across the country and documented every step of the process. Manchester Orchestra frontman Andy Hull and Mike Watjavascript:void(0)ts (who mixed the Dear Hunter's 2009 release, Act III: Life And Death) are among the artists who collaborated with Crescenzo on the upcoming release.

The Color Spectrum will drop June 7 via Triple Crown Records in the following formats:

* CD: Includes select music from each EP compiled onto one full-length CD (also available as a digital download)
* Individual Digital EPs: Each song and EP from The Color Spectrum will be available individually as digital downloads
* Full-length Vinyl: Same as the CD, but will be exclusively available at tour dates and Hot Topic
* Limted Edition Deluxe Vinyl Box Set: Nine 10" vinyl records including all music and a digital download. Available only through mail order via Triple Crown


The Dear Hunter will tour to support the release in May with shows to be announced in the coming weeks. Check out the cover art below. (Casey Crescenzo drawing by Jackie Musial)
previous related entries:
Here
Here
Well, the details have finally arrived. Initial details. June 7th, the same day/week as that
Battles
album that was announced today. Maybe the timing of this stuff happens for a reason?
But, so, it's hardly avoidable to notice, I love the fuck out of
The Dear Hunter
and Casey's music. And this largely ambitious project which was originally just a vague idea, that has turned into a huge way of reinventing their sound/concept/idea etc in a lot of ways. I guess one thing to pass along here, now that these/the group/Casey is on my mind, is 1 of Casey's recent journal posts on
The Dear Hunter's Color Spectrum site
Finished up Red
Posted Feb 11, 2011 12:00:00 am

Hey everyone! I am sorry for the lack of updates, but I have just been so crazy busy working on the music that I tend to fall a little short on the online aspect of everything. I recently returned home after a week in Atlanta with the guys from Manchester Orchestra, and to say the experience was awesome would be an understatement. They were incredibly kind and welcoming, and it was definitely one of the most fun and productive weeks in recent memory. I know what we made will be a bit surprising for Dear Hunter fans, but I think everyone will enjoy it.

At the moment I have surrendered my main studio to Falling Up to complete their new full length, so I am cuddled into the corner of my living room working hard on the yellow ep- I am definitely loving the change of scenery.

There was one other thing I wanted to say, and this may have been said previously, but if it was I just want to drive it home. This project may have a name for its inspiration, but that is all that it really is. Its funny because in traveling to all these different studios and talking with different people, I am always saying how its a bit liberating to be working on non concept related material, and then I remember what this project is. The point being- there is so much music here because I, for the first time in a few years, feel an overflow of inspiration from all angles, and I don't want to throw away 90% of the material I write, like I have in the past. Having the opportunity to work with all of these different people, and approach music from so many different angles is a dream for me, and the real concept here is raw creativity. I know there will be people who hear songs and say "well this definitely isn't 'yellow'," and the idea that this would spawn conversation is amazing, but at the end of the day, the concept here is just giving a name to inspiration. I'm not attempting to convince you to hear music the way I do, or pull away from it the same initial spark I had when creating it- that would take the subjectivity of out the music, and would nullify the beauty of listening to music in the first place. I'm not looking for anyone to say "well... I guess he is right, 'yellow' does sound like that." All I am looking for is what I have always wanted, people to sit back and enjoy a little escape from the rest of the day...

Oh, I also want people to want to fight when they hear Red.
This post speaks to the potential and even larger level of curiosity about these. And actually, in a way, the Acts as well given the idea behind
The Color Spectrum
was Casey meaning to challenge and *mature* in any way he may be able to as a songwriter. Now, that sounds silly, but the best songwriters or talents in more or less any field have that mentality.
And by the newness and different-ness/change in writing songs not related to the Acts, really may be the best thing for him and The Dear Hunter in the longer/bigger picture.
So, what does that mean? really nothing at all until hearing these bad boys, but man, I am even more excited to hear these.
The big thing to keep in mind all these formats. You have the
Compilation cd
, each of the
9 eps available digitally
, and the
Limited Deluxe Vinyl Boxed Set
. I likely will cave and pick that up along with the compilation cd. I recall reading from Casey the whole thing, especially digitally won't be all that much. Maybe $30 or $40 at most. I suppose if I can find that quote, or when I see it in detail, I'll post it, here in bold.
Also a note or two I suppose I can share. Being that I am a "Lifetime Member" my name shall find its way into some of the printed content here, which is awesome among other perks that deal may bring (besides free headline shows for life, of course ;)).