The Pneumatic Transit on Facebook
Concerto For Double Moon Trailer
from
The Pneumatic Transit
on
Vimeo
.
So this band/project
The
Pneumatic Transit
, is more or less the baby/brainchild of Jeff Zampillo, who formerly had been with
Exotic Animal Petting Zoo
on their last (final?) album
Tree of Tongues
. The Pneumatic Transit though, on this debut album of theirs,
Concerto for Double Moon
, does not include any vocals and stylistically, is very much in the Jazz-Fusion or Jazz-Rock style.
What allows them to stand out though, it seems is their use of Cello, which from memory, I don't know many Jazz-Rock bands who've ever used Cello, at least prominently. I suppose bands like Mahanishnu Orchestra and The Dixie Dregs (or The Galactic Cowboy Orchestra) have featured violin (or fiddle) of course, but not necessarily in this way. At points, kind of metallic. At points, I thought of a band like Judgement Day even, in how heavy the cello sounded.
But beyond that, I think this album seems like the product of a lot of extensive work by Jeff and his band, which includes the sadly, late drummer Michael Mirro. A lot of his drum work is incredibly crisp and clean sounding. From the cymbal to the snare work. Very much a feature, like many of the fusion bands have had.
Overall, while I'm not sure how addictive this album has been, I still am marveled by a ton of it. It's quite impressive from a musicianship standpoint, and Composition-al standpoint,. A lot of less-is-more certainly, even at 51 minutes in length.. And it is definitely one of my favorite instrumental records and overall, for this year.
I would highly suggest people into progressive rock and jazz-rock/fusion to check it out. Especially fans of Mahavishnu Orchestra and King Crimson as the influence (in a good way) seems apparent throughout much of it.
Concerto for Double Moon is to be released on Tuesday October 13th, 2015.
The track list and writeup below offer more details.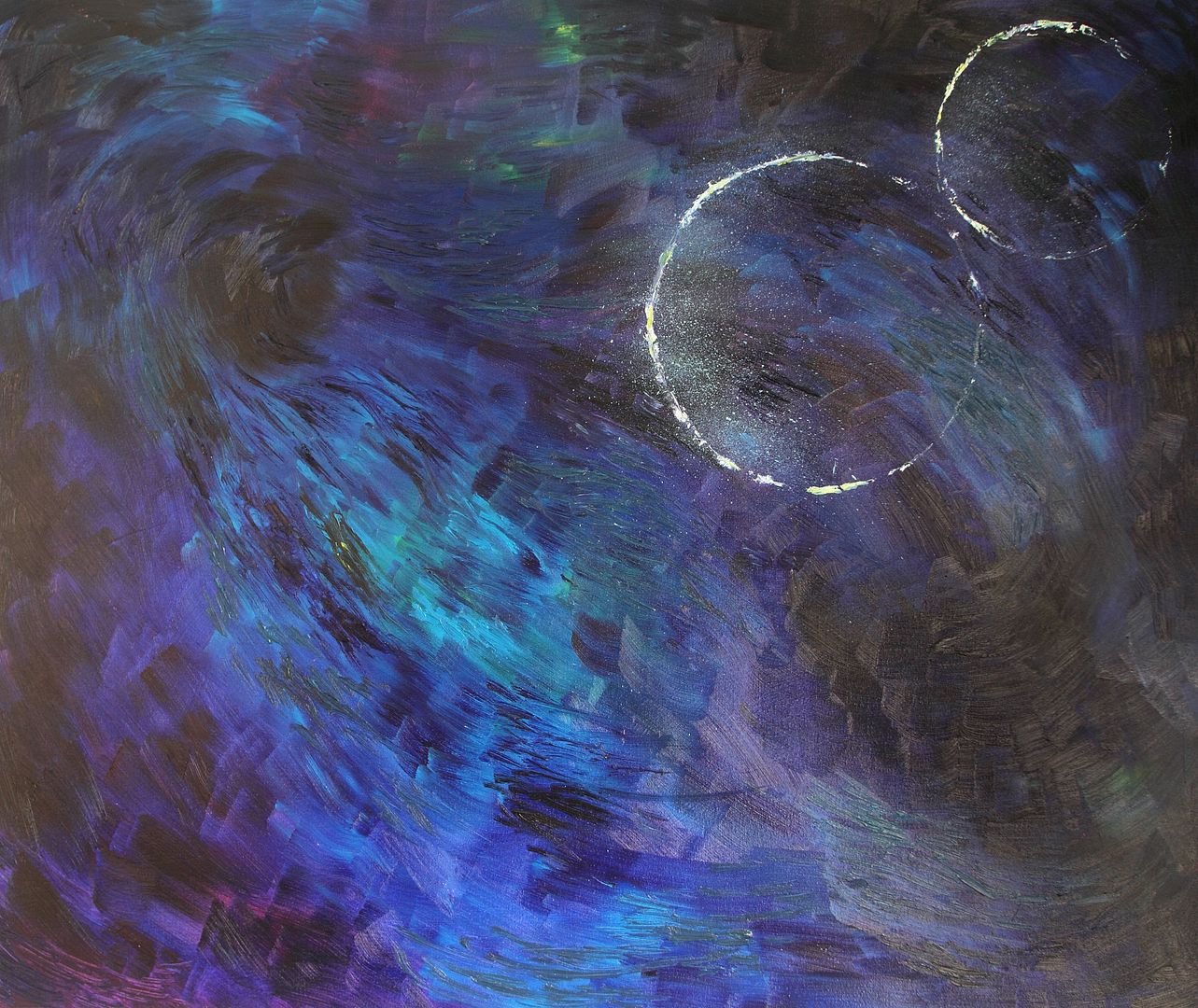 1. Colloquium 1:01
2. Icarian Games 8:37
3. Apparition of Rosalyn 6:49
4. Benzedrine Cloud Burst 3:04
5. An Atlas of Oceanic Coves 7:44
6. Hypoxia 1:34
7. The Meketrex Supplicant 2:28
8. Enochian Dyskinesia 7:13
9. Sparrow Sparrow 2:15
10. Lioness 7:34
11. Silent Waves of Sleeping Soothsayers 2:41
The opening 1st track
"Colloquium"
is short table-setter, that says hello with drums and a dissonant saxophone flurry of riffs. A bit chaotic, for even as short as it is. I suppose it is slightly free-jazz-like.
The 2nd track
"Icarian Games"
starts out with this great driving riff from the guitar and fueled by the drums. It's odd though as after listening to it, I have an earworm that has me reminded of Led Zeppelin, specifically "In the Light" for some reason. Also there's a patch used by their keyboard player in a short section that does remind me a lot of Return to Forever. Along with a lot of the twangy guitar riffs have a John McLaiughlin-like quality to them. Also the dynamics in this song stand out, from the heavy and fast rhythm, that segue to softer sections that are slower.
Track 3
"Apparition of Rosalyn"
opens with this odd, minor-key riff, but shortly after goes into a section with some clean guitar along with more keys. Eventually it gets rather atmospheric with a contrast of sounds from the Cello and Sax.
Track 4
"Benzedrine Cloud Burst"
A shorter piece that also creates a nice atmospheric vibe. The Cello at times has me reminded of Return to Forever among some others.
The 5th piece "
An Atlas of Oceanic Coves"
has this intermittent use of fat synthesizers that create a dark atmosphere. It has a bit if a King Crimson influence at points, with its rich use of strings. It also includes some additional musicians on bass and drums.
Track 6
"Hypoxia"
is an environmental interlude, that has what sounds like a Flute, which seems to be a patch used by the keyboards. It seems to echo the cello arrangement from at least 1 or more other sections on the record.
The 7th track
"The Meketrex Supplicant"
like "Icarian Games" features another driving riff, with strings and at points another dark, heavy oscillator tone from the keyboards.
The 8th track
"Enochian Dyskinesia"
is one of my favorites on
Concerto for Double Moon
. It's led by this great funky, groove-ish riff from the guitar. The Cello at points goes up and down in emphasis. The 2nd half ends up having many layers being added as it gets more complex. Mostly between the guitar (a lot of picking) and the saxophone. A bit like the great Minnesota jazz-rock band Media Addicts have done. It concludes with a nice, clean string outro.
Track 9
"Sparrow Sparrow"
is a cello driven piece that like many others, seems to be cleverly put together in the studio, with many layers eventually being added as it goes along, eventually to a wonderful climax.
The 10th track
"Lioness"
is another one of my favorites. The sax melody is rather ear-wormy, with its majestic theme that almost sounds like a March. It also includes many layers of cello, that gradually build more and more. Eventually they fade and lead to a circus-like section. King Crimson seems to be clearly an influence on this piece, namely from the
Red
era it seems.
The 11th and closing track
"Silent Waves of Sleeping Soothsayers"
echoes the theme from "Lioness" on Cello. The drum work and use of harpsichord add more to this one at points. I am reminded of King Crimson again here, in a good way.
edit:
Preorder is now up.
$5 and includes a download of "Enochian Dykinesia"