9/16/15 6:16AM
Here's how it did its first week on the Billboard Charts. Pretty impressive, even just for a week or however long it lasts.
From Facebook
When I started writing the story for the Dear Hunter in the winter of 2004, it never occurred to me that it would reach ears beyond my family and friends. It would be easy to dismiss my career thus far as "lucky", I know it's more than that; this is all thanks to the open minds and hearts in the world who have given me and this music a chance. You all are just as responsible for this music as I am- and should be as proud of its success. I promise to you all, if you keep giving me this opportunity- the chance to be myself, to respect the audience as much as the art, and to shy far from compromise- I will never take it for granted, and will always show you all the greatest respect I can through this music. Thank you all, from all corners of my soul.
- Casey
9/8/15 10:17PM
New video for "Waves." Well shot, and a lot of metaphors.The whole process of our main character I presume, and waves of emotion about finding love and then losing it. Having kodak pictures of his experience with this woman, etc.
Also a couple of more things:
Act IV's RATEYOURMUSIC.COM Page
is just a small fraction or indicator of how well it is being received, only 5 days after its release. But for what it is worth right now, it is being rated rather well (or high) with 47 Ratings and the avg rating currently is at 3.91.
Rateyourmusic.com's 2015 Albums Chart
hasn't been updated in a little while, but when it does, I am curious where this album may show up.
Just looking at the current Top 100, the following albums have a comparable number of ratings and all of them have a lower average rating currently:
#7
Ryan Adams - Live at Carnegie Hall 60 ratings 3.90 avg
#28
Joe Bonamassa - Muddy Wolf at Red Rocks 41 ratings, avg 3.91
#35
Blue Pills - Blue Pills Live 42 ratings, 3.86 avg
#44
Archivist - Archivist 80 ratings, 3.62 avg
#58
Devo - Hardcore Devo Live! 40 ratings, 3.83 avg
#61
Magic Pie - King for a Day 86 ratings, 3.54 avg
#63
Ty Segall - Live in San Francisco 64 ratings, 3.74
#92
Guardians of Time - Rage and Fire 69 ratings, 3.58 avg
As for a review and my take. I gave it 4-stars out of the gate. I may change that at some point, especially since I've only listened to the whole thing twice (other times, I have been interrupted and never went back to it).
But I should have a video review hopefully soon (just guessing, but it could be next Monday or Tuesday per I'm on PTO).
Also fitting how Monday is the day after their concert in Minneapolis at The Triple Rock.
edit:
The RYM 2015 Album Chart just was updated and it opens up ranked #35 with 48 ratings and an avg of 3.86. We'll see how much that may change in the next few weeks/months. If enough ratings start to happen and it stays in the top 100 or even top 50, more of the rym population may find it and rate it that would not have otherwise.
8/10/15 7:54PM
Another new track "Wait"
7/9/15 2:17PM
"Waves" is streaming
nice tune, and very much sounds like it segues to and from other tracks ("Old Haunt" and "At the End of the Earth") and one that I have not heard from memory. I know it's been played live the last few tours, and there are some live videos that I don't even recall watching; but it seems many on the forums know this song like the back of their hand from live performance, lol.
6/26/15 1:35PM
Very cool video produced/edited by Casey for the new single. I think once I've heard this record, a lot of the things in this video will make more sense, maybe just within the whole story of the "Act" records.
Great track though.
6/16/15 8:45PM
http://thedearhunter.com/
Preorders and Sept/Oct tour dates, including
Sunday September 13th at The Triple Rock in Minneapolis.
Aug 19
Circolo Magnolia w/ Manchester Orchestra Milan, Italy
Aug 20
B72
Vienna, Austria
Aug 21
Strom w/ Manchester Orchestra Munich, Germany
Aug 22
Pukkelpop
Hasselt, Belgium
Aug 23
Gebaude 9 w/ Manchester Orchestra Cologne, Germany
Aug 24
Magnet w/ Manchester Orchestra Berlin, Germany
Aug 25
Molotow w/ Manchester Orchestra Hamburg, Germany
Aug 27
Concorde w/ Manchester Orchestra Brighton, United Kingdom
Aug 28
Bodega Social
Nottingham, United Kingdom
Aug 29
Think Tank?
Newcastle, United Kingdom
Aug 30
King Tuts
Glasgow, United Kingdom
Sep 01
Clwb Ifor Bach
Cardiff, United Kingdom
Sep 02
Joiners
Southampton, Uk
Sep 03
The Rainbow Cellar
Birmingham, United Kingdom
Sep 04
Hoxton Square Bar & Kitchen
London, United Kingdom
Sep 05
Bruis
Maastricht, Netherlands
Sep 11
Musica
Akron, OH
Sep 12
Riot Fest
Chicago, IL
Sep 13

Triple Rock Social Club

Minneapolis, MN
Sep 15
The Loving Touch Ferndale, MI
Sep 16
The Ready Room
St Louis, MO
Sep 18
Granada Theatre
Lawrence, KS
Sep 19
Marquis Theatre
Denver, CO
Sep 22
The Crocodile
Seattle, WA
Sep 23
Doug Fir Lounge
Portland, OR
Sep 25
The Boardwalk
Orangevale, CA
Sep 26
Slim's
San Francisco, CA
Sep 27
Strummer's
Fresno, CA
Sep 29
The Roxy Theater West Hollywood, CA
Oct 01
The Observatory
Santa Ana, CA
Oct 02
The Irenic
San Diego, CA
Oct 03
Crescent Ballroom
Phoenix, AZ
Oct 06
The Parish
Austin, TX
Oct 07
Gas Monkey Bar N' Grill
Dallas, TX
Oct 09
EXIT/IN
Nashville, TN
Oct 10
The Loft
Atlanta, GA
Oct 11
Thompson House
Newport, KY
Oct 13
Rock and Roll Hotel
Washington, DC
Oct 15
Union Transfer
Philadelphia, PA
Oct 16
The Stone Pony
Asbury Park, NJ
Oct 17
The Royale
Boston, MA
Oct 21
Irving Plaza
New York, NY
6/15/15 8:35PM-6/16/15 5:56AM
Just heard "Night on the Town" which is being released tomorrow (or tonight at Midnight?).
Digging it, and it does seem to fit the "Reprise" element to the title of the album, probably more than I realize after only 1 time hearing it. A 9-minute track mind you.
I'm of course very jazzed about this record, although I tend to lean towards not wearing out songs long before the release. It may not be easy in this case though.
Anyway, I'll definitely edit/update this entry in X number of hours when "A Night on the Town" is officially released.
"A Night on the Town" CDUniverse link (for those of us who don't use iTunes)
iTunes Preorder shows September 4th rel date
also track 11 is "King of Swords (Reversed)"
edit,
some comments have been mentioning the following tracks:
Bitter Suite (kind of obvious)
Untitled 1
Mustard Gas
In Cauda Venenum

6/13/15 10:46AM
Here's a teaser from the Acts tour videos Casey made in early May. I saw these already and anyone who did, but it was nice for this fan (I recall from the Fans forum) put them together like this which now is a quasi-Album trailer.
6/11/15 6:05PM
As odd as this is, it actually seems pretty likely to be accurate as I know Casey mentioned to a few fans at shows last month that Act IV would likely be released in Mid-August. But, I must say I wish whoever posted this stuff, cited a conversation or something more directly from Casey.
edit: holy crap that Bitter Suite title, lol
Or more preferably, just reading about from Casey specifically.
But, whatever, in the grand scheme of things, it shouldn't matter as it's just info. And seeing some of it on a site like cduniverse before an official press release is not unusual or anything.
Where did I see it?
The Fans Forum
.
cduniverse.com link
link
The Dear Hunter is set to release his new album, Act IV: Rebirth In Reprise on
August 21
through Equal Vision!
The first single of the album is called
Night On The Town, a 9 minute track that's set to be released on the 16th
. You can check out the tracklist below
1 Rebirth 2:51
2 Old Haunt 4:36
3 Waves 4:12
4 At the End of the Earth 5:16
5 Remembered 3:50
6 A Night On the Town 9:00
7 Is There Anybody Here? 6:42
8 Squeaky Wheel 4:35
9 Bitter Suite IV And V: The Congregation And The Sermon In The Silt 5:40
10 Bitter Suite VI: Abandon 5:32
11 King of Swords
(Reversed)
5:07
12 If All Goes Well 4:41
13 Line 3:37
14 Wait 3:20
15 Ouroboros 5:25
3/03/15 4:29PM
link
I'm excited for this of course, but I also can't help but see this a bit unexpectedly as I recall 2 or 3 or more interview/chats in the last year or so, Casey mentioned how there will be an Act IV (and eventually V and VI), but the record he was working on now (or next after the Symphony a year or 2 ago), was not going to be it.
But, I also recall a question or 2 about
Act IV
and him being rather vague about it, not denying nor really confirming it. I suppose as an artist, it's best to be more ambiguous about your future plans namely.
At any case, I certainly look forward to this. Sometime in the next few months it seems. And the live album below, which is cool. I haven't listened to much of it yet, or looked at the details on the YouTube streams, but part of me hopes (but does not expect) something from it is from the show in Minneapolis at The Varsity Theater of course.
And the upcoming "Acts" tour, would be sweet to see, but no date in Minnesota of course. I'll be curious to check out the setlists when those shows happen anyway, just out of curiosity.
More details of course about
Rebirth in Reprise
in due time (wouldn't surprise me rather soon, as the last interview I caught from Casey, he mentioned wanting to release this record in May if possible).
edit: here's the interview/chat Podcast I'm remembering
Letter From Casey Below
Having spent the better part of the last 6 months indoors, I've developed a bit of a necessary wall in regards to contact and communications, but Ill do my best in this message to convey surreal internal musings with realistic external translation.
Within the past decade spent behind The Dear Hunter moniker, it would be foolish to say I haven't swayed with the times, and that I hadn't rubbed elbows with thoughts of giving into the tide. There has been an always open door behind me, suggesting me to do any number of things to appeal to wider and more quantifiable audiences. However, in times when this door seemed widest of all, I always felt the need to turn and push further away.
It's a pretty old cliché - the story of a band gaining notoriety on something unique, or at the very least, something honestly themselves - trimming just enough off of who they are to fit the mold, then living out a life of diminishing creative return.
When I started The Dear Hunter, there were never any aspirations associated with fame, or sales… only aspirations associated with creative output, and a cohesive body of honest and progressive work, that at the very least could account as some sort of chronology of my creative life.
Along with that wish to constantly grow as a songwriter, came the desire to improve as a performer. This, at first, felt incredibly foreign to me - as someone who spent almost all of his time locked away creating (a very introverted behavior), the idea of such a social display was frightening. Anyone who witnessed the early shows for The Dear Hunter, can vouch for that palpable discomfort. Over time, I began to discover the live performance as an opportunity to create something new, and fleeting, each night - with an entirely different palette of instruments, both musical and human. Though the fear of the stage, and nervousness associated with outgoing interactions never left, a new feeling eclipsed them both - and with this grew the desire to improve. It was always a journey of some strange faith.
This is what I spend my time doing. My life is lovingly devoted to improving myself in all areas. Mental, emotional, physical, creative, metaphysical… I have always tried to take the same approach with The Dear Hunter, no matter how hard the adversity, whether personal or financial, I have only strived to make better art.
From this desire to grow, and through incredible fortune, I was given the opportunity to design a tour that I had never thought possible. A night devoted to performing with The Dear Hunter and a string quartet.
Luckily, Equal Vision Records was kind enough to furnish us with a system capable of multi tracking the entire tour - something we had never done before. While moments of hilarity exist (and they are wonderful), we've lovingly combed through these recordings to bring 10 tracks of this tour to the ears of any and all who might be interested. I hope that you feel, listening to the music, the love and excitement we felt performing.
I wanted to surprise our fans with this release, as it is my gift to you all, for supporting me over the years, and never giving up on me. Thank you, from the bottom of my heart, for your continued faith in The Dear Hunter.
I want to humbly ask you all to share this letter. Word of mouth has always been the lifeblood of this music, and the suggestions of good friends always outweigh a well placed banner ad.
I leave you all now, scurrying back into my cave with my nose to the grindstone, preparing the next record for The Dear Hunter… It is coming along swimmingly, and I can't wait to share it with you all. Please keep your eyes peeled for Act IV: Rebirth in Reprise, coming later this year.
Entire Live Album Stream
PREORDER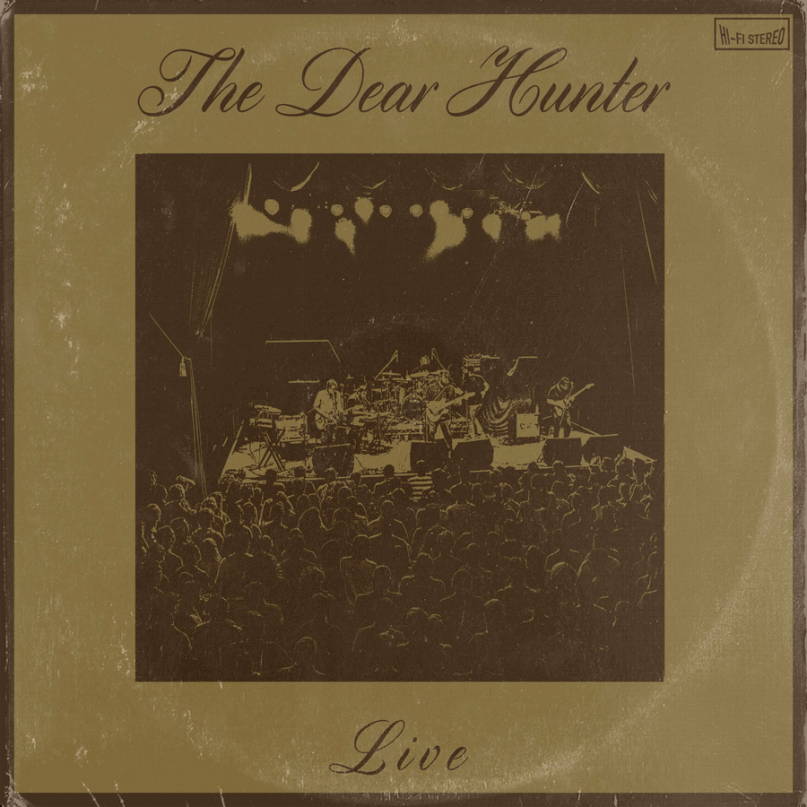 01. Bring You Down
02. Procession
03. Shame
04. Girl
05. Home
06. The Thief
07. Mustard Gas
08. Progress
09. Where The Road Parts
10. Things That Hide Away
The Dear Hunter 2015 Tour Dates:
04/20 Salt Lake City, UT @ Kilby Court *
04/23 DeKalb, IL @ The House Café *
04/24 Pittsburgh, PA @ Cattivo *
05/05 Cambridge, MA @ The Sinclair #
05/06 Cambridge, MA @ The Sinclair ^
05/07 New York, NY @ Gramercy Theater #
05/08 New York, NY @ Gramercy Theater ^
05/12 Philadelphia, PA @ Union Transfer *
05/13 Washington, DC @ Rock and Roll Hotel &
05/15 Chicago, IL @ Bottom Lounge &
05/19 Denver, CO @ Marquis Theatre &
05/22 Pomona, CA @ The Glass House#
05/23 Los Angeles, CA @ Troubadour ^
05/24 San Francisco, CA @ The Independent &
* = Casey Creszenzo solo
# = Act II, w/ Northern Faces
^ = Act III, w/ Northern Faces
& = songs from Act II and Act III, w/ Northern Faces