9/3/14 5:00PM
ALBUM STREAM FOR PEOPLE IN CANADA
8/22/14 6:06AM
Interview with Jeff Martin.
8/18/14 8:31PM
Per Wikipedia and
Amazon.ca Preorder
Release Date:
September 8th
(in Canada at least)
8:37 title track?
New website as well, with a question the band want fans to submit: Pictures and Memories.
http://www.teaparty.com/
1 The L.O.C 4:14
2 The Black Sea 3:59
3 Cypher 3:58
4 The Maker 4:11
5 Black Roses 5:29
6 Brazil 4:44
7 The 11th Hour 4:59
8 Submission 3:54
9 The Cass Corridor 2:41
10 Water's On Fire 4:45
11 The Ocean At the End 8:37
12 Into the Unknown 5:02
6/28/14 7:11PM
1st single "Water's on Fire" sounds pretty good.
iTunes
https://www.hmvdigital.ca/releases/3577591
This story
says the album is expected to be released "this fall."
3/29/14 11:52 AM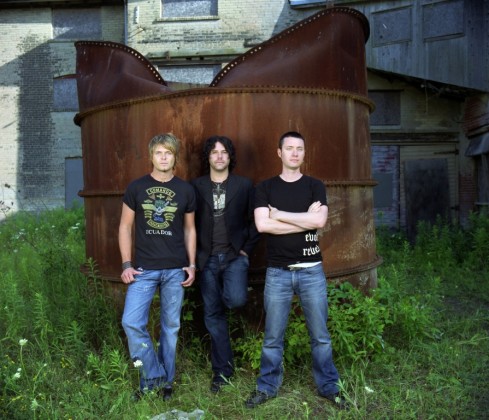 I am a fan of these guys, even owning nearly their whole catalog on cd. The Edges of Twilight I think still stands out as my favorite, although I enjoy more or less everything they've done. I always liken them to like if Jim Morrison sang with a band who reminded me of a lot of Led Zeppelin, specifically Led Zeppelin III. But that is mostly their early records.
The story below has me optimistic about it, although I was also about the Crash Karma album Burrows and Edwin from I Mother Earth did.; and I can't say I loved that record too much.
But it sounds like they put a fair amount of thought into this record, so we'll see. It says it's expected in the Fall, the 1st single in June, so I'll be sure to update this when more information is provided about it.
http://www.theprovince.com/touch/story.html?id=9674993
Five years ago, members of The Tea Party could hardly stand being in the same room together let alone spend a month in a recording studio. But wonders never cease, and this week Jeff Martin, Jeff Burrows and Stuart Chatwood put the finishing touches on their first studio album in a decade, collectively swallowing six years and a mountain of pride.
The word from the band's camp is that The Ocean at the End could be the nearest The Tea Party has come to perfection in its 23-year history.
"It's the best of everything for The Tea Party," raved Martin, the band's lead singer and guitarist, this week.
The usually reserved Chatwood, keyboardist and bass player, declared: "On our tombstones it'll say These Guys Played Music."
Due out in the fall, The Ocean at the End will mark the first studio release for the trio since 2004's Seven Circles. It'll also be the first album, other than a limited edition, live collection made in Australia last year, since the band reformed in 2011 following a six-year split.
"It was either going to be a disaster," Martin said, "or one of the best things we could do. I'm counting on it being the latter."
The first single, as yet undecided, will be out by June, said Martin, and the album "in a perfect world" by early fall.
There will be 10 tracks, plus two bonus songs, including the eight-minute opus that gives the album its title.
The Ocean at the End
is the album's final track, written by Martin and Burrows, and featuring guest soloist
Ian Anderson of Jethro Tull
on flute. The band may also include a cover of
Daniel Lanois's The Maker
, which it has woven into the middle section of Save Me at its concerts.
Chatwood, however, said the title song will impress even the most diehard fan: "It's like a harder Pink Floyd."
Much of the album, in fact, is a throwback to The Tea Party's earlier albums, Splendor Solis and The Edges of Twilight, when their adventurous use of instrumentation was often compared with Led Zeppelin.
"It was my idea to bring in the flute and the mellotron," Chatwood said. "Jeff Martin said he wanted to do a blues thing for the final song, and Jeff Burrows brought in this really melodic idea ... "
He added that 60 per cent of the new material was conceived in the band's home city of Windsor, during writing sessions last fall.
In that sense, The Tea Party has returned to its roots as most of the music on the first three albums was produced during jam sessions in a downtown Windsor rehearsal studio.
After toiling in local bands, Martin, Burrows and Chatwood, all within a year of one another in age, teamed up to record their first independent, self-titled record in 1991. Now in their early 40s, they were 21 and 22 at the time.
Chatwood recalled those early days fondly when describing the new music, and added the years have only burnished that Tea Party sound to a brilliant shine.
"We've all grown as musicians," he said. "As you get older, you're open to new ideas. When you're young, you sometimes think you might not be doing this for the rest of your life. But that's kind of set in stone for us, now."
Martin believes there's something for every period of Tea Party fans: "I think the album in its entirety has something for everyone as far The Tea Party is concerned. It has all the different musical elements we've embraced over the years."
While Martin has often been accused of being the source of friction in The Tea Party, something he doesn't deny, his complete acceptance of where the band is at now and where it's heading, appears to have closed the circle.
"I've always been proud of the way we've been able to raise the bar for ourselves. I realize the expectations are high for this new record, but I think, and I believe Jeff and Stuart would agree, that we'll meet all the expectations."
He, too, referred back to their beginnings.
"In some ways, the feeling is even better than when we started out. There have been a lot of lessons learned when we were apart and the mutual respect for each other is even greater than what it was in the past."
During the six-year hiatus, members of The Tea Party found a variety of projects to keep them busy. Martin wrote and recorded a pair of solo albums, moved to Australia, and tours Down Under with Sarah McLeod. Burrows helped form pop-rockers Crash Karma and hosted a radio show in Windsor. Chatwood has composed film and video soundtracks in his home studio in Vancouver, while also producing music for the likes of New York entrepreneur Tim Sommer.
"We're all bringing a lot more experience doing different things to the table this time," Chatwood said.
The heavy rock influences remain, but they sound better in the new context.
"It's not retro-rock, it's respectful rock," Chatwood said. "We don't wear our influences on our sleeve. We just let them come out naturally."