2/4/16 1:30AM
VINYL LINK
finally!. I'll likely make a video of unboxing, etc.
6/29/15 6:46AM
Video review. I unfortunately said "The Watchman" accidentally. That and the whole *um* is the only issue I had with this, other than there are a ton of other points I just didn't have time to include, but maybe will down the road.
Maybe when I get the Vinyl I'll be able to show it and say a lot more about this album which I can't get enough of right now.
6/25/15 2:47PM
good interview I just saw on 1 of the forums with Chris. He does mention this may or not be their Swan Song. Overall, that's good to read.
Interview with Chris
As far as a review, I filmed a video review this morning that I am going to not share per a few reasons, #1, just per the length (16 mins).
But I should have time this weekend.
I'm Loving this album a ton, and am starting to think it may find 5-stars soon, and belongs in the discussion with Small Leaks, Sink Ships for favorite album of the year/season.
1 thing I noticed today, a reprise on the track "Guru" being that it reprises not only the phrase from Forest, but also the melody from "The Middleman"
HGOS is a puzzle, and a trip, and a journey like their other albums. It seems it's about the main character meeting different people (men?) etc from a literal standpoint.
More soon..gotta go though as I have dinner (and a Living Social credit as a gift from the 'rents) at my fiancee's favorite place,
Cravings
tonight that includes my favorite cake, Seasalt Caramel Chocolate.
6/21/15 4:59PM
Link
I haven't listened to any of it yet per Birthday/Father's Day activities, and now watching the US Open which goes potentially til 9:30PM, lol.
I have read some comments about it, and for the most part people are liking it, but are not sure how it compares to Set Sail..I guess I always kind of almost assumed it would be almost monumental to match or even top Set Sail..but then again, I look at the Soundscape follow-up and they almost topped that album..so I dunno.
I'm just still super excited to hear this and also hopeful we may see more acitivity from them and even re-releasing their back catalog in the near future.
1, The Architect 5:49
2. The Companion 3:54
3, The Middleman 4:32
4, The Traveler 1:57
5. The Watchmaker 4:03
6. The Painter 4:59
7. The Butcher 4:21
8. The Raconteur 4:16
9. The Guru 1:47
10. The Sage 3:48
11. The Author 4:40
12. The Apparition 12:15
56 minutes 20 seconds
6/16/15 2:18PM
27 second teaser. I'm not sure what to make of this sample. Chris sounds like he's screaming which almost harkens back to their pre-Trilogy sound.
But, too short to fully judge of course. Also nice to know precisely what time it goes on sale on Sunday, so expecting to go to the youaretheend site at 12:01AM or 1:01AM etc to download it won't be confusing if it's not there.
Also a word about the auction, I was the high bidder briefly last night, but decided not to go as high as it went, Congrats to the winner.
Also now seeing the YouTube teaser below, I do really like the brief message about "no single, no stream" etc..which reminds me of how music used to always get introduced. You just went to the store the day it got released and heard every song/part of the album for the 1st time.
Both Mike Portnoy and Steven Wilson would appreciate that I imagine.
summersolstice
from
Kaddisfly
on
Vimeo
.
6/12/15 4:30PM
http://youaretheend.com/
I'll definitely watch this and would consider bidding on Monday, but as a realist fan, I'm skeptical I'll have enough disposable money to shell out to win this thing. Especially considering I'm trying to save for a few other things like a Wedding, lol and even a trip to Irvine, CA for Mayer Hawthorne/Hall and Oates and Amoeba Records in late August.
But..who knows what will happen on Monday I suppose. I was close to getting a Kevin Gilbert
Thud
Vinyl test pressing, but I suspect plans changed for that availability. This would mean a lot like
Thud
, to have an extremely rare item of.
I assume I will be purchasing a number of copies of this album regardless in all formats.
Horses Galloping on Sailboats will be available Digitally on Summer Solstice (06.21.15) via intheclouds.
On the prior Monday (06.15.15) there will be a 24 hour auction for a test press of the record
and hand written lyric book exclusively at youaretheend.com.
The winner of the auction should receive the album by Friday (6.19.15), giving them the opportunity to have a true "first listen" experience.
Horses Galloping... will mark the first time the band's music has been pressed on vinyl (Due later this fall)
and will be available in both a Standard and Limited collectors edition 12"/10" vinyl package.
6/8/15 5:57AM
A Likely Preorder/Order Page on Intheclouds Site
For sale including as a Vinyl release on the Summer Solstice aka
June 21st, 2015.
Which is actually the day after my birthday in fact, lol. And of course a reference point on
Set Sail the Prairie
.
Facebook Announcement
Our new album HORSES GALLOPING ON SAILBOATS will be available via intheclouds records on Summer Solstice. Details on limited edition vinyl packages to follow soon.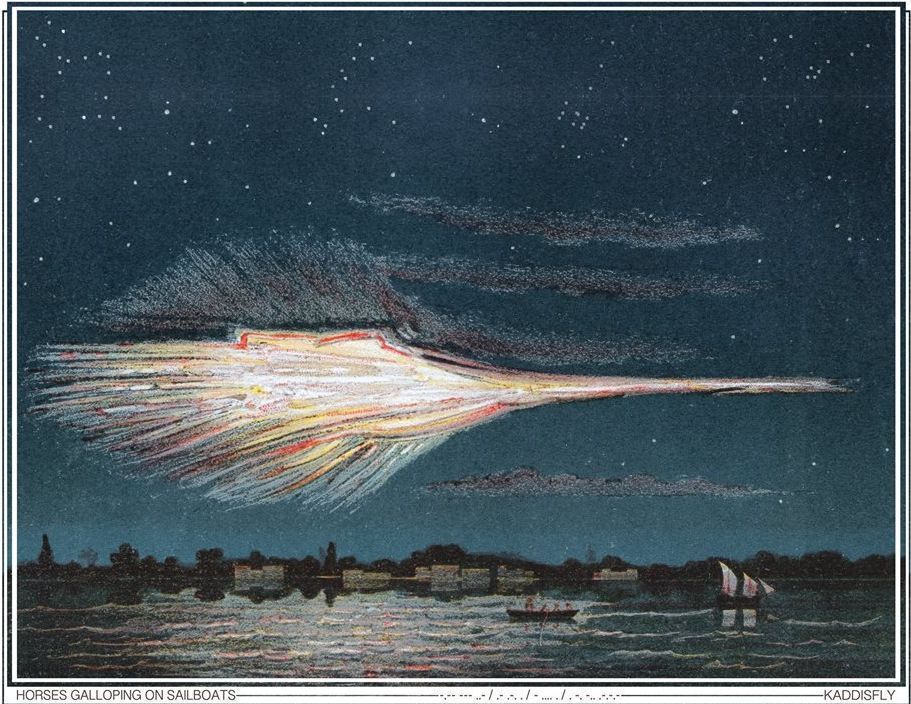 1, The Architect
2. The Companion
3, The Middleman
4, The Traveler
5. The Watchmaker
6. The Painter
7. The Butcher
8. The Raconteur
9. The Guru
10. The Sage
11. The Author
12. The Apparition
6/5/15 5:02PM
"iamariver"?
Everything's been so ***CRYPTIC*** I'm wondering this could be a little movement or something in 1 of the songs.
Hopefully more about that and details beyond the track list will be coming non Monday.
iamariver
from
Kaddisfly
on
Vimeo
.
6/1/15 3:00PM
It is JUNE now, so..we finally get a small part, which I imagine a lot of stuff will be coming in the month of June about this album. One thing I wonder tho, if they signed to this label, might that suggest there could be more releases after Horses Galloping?..ala Set Sail and Buy Our Intention Vinyl even?
just received this email...
http://youaretheend.com/
Kaddisfly sign with intheclouds
New album Horses Galloping on Sailboats
Coming Sooner & Later... and no that's not a typo
intheclouds is proud to announce our latest signing, Portland OR's Kaddisfly and we welcome them to the family! 7 years after their last release, Set Sail the Prairie, the band returns with the long awaited third album in their concept Trilogy: Horses Galloping on Sailboats.
Tracklist:
More details to come one week from today.
internet us.
inthecloudsrecords.com / youaretheend.com
5/15/15 4:33PM
New interview from Eatgeekplay.com
Some nice info/update albeit vague in some ways.
Kile Brewer:
This album was created for you.
I also like how Kelsey mentioned getting into Gatherer. Who knows, maybe Gatherer finds their way to the US and Kaddisfly could play some dates with them? It would be an amazing bill if it happened.
Still waiting on more details like a release date and artwork, etc..format even. I wonder if they will put out a lead single though.
edit:
another short teaser
Here
3/24/15 10:15PM
June 2015?
https://www.facebook.com/video.php?v=10153303013260039&set=vb.7849795038&type=2&theater
itisnowtime
.--- ..- -. . / ..--- ----- .---- .....
"it is now time...to open the doors"
2/19/15 9:26:AM
just a sample/clip/teaser
https://www.facebook.com/Kaddisfly/posts/10153213254755039
"The Architect"
1/5/15 7:16PM
https://www.facebook.com/Kaddisfly/photos/a.10150672788040039.450235.7849795038/10153102055405039/?type=1&theater
Obviously not certain, but appears to be likely a TRACKLIST?.
1, The Architect
2. The Companion
3, The Middleman
4, The Traveler
5. The Watchmaker
6. The Painter
7. The Butcher
8. The Raconteur
9. The Guru
10. The Sage
11. The Author
12. The Apparition
They have been posting little teasing quotes it appears a few times over the last 4 or 5 months on FB,
But now this after on New Years Day
"This will be the year. Have a safe and happy one. Cheers."
7/10/14 12:07PM
https://www.facebook.com/Kaddisfly/posts/10152652346040039
it's being MIXED.
2/22/14 12:09AM
from Facebook. A tracklist/possible track names/influences, etc? (I know it's not much, but at least it's something, lol)
12/31/13 7:02PM
Not 2013 (MMXIII) but 2014 it appears with the MMXIV, it's coming...
And I would't be surprised to see some of these tunes here
http://kaddisfly.bandcamp.com/
included, perhaps in different arrangements.
COLOR ME STOKED.
https://www.facebook.com/Kaddisfly/posts/10152215047705039
our seeds are planted. we're building and nurturing.
things are progressing and we're excited to show you.
it has been a bit. thanks for sticking it through with us. LOVE
to
MMXIV
, cheers
4/2/13 9:36PM
So excited. This year hopefully will include more of these leading up to the details and release.
"vos estis finis," "you were finished" in Esperanto?
vos estis finis
from
KADDISFLY
on
Vimeo
.
there are few things in this world that are entirely undeniable. commonly, these things are encompassed in a feeling. less commonly are these feelings felt shared and communicated between people. even less common is to have the chance to create something that celebrates and communicates this feeling, and to share it with with those who have been a part of it, as well as those willing to lend a curious ear. to share this level of joy and intimacy between people is a lacking trait in a modern and momentary world.
we are honored and endlessly excited to create and develop "HORSES GALLOPING ON SAILBOATS" in 2013.
VOS ESTIS FINIS
1/31/13 11:55AM
"The Dark and Stormy Tour"
New (Old) Documentary the guys posted. About 6 minutes, from 2005 (through 2008?). I haven't watched it yet though.
also the
HGOS
(Horses Galloping on Sailboats) part is shown on some places. The one thing to add to this, the album likely won't be released until late in the year given the guys are living in different places now. I wouldn't expect to see it until late Summer August/September at the earliest. Which will mean no matter what else is released prior to it as far as Album Index rankings, the Kaddisfly card very easily will find a way to change the results come early December. Even if the sucker is released the 3rd week of November, I won't be surprised to see a different top 10 or even top 5 only a few weeks after it's released.
1/25/13 9:39AM
Come to this blog/twitter/facebook or just
Watch this Space
http://www.facebook.com/Kaddisfly/posts/10151462633685039
we can travel forever this way
from
MMXIII
on
Vimeo
.
only guess work right now (and no I of course haven't heard the song in the video "We Can Travel Forever This Way" but this is likely 1 of 2 things.
1) This is in effect, Horses Galloping on Sailboats, just named a little more cryptically.
2) This is a reunion/new work/album, but still under the Kaddisfly name.
the MMXIII = 2013?
The one thing I hope though is they talk about the status and it includes Kelsey Kuther who was in, but is not now currently in Water & Bodies.
I know people like Dan Fury and some others I know from the forums have more or less any and all details about this information, but then again, they may not be privy to share it with me just yet. It may not matter because this stuff is far too far already for the band not to post some kind of detailed announcement.