30. Jimmy Gnecco | The Heart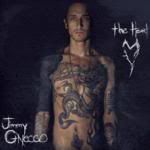 I am a huge fan of this man's music. His voice, songwriting, his live shows. And his band
Ours
. And so, I was naturally rather intrigued with this, his 1st solo album. Jimmy has toured as a solo act for many years, over a decade I believe. And he's got dozens if not hundreds of songs that have never been recorded or released. Some are for
Ours
, but a lot of them are or fit the music he is releasing under his own name.
Now, based on that, I hoped for something close to the quality and addictive-ness of an
Ours
record. Sadly, it didn't really happen, at least at this point. This album does have some good songs on it, that are on par with much of the best music he's ever written. Namely "Bring You Home" "The Heart" (the guitar outro is sick), "Days," "Darling," and "Gravity." And that was all well and good. But the meat of this record ends up coming across how I feared. Singer/songwriter, sensitive and lyrical.
I know people love that, including more or less the majority if not most of the hardcore
Ours
fans. But those people are also into folk artists like
Nick Drake
and
Elliott Smith
. Me personally? I'm rather picky about those types. And while when Jimmy does that style I prefer it to those, I guess overall, I can't often get attached to it.
Also the fact, you hear some of the undesired swallowing audio, along with just some hopes dash-ed, I just struggled to desire to put this album on a lot in 2010. I will say, the solo show I saw him open for
Greg Laswell
was one of the best shows I saw in 2010, and the material that kind of bored me on the album, didn't so much at that show. But Jimmy's always been a superior live performer. But hopefully with his next solo work, it'll grab me more. And of course music released under the
Ours
name I still am totally looking forward to and optimistic about. But for a debut solo album, this is about 3.5-star album, which for many would be rather good, but for Jimmy Gnecco, it's a bit lower than I can I say I would hope for.
29. The River Empires | Demos/Unfinished/B-Sides
This is the overflow or extra work that as it's titled, were unfinished demos and b-sides from the work
Jessy Ribordy
mostly did with the 1st The River Empires record. I have only gone through this collection maybe three times thus far, but the best thing I can say about it is, while a lot of these tracks I follow why they didn't end up on the record, it's still of the quality of
The River Empires
album in a lot of ways.
For one, the demo of "A Dimmer Lux" I think I may like even more than the version on the album. The orchestral and vocal arrangement is wonderful. I might also say the same about "The Curse of Maybel Cains" demo. I suppose it helps, when you hear a new version of a song you already love, it adds more appreciation and depth for what they did with that song.
The other pieces that never were released vary, from nice ideas, to songs that I wouldn't be surprised could have been written within what came out with
The Gloomcatcher
, and thus may be used with future works in that project. Although, I'll confess, only having listened to this about 3 times, some of those I'm still digesting to know how I feel about them.
The Dear Hunter
early demos I grew to appreciate even more, to the point I really still wish they'd get released/recorded in some format. Perhaps these will come out on a new printed/hard-copy version of
The River Empires (Epilogue)
at some point.
28. The Gloomcatcher | Slow Chorale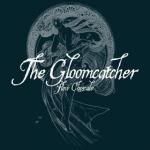 This was born out of the overflow of ideas
Jessy Ribordy
of
The River Empires
had in writing the music for TRE's 1st album. But this music didn't quite fit with TRE's story/concept and style in a lot of ways. Jessy uses more electric guitar, and a bit less of a nature-like feel to the songs.
But as it turned out, it ended up being an entirely new concept. In a way, it was a similar approach with arty kinds of music, tying in to a story. That story is about a trial that is taking place in the deep south in the late 1800's.
The music, while it wasn't exactly like Jessy's other group
Falling Up
, it probably shared a little more in common than the bluegrass/folk/classical musical combination of the project it came from.
It wasn't as addictive as
The River Empires
either, but it was released the same day, and I ended up listening to it a fair amount still, especially early in the year. My favorite parts of it, remain the 1st 2 or 3 tracks: "The Rising Cain" "Hooks in the Rafters" and "The Devil's Forecast." Although, for mood, I guess the whole album works best at once.
The thing that I will remember about this, is it being a free download with
The River Empires
download purchase. And at 1st, I almost enjoyed it as much. The time and even buzz about this, compared to TRE, almost short-changes my feeling here. I should probably go back to this album more in the future, without thinking about TRE's. That, and the fact there is apparently some new material expected next year from TGC (as well as TRE and
Falling Up
in fact).
Suggested
: The Rising Cain, Hooks in the Rafters, The Devil's Forecast, The Slow Chorale
27. Punch Brothers | Antifogmatic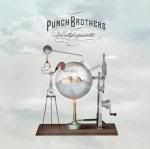 Another welcome recommendation from a friend. I guess this group made a splash a few years ago with
Punch
, their debut record. This band includes members of
Nickel Creek
and
Leftover Salmon
I believe. So it's kind of known among those circles, and Bluegrass music in general.
This is pretty much all-acoustic music, but that hardly takes away from it, using acoustic guitars, violin (fiddle?) among other instruments. The crescendos and dynamic sections, namely with the vocal harmonies, really impressed me at times. I suppose the one thing that bugs me about it, is at times their lead singer seems to channel some of those whiny/emo singer/songwriter sensitive types, I almost feel like I'm hearing
Conor Oberst
or
Elliott Smith
. But those sections don't seem to last, as I'd say every track those do happen, the song takes a cool turn for the better and I'm not as annoyed by it by the end.
One of a handful of names doing progressive folk/bluegrass I got into in 2010 (
The River Empires, Bruce Peninsula, The Galactic Cowboy Orchestra
). I imagine 2011, I may get even more into them, as I still have yet to hear
Punch
and I understand it's 40-something minute suite piece.
Suggested
: When in Doubt, The Woman and the Bell, Welcome Home
26. Distrails | Dry Flies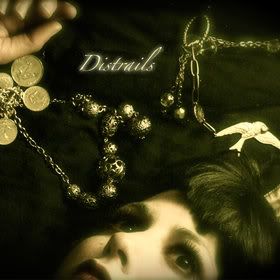 Wonderful, sad, textured. This band/project is so great sometimes. Immensely beautiful, and emotional. This 4-track EP is what was recovered from the loss of what was a full-albums worth of material that was written and disappeared when the groups computer/hard-drive crashed a couple of years ago. I can't say enough great things about this project. I absolutely love the textures they use. Like with 2008's
Virginia Creeper
EP, the 4 tracks on here leave me wanting to keep going back to them, and also wanting more music from them.
25. The Apples in Stereo | Travellers in Space and Time
I caught on to these guys back in 2007 with
New Magnetic Wonder
. And they remain my favorite, and probably the one project I keep close tabs on, on
The Elephant Six
record label. They do the power-pop/
The Beach Boys
-influenced music, frankly a lot better and more accessibly than every group on that record label. Although, I can't deny, the material that came before
New Magnetic Wonder
has never grabbed me nearly as much as that record and now this latest album of theirs.
The title makes me think of some kind of Scifi space-rock (or space-pop?) opera. And in a lot of ways, it was that. But maybe so lyrically. The opening and closing voice-over sound-bytes make me think of
Douglas Adams
and
Hitch-hiker's Guide to the Galaxy
. And I recall asking
Robert Schneider
about that when they played a show last Spring, and he didn't deny the influence.
But I suppose the best thing to say about this album is its consistency and lack of extended length (unlike many of the
The Elephant Six
releases, including some of the Apples work in fact). One track, "No Vacation" the lead vocals sounded an awful lot like
Roger Joseph Manning Jr
. of
Jellyfish
, so much so, I suspected it was him singing on it. But it turned out it was
John Ferguson
of
Big Fresh
who/whose band opened for the Apples and has now become a member. Another track "Dignified Dignitary" I always think of
Matt Mahaffey
and
sElf
.
Along with their use of vocal-effects (vocoders), catchy vocal harmonies, textures, piano, and the flow, this probably is my favorite thing they've ever done. Even though I was only, mostly into it earlier in the year.
Suggested
: No Vacation, Dance Floor, Dignified Dignitary, It's All Right
24. Journal | Unlorja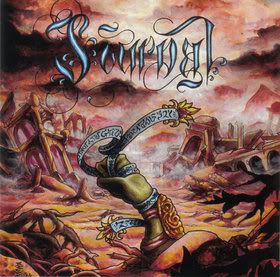 This is/was one of my favorites, in fact probably favorite new Metal band of 2010. At least with a new release. I probably played it 5 or 6 times, but may have even more, had it not been for the length. The last track is a 30 minute narrative thing over some instrumental music. I suppose not having the time or desire to go back to that each time was part of why I didn't play this album as much as I might have liked. But the rest of it is really well written, progressive metal-core of a kind. Some djent? yeah I suppose, but the way they use it is a lot more effective than the laundry list of other bands especially in 2010 (including
Periphery
). Although their base sound is more rooted directly in prog and technicality. I like how they mix up the vocal styles and some transitions. The dynamics work well, kind of like how
Between the Buried and Me
or
Painted In Exile
use them, in segues/transitions to change the mood, etc.
Not a ton more to say, other than I probably will play this more in the future, and am curious what comes next for this band. The Metal and Metal-core scene needs more bands like this.
23. Orphaned Land | The Never Ending Way of ORwarriOR
This is one difficult record to evaluate. Was it addictive? no. Were there memorable songs/sections? yes. Was it as good or as cohesive as their last record, 2004's
Mabool: The Story of the Three Sons of Seven
? no, not exactly. Okay, enough with the jeopardy. It's like it had enough well written, interesting, and sonically impressive music, that I had to buy it, the special edition with the documentary. But it didn't give me reason to go back to it a ton. Part of it obviously was it's length being well into the 70 minute range. Part of it was the concept, which compared to some in-your-face concept albums, it wasn't terrible or beaten-to-death to the point of repulsion. However, there definitely are some songs where the concept almost gets more important than the song, at least for a few minutes.
I suppose if you look at it like
Extreme
's
III Sides to Every Story
, or just as 3 EPs, it doesn't seem so long. But then it comes across as having a few great songs on each EP.
I guess I see this as a solid record, with a couple of outstanding songs in "Disciples of the Sacred Oath II," "Barakah" and "Sapari." And the other dozen or so songs have moments of greatness worth getting to. But it ultimately falls into mood-record territory for now, because of it's length and intensity. Perhaps in a year or two, especially given how long this band have gone between records (5-6 years), this album may have some extra room for growing. But I'm not expecting it to ever get as far as
Mabool: The Story of the Three Sons of Seven
has with me, but who knows. The mixing work and keys
Steven Wilson
contributed are admirable, but I do wonder a bit how different it would have been had he actually produced it with them in person (it was done via email I guess).
22. Negroni's Trio | Just Three
I heard something on the local Jazz station one afternoon driving home a few months ago, and was amazed by how precise and intricate their music was, especially their drummer. The dj almost made the piece out to being from a debut album. Well, that wasn't the case, but I believe it was the track " Sabado en la Noche" which was the closing track on this.
I might compare this album in a way to the new album from
The Reign of Kindo
, where it has that one exceptional song, and the rest is not really filler, but more subdued.
This band play a new style of Jazz I haven't heard all that much of. Either that, or I might call them sort of a hybrid of bop, Afro-cuban and jazz-rock. Or just, a different kind of fusion. They are 3 members and 3 instruments mostly. Piano, drum and bass. But they do make the most out of those, even with how stripped-down this album can sound. Acoustic-jazz in a way.
Now, I'll confess, when checking them out, I heard some of their earlier music, and I may find that to be even greater than this album. But for now, this record and they remain my latest, favorite group in jazz and most new artists I've heard.
And their drummer
Nomar Negroni
, the son of the group's founder/pianist
Jose Negroni
, is one of the most fascinating drummers I've heard in a long time. I can't deny, I almost got flashbacks of
Paul Wertico
at times hearing him.
Suggested
: Sabado en la Noche, Just Three, Emotions, Fingers
21. Timbre | Little Flowers
This is a wonderful record. A breakthrough perhaps even. Timbre has such a pretty voice and the way she uses harp and vocal harmonies among other elements on this are just sublime. I revisited this album again the other day and it reminded me why I loved it. It just has so much calm and beauty. Timbre is a flower. And pretty much this album is full of blooming flowers. Maybe I've found a greater love for non-traditional rock music in 2010 with
The River Empires, Bruce Peninsula
and her. Although I was 1st introduced to her when she was on tour with
Brooke Waggoner
, playing harp with Brooke. And I came to learn she played with
Anathallo
and
Umbrella Bed
, two groups I was already a fan of. So I'm hardly surprised she made an album of this quality.
I honestly think this is a highly overlooked record for 2010, and the folks who caught on to
The River Empires, Emanuel and The Fear
, and maybe
Sufjan Stevens
for the 1st time, should check it out. It's really wonderful and without a song worth skipping.
Suggested
: I Will Go Plant Little Flowers, The Wind May Be Beautiful
20. Judgement Day | Peacocks / Pink Monsters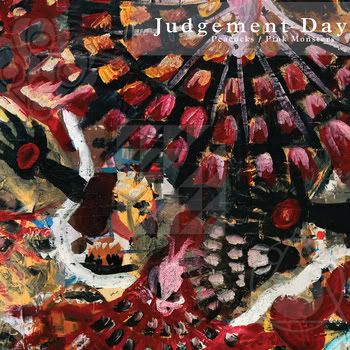 They opened for
dredg
a few years ago and impressed me and many others on that tour. They also played on
dredg
's last album
The Pariah, the Parrot, the Delusion
. And I picked up a couple of their discs at the show after seeing them.
Instrumental string-metal. They use no guitars, nor any vocals. Yet this music is awesome and falls into that style. The artwork and concept behind it, being they had these 2 artists work on a painting that layered over and over again, kind of fit with the music (and vice versa since, the painting was made from taking-in the music they were writing).
I enjoyed it, really the week of/right-after I saw them live, headline in the Spring. And while I was impressed by a lot of it, I didn't find myself going back to it as much as I maybe should have. But in revisiting it again, I can say it is one of the more overlooked records of 2010. And it's best moments, are frankly, stunning. They sound like some big orchestra at times on here. The peaks, ebbs and flow pretty much got my jaw-dropping enough to not appreciate it even more now.
I think more folks, namely fans of
Apocalyptica
and
dredg
of course, really owe it to them-self to hear this record. Technical, Instrumental shredding without guitars. Almost
Pat Metheny
-like in that way.
Suggested
: Excelsior, Peacocks / Pink Monsters, Mark of Vishnu, Genosha
19. Timmy Sean | Songs From & Inspired By Noisewater
I dig Power-Pop when done well. And clearly, Timmy Sean listens to a lot of it. This is one of the more impressive Power-Pop records, especially for a debut, I've heard in many years. While I don't sense he's re-inventing any wheels, or even the power-pop genre, the songwriting quality is consistent throughout this record.
I guess the best thing to say, is this album captures what I love in bands like
Jellyfish
, recent
Silverchair/The Dissociatives
and
Queen
especially; even one track the melody reminds me of
David Bowie
's
Life on Mars
. He's kind of the newest, best kid on the power-pop block, and succeeds better/greater than some others. The hooks, vocal harmonies, production, and earworms happen more or less throughout the whole record.
Suggested
: Wait, Can't Stop the World (this song could have easily been written by
Silverchair
), What You Do, Noisewater Overture
18. Anathema | We're Here Because We're Here
This album I liked the 1st time I heard it, but it slipped my mind somehow. But in now revisiting it, it's as good if not better than I remembered.
Steven Wilson
I guess mixed or produced? The moods, riffs, textures, and the samples with the music especially have me more on board with them. It's a little bit like
The Antlers
record last year, melancholy in some ways. They hit the emotional button on multiple occasions here, I can't help but succumb to it's power and beauty.
17. 22 - Flux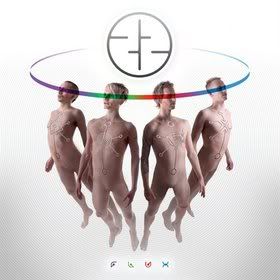 The newest kid on the college-prog block. This is a debut record, that doesn't seem to be too known, perhaps outside of their native Norway. But it's not another one of these core, pop, or punk groups who call themselves progressive, or wear their influences blatantly on their sleeves. They are more like
Sound & Shape
, where it's clear they listen to
The Mars Volta
and
Muse
, but they have managed to mold those influences into their own sound to a point, and maybe more importantly, just managed to write good, memorable songs.
They're bass-driven at times, their singer has a poppy almost "emo" sounding voice, although that doesn't matter to me if comparing them to the singer of
Panic! at the Disco
for example, or even
Matt Bellamy
.
Given it was barely a month ago when I 1st heard them, I'm still discovering how good a record this is. But it doesn't have any songs I skip, and leaves melodies in my head. Modern prog done well.
Suggested
: I Am That I Am, Plastik, Kneel Estate, Susurrus
16. The Reign of Kindo | This Is What Happens
The follow-up to what has become a rather addictive debut album in 2008's
Rhythm, Chord & Melody
. The 1st track to introduce this record being "Out of Sight and Out of Mind" totally got me excited for this album. It has one of those time-changing shifts that I love this band for. I guess that track ended up being the most addictive and memorable on this album. However, this record wasn't exactly RC&M Part 2. What it is/was more of a subdued collection of tunes, that varied from track to track. It was more Bop or jazz-centered. Not as focused on chops, but on mood. But in a lot of ways, it was good for that reason. A worthy yet a bit different follow-up. It'll be interesting to see what they do after this.
Suggested
: Out of Sight, Out of Mind, Nightingale, Psalm" (the guitar echoing texture namely, and string arrangement) Battling the Years, Now We've Made Our Ascent (reprising the melody from "Till We Make Our Ascent" from RC&M)