ok, this is in effect the 1st of perhaps an unlimited number and frequency of blogs that will be posted at least in the coming year if I find it remains worth doing so.
This is, I hope/think of instead of just posting a new topic or whatever about said new band..and I'll include new movie or even tv show actually now thinking about it. But I'm not gonna kid myself, it will primarily be for the proverbial stumbling-upon said band likely on a blog/link/database. Perhaps on another board, $1-$5 Cheapo-find, Opening-at-a-concert-band or podcast, mix exchange, etc..or somewhere else.
These may be bands I checkout only once and forget about. They may have a song I like, but the rest bores me on 1st or 2nd impression. Or sadly, they may be a band I checkout and find ok, but it'll take some forum topic or suggestion to have myself discover to liking them.
Also of course mostly it'll be new albums..many leaks..or perhaps an album or band whose 1st work came out sometime in the last few years (I'm getting a lot of 2006 and 2007's..next year probably a lot of 08's will pop up as well). But it hardly is limited to something recent..could be a 70's or 80's band..could be older than that.
K (and of course that whole endless schpeel will not be re-posted in each one; just this initial introductory entry).
Oedipus
- Humbility (2005) ..funny how I stumbled upon this NAME on my my most reliable source of links, but not that surprisingly, it was for ANOTHER BAND OF THE SAME NAME, lol. Not the 1st time that's happened (Alps for example). They sound rather Muse-like just from the samples. Findind a link for this guy wasn't easy, but I'm certainly glad I finally did.
Run Chico Run
- Slow Action (2006) a random find at Cheapo a few days ago. I sampled like 3 unknown band's discs and this was the only one that got me to gamble with it...mainly due to the fact it was $2. The 2nd track I liked, but I'm not expecting a lot. And I guess this album is one a handful of discs in their back catalog; so it's possible I won't care for this, but maybe something else from their past.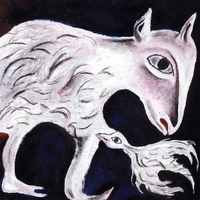 Kacica Mosaic (2008)
Japanese band whose vocals don't sound entirely Japanese. But kind of shoegaze-like in a Mew-kind of way. Like Run Chico Run, I suppose among the 5 or so names I checked today so far on unsaid database, this was maybe the only one that I'm gonna give a chance to.
The Wildhearts
I could go after a bunch of theirs it sounds like. I am optimistic about their power-pop elements, however the stuff on their myspce that has vocals like Kurt Cobain I will likely skip. I hope this ain't another Better Than Ezra, and more of a Silverchair or Jellyfish.