9/7/12 1:05AM
Media Addicts on Facebook
CD Baby link for Autonomy: with samples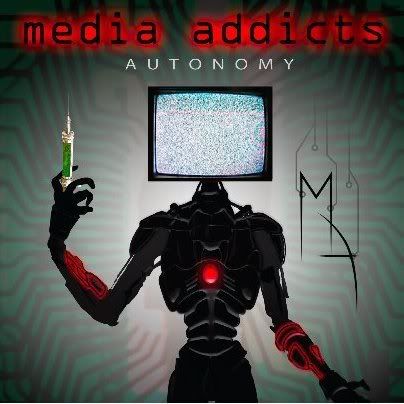 1 Seven 7:58
2 Pocket Snake 6:37
3 How the World Ends 0:56
4 Whimper 5:56
5 Mr. Nice Guy 6:12
6 Someday We'll Tell It About You 5:57
7 Intuition Pump 7:39
8 Legend 3.0 5:31
9 Old Hat 5:39
10 Zeitgeist 15:15
I want to bump this entry, as I have finally been able to hear this album, since I picked it up a few weeks ago at the CD release show.
It is terrific. Very much, like
Elsewhere
, the more I play it, the more each track seems better. The closing epic of sorts "Zeitgeist," while seems soft and quiet, has this nice repeated theme, that goes in and out, and then strays only to eventually be reprised in a coda.
I spoke to their saxophone player David Hirsch at that show about this album, and he remarked how it was heavier than
Elsewhere
, and I might agree to a small extent. Billy Graczyk their guitarist, does use some dark, heavy riffs, that almost border on a Doom Metal-side.
But this band is outstanding using dynamics and crescendos. "Seven," "How the World Ends," "Intuition Pump," etc all include them. And the new version of "Mr. Nice Guy" might be even better than the original from
Elsewhere
.
I really enjoy their layering, and the busy drum work from Eric Miller. David's sax of course works well as a lead melody and counter melody to Billy's guitar. While bassist Brent Wallace stands out frequently, namely some of his upright bass parts which act as lead-ins or lead parts.
Like most jazz/jazz-related music, they are even better live. But this album is rather mesmerizing at times, so much so, I likely will continue to back a lot before the end of the year.
The cover art even almost reminds me of
The Galactic Cowboy Orchestra
's
All Out of Peaches
in a way with a crazy head piece on a body (see
here
).
What is a bit sad and ironic, is the fact I finally got to see them live after wanting for a couple of years, and their drummer Eric Miller is apparently moving away soon. I'm not sure how that will effect his and the band's future, but in the short term, they may not have many shows to support this album for awhile. It makes me glad I didn't miss that cd release show even more too. Also Eric's a really good drummer, whose very busy and precise (which you kind of have to be to play this kind of music), who I wonder how easy it may be to find someone good enough to fill-in or replace him.
Also, they played a couple of new tunes live that were not on either of their records. 1 being this extremely cool, almost
Pink Floyd
or Space Rock-like echoing sections from Billy's guitar effects specifically, that had my jaw dropping. I really hope that song gets recorded, as it would be a shame to never get to hear it again.
7/17/12 2:38PM
This is the 2nd full-length record from this Twin Cities-based Jazz-Rock group. I honestly can't trace where I 1st saw their name, but I know I picked up a copy of
Elsewhere
their 2008 debut record, in June of 2010. I may have even mentioned them in this blog then, but my memory escapes me right now.
As far as Jazz and Jazz-Rock/Jazz-Fusion or even progressive rock-related artists in Minnesota, these guys are definitely in there. Although I'll confess, I haven't grown attached to their debut album, and maybe more importantly, I still have yet to see them live.
But they have a CD-release show scheduled for Friday August 24th at The Artist Quarter in downtown St.Paul. So, hopefully that'll finally give me a chance to see them in person, and pick up a copy of this new album of theirs.
Could this be one of, if not the best local record of 2012?
Lehto & Wright, The Bewitched, The Royal Veil, Brice Plays Drums
and
The Book of Right On
of course will likely factor in there, among others. But I'm pretty excited to finally hear this next month.