9/3/11 5:25PM
Preview..some moments, but not hearing this with headphones doesn't help.
7/28/11 9:02AM - 8/3/11 9:50AM
First Track from forthcoming album streaming now!
Will stream when I get home this afternoon.
sounds good.
7/14/11 7:46PM
http://www.texturesband.com/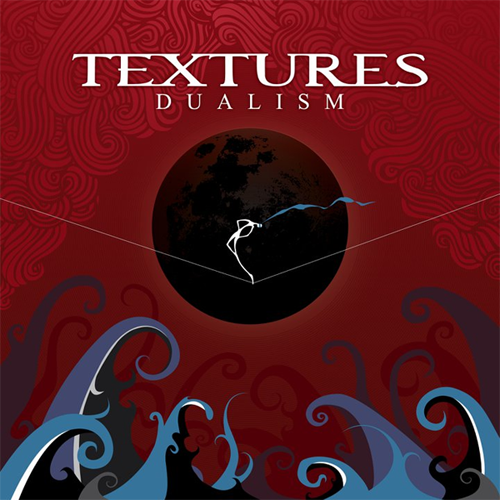 1 Arms of the Sea
2 Black Horses Stampede
3 Reaching Home
4 Sanguine Draws the Oath
5 Consonant Hemispheres
6 Burning the Midnight Oil
7 Singularity
8 Minor Earth, Major Skies
9 Stoic Resignation
10 Foreclosure
11 Sketches From a Motionless Statue

TEXTURES have announced the title of their new album — Dualism — which will see its release in Europe, South America, Australia and Asia on the 23th of September and in North America on the 27th of September via Nuclear Blast Records. The album was recorded at Split Second Sound Studio in Amsterdam, The Netherlands and was produced by guitar player Jochem Jacobs. The first single, "Reaching Home," will be released on 19th of August through all major download sites.

The artwork of the album was designed by former TEXTURES' frontman Eric Kalsbeek and the band's bass player Remko Tielemans. Eric had the following to say: 'The guys asked me to co-create the artwork together with Remko, for good old times' sake. Of course I said yes! I might not be in the band anymore, but I'm still involved in some ways. We're still pretty close, you know. It was a challenge, it had to be 'different' but still Textures-like. Hope you like it!'

In support of the album the band will extensively tour the United States, Canada, UK, France and The Netherlands.
So I had read about their upcoming album off and on, but here are the more specific details. September 23rd release date. More cramming at the end of the year of course. 2008's
Silhouettes
was pretty underwhelming I recall, after I was pretty excited to hear it. I really enjoy 2006's
Drawing Circles
though.
These guys were doing "djent" before it existed, in a way. But maybe their sound would be best called just groove oriented proggy tech/death. I dunno. It has been a few years since I even really listened to them, so perhaps this new record will renew my taste and memory of them more so. I do know they're light years better than pretty much 99% of any of the other bands described as "djent." But they don't entirely get the recognition they deserve (or as much as many of the "djent" bands..Periphery perhaps?).