The new
U2
album
"No Line on the Horizon"
I like. About 6 or 7 tracks especially I think work well. Not an AotY candidate or anything, but it's a nice change to being more experimental. Change in production and textures. I dig the piano and strings among others. The new single "Get On Your Boots" however, is probably the worst song on it, lol.
Doves
hitting
The Varsity Theater
in May makes the upcoming concert plate a bit more frequent in April and May.
March:
20th Bridge Over Troubled Water
30th Bloc Party @ First Ave (maybe)

April
5th Fair to Midland (The Rock)
10th dredg (Varsity)
13th Sleepytime Gorilla Museum (The Triplerock)
26th Neko Case (State Theater) time/$ permitting
29th Mastodon (The Fine Line)

May
3rd Leonard Cohen (Orpheum Theater) time/$ permitting
15th Protest the Hero (Station 4)
28th Doves (Varsity)
I'm sure I'm missing a few dates.
OSI's "Blood"
is released on May 19th in the US.
info
01. The Escape Artist
02. Terminal
03. False Start
04. We Come Undone
05. Radiologue
06. Be The Hero
07. Microburst Alert
08. Stockholm
09. Blood
Disc 2
01. No Celebrations
02. Christian Brothers
03. Terminal (endless)
Classic Rock (magazine) Presents: PROG
I'm definitely curious about this new magazine, as I have enjoyed Classic Rock Magazine's special "Prog" issues in the past. So it appears they're going to try to do a semi-regular publication on it.
CLASSIC ROCK PRESENTS PROG

The already burgeoning prog rock scene receives another welcome boost with the announcement of the imminent arrival of Classic Rock Presents Prog, a new quarterly journal of progressive music that's set to offer prog rock fans a wealth of coverage of their favourite bands, artists and music.

Issue one sets out its stall by covering true giants of the genre like Pink Floyd, Genesis, Yes and ELP all the way through to modern day protagonists such as Dream Theater, Coheed & Cambria, Queensrcyhe and Porcupine Tree. New acts such as The Reasoning, Frost* and Demians find themselves nestling alongside established prog heroes like Marillion, Rush and Asia.

Packed with exclusive interviews, news and reviews, the whole spectrum of astounding sounds and amazing music gets the Classic Rock treatment in March. Issue One hits the news stands March 25. It's a date you don't want to miss.
Oceansize
's Australian Tour
I guess supporting Cog is a big reason how they are able to afford it.
Thu 4/06/2009 NSW Fremantle Metro
Fri 5/06/2009 SA Adelaide The Gov
Sat 6/06/2009 VIC Melbourne Hi Fi
Sun 7/06/2009 VIC Melbourne Hi Fi
Thu 11/06/2009 QLD Brisbane Hi Fi H
Fri 12/06/2009 NSW Newcastle Panthers
Sat 13/06/2009 NSW Sydney Selinas
my curiosity is, if they can afford that, perhaps they could afford something similar soon in the US.
Archive
's new album is called "Controlling Crowds" and is listed to be released on March 30th.
The 1st single "Bullets" (youtube link above) I definitely like and am looking forward to this album a lot more than I expected. "Lights" from 2006 was okay, but not of the quality of "Noise" and "You All Look the Same to Me."
Fields
album
"Hollow Mountains"
I've seen 2 release dates listed being March 2nd and March 9th. And of course "March." But with no track-list nor artwork, and some mention on their
last.fm page
about it's status and the band lacking a record label I guess, it's release date/time is really uncertain.
Kiss Kiss, Local Natives,
even
dredg
to a point, kind of are (or were) in a similar spot.
Local Natives
at least, last night on the NBC show
"Chuck"
had 1 of their new songs "Airplanes" played for a short while in the background. Being a Street Team member and genuine hugely optimistic fan of theirs, my jaw literally dropped to the floor hearing that. The point being,
they are a fucking great band, and more people should and I gotta believe will like them
. Many of those
Fleet Foxes
ass-kissers (among others..Panda Bear, Animal Collective, Miracle Fortess even) are gonna find out when they get the exposure they deserve. They're just too damn good not to.
Water & Bodies
began recording last week, what is I guess to be a 7-song EP that likely will be released digitally. CD and/or Vinyl as well, most likely available through
their website
and @ Concerts directly from the band. I'm extremely excited to hear these songs recorded after hearing samples live the past few months. I realize this is not
Kaddisfly
but it may be something even better for all anyone knows. And maybe best, going directly through them, it'll be available rather soon. Like perhaps by April or even earlier.
Soundscape
's
"Grave New World"
I will be hearing in the coming weeks. It's been a 10-year wait, but I am without question overjoyed to finally get to hear it. Expect some kind of in-depth review on this blog among other spots soon after. My s/n on many sites isn't "Soundcape(MN)" for nothing of course :P.
"Discovery"
is a life-changing record for myself anyway. If
GNW
is even 1/10 of that, it'll be an AotY contender (to be honest, it already is).
dredg
's new album
"The Pariah, The Parrot, the Delusion"
is coming out on May 19th (same day as the US release of OSI, wow!)
cover art: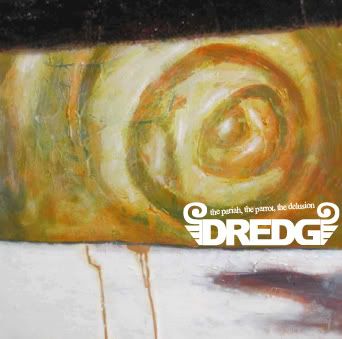 Mew
's new album is expected in June.
King's X
are headlining
3 Rivers Progressive Rock Festival
I guess. Honestly, this is pretty surprising. Maybe it's a $ thing or I'm totally off on their current approach live. I would never expect them to play a "Prog" festival. But then again, many years ago
Porcupine Tree
did as well. Hopefully they'll do some more touring in 2009 and comeback to Minneapolis, a place they used to never skip (I saw them 10 times from 1996 to 2005 for example).
Muse
new album to have a heavy Classical music influence?
bbc article
By Georgie Rogers
6 Music News reporter

The band have their own recording studios at Lake Como in Italy
Muse's new studio album could see them move away from their traditional rock sound to create a more "orchestral", classical offering.

Frontman Matt Bellamy said: "There's some really brilliant songs coming out, some of our best material I think."

The follow-up to 2006's Black Holes And Revelations is expected later this year coinciding with an Autumn tour.

Last month, the Devon band picked up the NME award for best live band for the second year in a row.

Speaking to BBC 6 Music, Bellamy revealed the record's sound could see the band abandoning their traditional rock leanings completely. We'll be knocking on Classic FM's door, you know

Muse frontman, Matt Bellamy

"A symphonic album has turned up here, like a full collaboration with an orchestra," he said.

"There's definitely a few things on the album which are segueing into each other and it's all very orchestral, but that could take over the album, so it could actually be kind of classical act basically, and move away from rock all together.

"We'll be knocking on Classic FM's door, you know?"