7PM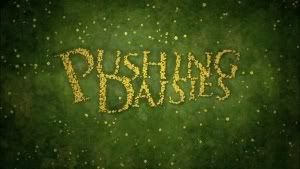 Pushing Daisies:
tv.com link
Premieres: October 1st (ABC).
Bryan Fuller seems to have struck gold over and over with TV. Work on Deep Space 9, Dead Like Me, Wonderfalls, Heroes, and now this show. Very Tim Burton-like, but also certainly has elements of 2 of those babies in DLM and Wonderfalls. The odd, inventive elements of nature, god, and science that we don't exactly know as well as we thought. Lee Pace stars, and I always liked him on Wonderfalls. The premise itself with Ned's ability to revive the dead for 1 minute, seems a bit short, but I guess that's part of it's appeal. And of course the whole having to touch them again within that minute or someone else dies is funny. Question being, is that always how the show will work? For now, yes, but maybe not as the show explores more ideas and plots. Everything with his non-touching love and lust for Chuck his childhood unfulfilled love interest. The Emerson character is probably as funny as anything on the show. I also really like hearing the narration from Jim Dale whom I will admit, really enjoyed his voice work in the Harry Potter audio-books.
Strike-impacted of course as it didn't return and only being it's 1st season last season like some others. We may be in for a treat as to what transpires for Ned, Chuck, Emerson, and talented Kristin Chenowith's character Olive. It should be interesting and also I'm still hoping to spot more DLM and Wonderfalls alumni at some point.
7:30PM


Gary Unmarried:
tv.com link
Premieres: September 24th (CBS).

A newly divorced father of two balances life with his new girlfriend and his ex-wife to whom he was married for fifteen years. Jay Mohr ( Saturday Night Live )stars in this CBS multi-camera comedy. 13 episodes have been ordered for season 1. The show is being produced by ABC Studios and CBS Paramount Network Television .
Not that I'm a huge Jay Mohr fan, but he's not been horrible in some of the movies and guest-appearances I recall seeing him in. But I guess the biggest thing about this one is the previews looked pretty good. Not a totally unfamiliar plotline for a sitcom, but CBS has been batting a decent percentage with sitcoms this decade especially. I'm gonna give this a go. I like Paula Marshall too who I last recall seeing somehow replacing Jeri Ryan in-a-way on "Shark" the end of last season.
8:30
Do Not Disturb:
tv.com link
Premieres: September 10th (Fox).
A glamorous New York hotel has a not-so-glamorous staff in this multi-camera comedy project from FOX.
I am guilty right now having not seen any trailers or anything for this (I'm sure they're online, I just need to find them). However, a sitcom set at a hotel with en eclectic cast of characters sounds like it could have something. Jerry O'Connell stars, and while not everything he has done I love, he has done some work I really enjoy. Sliders for example. He definitely has been and can be one of those actors I just like watching (and no, it's not due to his looks, no thank you. He is an attractive guy, but I don't swing that way ya know :P). He even was on an episode of "Samantha Who?" last season which he wasn't bad in. The rest of the cast, while I am not remembering their names, they look familiar anyway. Perhaps some of this could have a similar spontaneity and interesting adventure-style comedy that I enjoyed about a newer film with Wonderfalls's Caroline Dhavernas and Craig Ferguson called "Niagra Motel" (probably one that deserves a review itself). A story about a bunch of characters connected in some ways at a motel. Guess we'll see. But with Gary Unmarried and this on Wednesdays, there could be 2 of the best new sitcoms on 1 night. An odd combo if Lost returns as well to Wednesdays in the Winter.
9PM
Lost: (ABC)
:
edit: considering this is a mid-season start and
a) nothing I've found indicates if it'll be airing here again or Thursday like it did at the end of last season. And perhaps 8PM instead of 9PM.
b) It probably warrants it's own individual blog in fact. BSG and some others in fact may too.
the Lost review/preview/conflicts will have to hold-off for now.