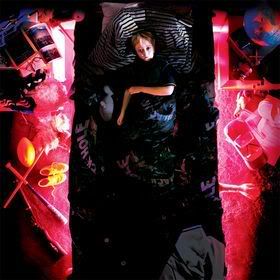 Apes and Androids - Blood Moon
myspace
Given the time-crunch at this moment, but I want to put this up, I may edit this..add to this, etc. But this definitely is my most played album of the last month, and 1 of my favorites this year. Such a GROWER and original. Sadly, it also may be the most overlooked album of 2008 thus far..reminds me of the classic debut from last year
"Live and Learn" by House of Fools
. O well..give it a little more time and some more will come in hopefully.
And Now...
- unusual intro with a british accented radio dj signing off..then a tm fat-synth with a voice-over like a comedic soundtrack "these are all words that won't help you, but will definitely make you sound weird"..like a radio transmission picked up in space
Bad Kind of Wetness
- flowing from the fat-synth segues well
Blood Moon I
- 1st part of a story or theme being illustrated, kind of a suite or to-be-continued. Sounds like in space-scifi like on a ship
Golden Prize
- Harp lead..with fat-synth with a dialog from a voicemail from an ex-gf or something that may not have got along with her ex from the East Coast (and she's from the Midwest "I don't think you understand what girls from the Midwest are all about")..later transitions to a fun, catchy, layered melody..glammy..vocal layers almost like Queen.
Hot Kathy
- melody reminds me of some classic rock..Bowie perhaps....more great CHOIR vocals in the chorus. A melody you can't get out of your head..the energy and vibe as it builds sets a great mood.
edit: I would add conceptually, I think Kathy may be meant to a prostiture or dancer..maybe a callgirl..or at least a girl who earns her living in a working-class job..blue-collar. Some socio-economic struggles or challenges at least.
Make Forever Last Forever
- "Riders on the Storm" it leads to..but the lead melody is fun, infectious..electronic and bassline-led..they know how to use vocal doubling/tripling really effectively in the studio..the vocal arrangements as well..totally work
Nights of the Week
- very 80's sounding..almost like Talking Heads..NICE CHORUS "these are the nights of the week where you force yourself out of bed"..futuristic story?..like the computerized vocals over the keys..almost like Buggles or something
album's concept could be like some 80's scifi story, movie, in then future on some other planet..space traveled possibly
Radio
- lead-bass again...layered vox again with the 1st verse..SINGER SOUNDS LIKE mIKE bAKER FROM sg ON THIS 1 MAYBE MOST.."LAY ME DOWN WITH THE RADIO AGAIN..AND i TELL YOU WHAT YOU YOU WANTED TO KNOW"..GREAT BUILD TOWARD THE END..
We Don't Understand You.
.catchy chorus..more falsetto and fat synths..contemplative lyrics..do they want to get high, or go to bed?..repetitive chorus
Blood Moon II
..chirping birds interlude..later sounds like a spaceship arriving or taking off..then an organ
Doyle Is Dead
..Doyle a character in the story? Maybe Doyle knew Kathy?..they left Doyle in the hospital to die and took off?.."Can anybody save...anbody save..anybody?"..'I'm ready to untie this knot in my neck..i'm ready I'm ready"..synths remind me of those used in late 70's/early 80's Scifi soundtrack music.
Imaginary Friends
..Ballad..vocal harmonies. Hallucinating? Brian May guitar parts..'oh my friends, we've reached the end"
Johnny and Sarah
..energetic..guitars sounds kinda post-punk...vocoder..narrative..vocal layers and synth..the build rules on this song..so does the guitar solo.
Locked In a Car
..slow acoustic ballad.."my best friend...locked in-a-car"..middle goes into Brian May kind of harmonies..echoes
Riverside
awesome song!..builds..dynamics..layers..proggy..the rhythm from the horns work really well..add a jazzy or ethnic element.."rides from the countryside..rising uo from above..I am the sun!"..more falsetto and multipart vocal harmonies...uplifting song.
Sweetest Secret
..more of the Thomas Dolby synth-driven 80's pop sound on this one...'ALL OF THAT TIIIIIIIIIME..GONE TO WASTE".."LEAVE ME ALONE..WON'T YOU LEAVE ME ALONE"
Trank
- mellow synth interlude
Will I Live
- like someone whose lost and wondering if this is the end for them, or just a transition..nice strings at the end.
I love the melodic themes in this album.."Hot Kathy" for one has a melody that sticks in your head. "Make Forever Last Forever" and the lyric "Riders on the Storm" is another..As much as there are similarities to other artists, I really don't think there is anything quite like this band.
Concept/Story: 2 factions perhaps on the Moon? or a Moon maybe. The Apes or Organic life, and the Androids or Mechanical/Technological/Artifical Life..some of it metaphor..a class struggle. The vocals sound computer/synthesized intentionally at times to perhaps illustrate how the Androids would talk or sound. The whole Man-and-Machine story.
4.5/5